>

>

>

Fit for consumption – everything as a service with...
Turn on suggestions
Auto-suggest helps you quickly narrow down your search results by suggesting possible matches as you type.
Showing results for
Forums

Blogs

Information

English

Fit for consumption – everything as a service without lifting and shifting into the public cloud
In the words of Greek philosopher Heraclitus, the only constant in life is change. This year has certainly proven the wisdom behind these words, bringing with it a pandemic that has literally turned the world on its head. The future remains uncertain and we have no idea what 'normal' will look like, when and if we get there, so it's impossible for businesses to predict their IT needs with any degree of accuracy. Some businesses will no doubt thrive in the new world, which means they'll need more capacity, more storage, more power, more everything; but others will sadly see their needs shrink. Growth is also not linear, which makes investing into infrastructure a costly and unpredictable exercise.
On demand, not on the books
Technology is evolving so rapidly that it's a challenge just to keep pace. But to be prepared for changing business demand, enterprises need access to new technology, faster, without introducing additional cost to the business. So, what is the answer? In short, Everything as a Service (XaaS). This model gives you flexible capacity delivered on demand, through a pay per use model.
Typically, consumption based IT like this means taking infrastructure and services into the public cloud. But it's not always as easy as it seems to just pick up IT and drop it into the cloud. Even businesses that have planned a full on public cloud migration have found themselves running a mix of on premises and cloud models, while paying for cloud capacity that they aren't using. It ends up costing more than predicted, and they run into numerous problems.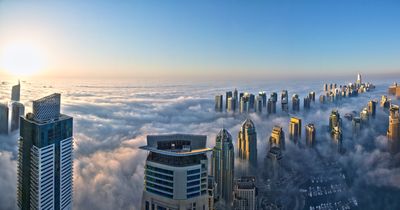 Cloud is the vision, but hybrid is what makes sense
The reality is that the public cloud isn't an option for a lot of workloads. Some of them are too complex to migrate easily, some would require significant reengineering or integration which would cost too much to be viable. There might be security concerns around moving data, and there may even be laws preventing certain data from being pushed into the public cloud. When you try and move workloads and data that shouldn't be moved, problems ensue.
A hybrid cloud is the solution, as many businesses have already discovered, but managing a multi-cloud, hybrid environment can be a challenge. This is where HPE GreenLake really shines. It allows businesses to move to a completely consumption-based model, where everything is delivered as a service, without the need to 'lift and shift' into the public cloud.
The GreenLake cloud services and ecosystem gives businesses the ability to leverage a multi-cloud, hybrid model for the best of all worlds. IT gives you seamless integration between public and private cloud and a single pane of glass view of everything for ultimate management and cost control.
Anything and everything as a service
The GreenLake model is anything and XaaS, from infrastructure like network services to data protection as a service and even our recently launched VDI as a service offering. This virtual desktop infrastructure offering is ideal for the current environment, giving businesses everything they need to deliver a consistent experience to workers whether they are in the office or working remotely. HPE is also delivering a private cloud-as-a-service, essentially a managed private cloud that moves the entire private cloud, including infrastructure and services, into a consumption based model.
Our goal is to deliver our entire portfolio of infrastructure and solutions as a service by 2022, through a range of subscription, pay-per-use and consumption-driven offerings. This will empower businesses to be flexible, adaptive and responsive to even the most challenging business environments, meeting the future head on.
To find out more about HPE GreenLake, visit: https://www.hpe.com/za/en/greenlake.html. To read about our everything as a service vision visit: https://www.hpe.com/us/en/newsroom/press-release/2019/06/hpe-announces-plans-to-offer-entire-portfolio-as-a-service-by-2022.html.

Rachel Cooke
Hewlett Packard Enterprise
twitter.com/hpe
linkedin.com/company/hewlett-packard-enterprise
hpe.com
About the Author
RachelCooke
My passion for IT is evident in that my entire career encompasses technology. Some say I am a tech genius, and they wouldn't be wrong. I bring along with me years of experience in application development, Service Management consulting, tech support, as well as being a certified Data Center Professional - providing me with not only technical expertise but also broad industry knowledge.

Find out about the latest live broadcasts and on-demand webinars
Read more

Visit this forum and get the schedules for online Expert Days where you can talk to HPE product experts, R&D and support team members and get answers...
Read more
View all
© Copyright 2021 Hewlett Packard Enterprise Development LP