>

>

>

HPE launches tools to help resellers drive new rev...
Forums

Blogs

Information

English

HPE launches tools to help resellers drive new revenue streams from SMB space
Resellers are increasingly looking for ways to boost their profitability in a landscape that is characterised by shrinking budgets and fierce competition.
Additionally, IT trends are strongly impacting current market conditions, with artificial intelligence solutions, machine learning, big data solutions, Internet of Things, cybersecurity and cloud technology all having a significant influence on infrastructure and traditional business models.
Meanwhile, partners are still jostling for a slice of the "large enterprise" but this might not be the smart play. They need to change their positioning to add value in an environment where customers' business models are changing rapidly.
The challenge with chasing big enterprise customers is that sales cycles tend to be long, so resellers should be asking themselves whether they can realistically afford to spend time and money building relationships during the consultation process. So, there are big risks involved with this approach, and we need to start looking at opportunities differently to service the market.
SMBs desperate for services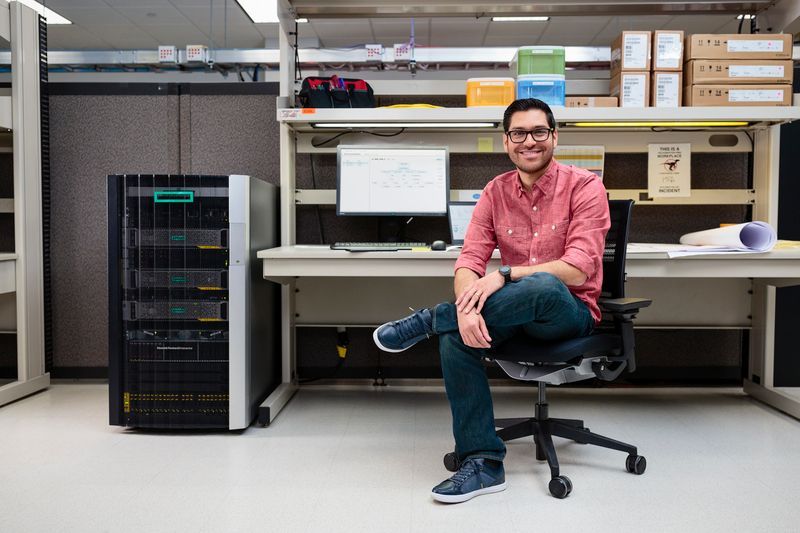 The obvious solution is to turn our focus to the small to medium business (SMB) market, which is desperate for services as it struggles to strike a balance between focusing on core business and ensuring that IT infrastructure solutions and applications are running optimally. There is currently a lot of focus on growing this sector, from a South African economic outlook.
From a vendor's perspective, we are seeing many opportunities in this space, because it is a big, addressable market, and as we are a channel-focused company. We are launching new tools and SMB IT solutions that will simplify the pricing process, IT finance models and shorten the sales cycles, and we are also offering new services where partners can leverage the HPE IT Operations Centres to deliver enterprise grade services and open up new revenue streams.
There are only a few differences between the SMB market and the large enterprise sector when it comes to basic requirements. The challenges and goals faced by players in both spaces are similar – driving profitability for their organisations, ease of use and ability to act fast.
Like big enterprise customers, SMBs cannot afford the costs associated with unplanned downtime and need adequate support to mitigate problems that would otherwise see them waste time that could be spent on revenue-generating opportunities.
Vendor support
However, SMBs don't always have the resources and the skills to address IT issues themselves and should leverage the vendor/channel to cover some of the risks.
In this sense, vendors can assist by extending their resources and platforms to monitor and maintain end user customer sites, as they have access to global resources and can provide reliability and a proven track record.
With HPE's Adaptive Management Services we can help customers manage, operate and optimise their IT environments, which opens opportunities for resellers who typically don't have an IT operations centre, or the resources to deliver these services and, therefore, often have had to walk away from deals.
Through solutions like HPE GreenLake, channel partners can leverage HPE's infrastructure, without having to make big capital investments to service their customers. It's all about leveraging the programmes and the tools that vendors bring to strengthen resellers' positioning with their end customers.
Vendors can thus make a difference to the overall success of resellers and partners by extending their monitoring and maintenance technology and services for resellers to sell onto the SMB market, providing a valuable service to their customers, while creating a new revenue stream and upskilling their resources. This will enable SMBs to continually achieve a return on investment on their IT spend.

Jeanine Maree
Hewlett Packard Enterprise
twitter.com/hpe
linkedin.com/company/hewlett-packard-enterprise
hpe.com

About the Author
JeanineMaree
I am the first point of contact for my channel partners (distributors and resellers) with regards to HPE Pointnext Services and I help partners solve customer problems but also ensure that they are well equipped to sell and deliver HPE services. I ensure they receive the highest levels of support and continually deliver value by perpetually identifying opportunities to increase performance, productivity and efficiencies whilst reducing downtime.
Starting June 22

THE FUTURE IS EDGE TO CLOUD Prepare for the next wave of digital transformation. Join our global virtual event. June 22 – 24
Read more

Find out about the latest live broadcasts and on-demand webinars
Read more
View all
© Copyright 2021 Hewlett Packard Enterprise Development LP