>

>

>

Hardware recycling allows for sustainable choices
Forums

Blogs

Information

English

Hardware recycling allows for sustainable choices
As the world faces an imminent climate crisis, it has never been more critical for technology companies to change the way they respond to the mounting challenges surrounding global sustainability and waste management.
The relentless pace of innovation and declining costs have profoundly increased access to electronic products and digital technology – with great benefit to many. However, the increased use of electronic devices and equipment has had the unintended consequence of creating an explosion of electronic and electrical waste (e-waste).
While it would be difficult to quantify the total number of digital devices produced every year around the globe, International Data Corporation estimates that there will be 41.6 billion connected IoT devices by 2025. It is perhaps no wonder then that electronic waste has been flagged as the fastest growing category of hazardous solid waste in the world.
A report published by several UN agencies, along with the World Economic Forum and the World Business Council for Sustainable Development, A New Circular Vision for Electronics, estimates that each year, approximately 50 million tonnes of e-waste are produced.
Alarmingly, only 20% of this waste is formally recycled. The rest largely ends up in landfills and is dismantled by the world's poorest, with a detrimental impact on health and the environment. If nothing is done, the amount of e-waste will more than double by 2050, to 120 million tonnes annually.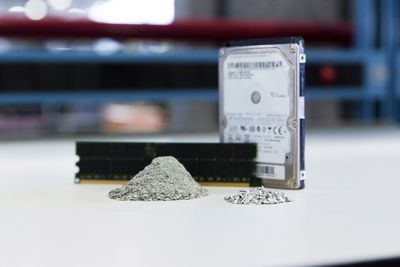 The circular economy
This shocking scenario should be enough for technology manufacturers to sit up and listen. It can no longer be business as usual, as the current model of production and consumption is steering us towards certain disaster.
Currently, we operate in what is known as a linear economy, where we extract resources, utilise them to produce goods and then dispose of them when they reach the end of their lifecycle. This is unsustainable, as natural resources are finite, and also harmful to the environment, because scrapped digital devices contain toxic and non-biodegradable components.
Instead, OEMs need to collectively embrace the growing move towards a circular economy, which aims to eliminate waste and the continual use of resources. A circular economy is based on the principles of reusing, sharing, repairing, refurbishing, remanufacturing and recycling with an end goal of creating a closed-loop system. This will help to minimise the use of resource inputs and the creation of waste, pollution and carbon emissions.
Several technology OEMs, including some based in South Africa, have already committed to helping their customers recycle responsibly. These programmes typically give IT hardware, such as servers, storage and networking products, a new lease on life, and reduce environmental impacts from disposal. Where products are not suitable for reuse, they are processed to recover material that can be used to manufacture new products.
HPE's commitment to a sustainable future is underpinned by the HPE Renew Programme, which allow our customers to make sustainable choices for the environment, ensuring that returned, loaned or trial units are thoroughly remanufactured so they can be fully utilised and don't end up unnecessarily wasted. This is a global initiative that offer a large discount on current technology to companies who are looking for HP Enterprise IT hardware for a better price.
Everything as a Service
Not only do OEMs have to be responsible corporate citizens that strive to minimise their impact on the environment, reduce carbon emissions and save energy, they also need to heed the call of their customers, who increasingly want to deal with corporates that care about sustainability.
Alongside helping customers recycle their equipment, another trend that has strong potential to underpin the shift to the circular economy is the move by some OEMs towards becoming consumption-driven companies and delivering Everything as a Service (XaaS). This is essentially a transition to selling hardware and software on consumption-based contracts, giving customers greater choice around ownership models.
Our commitment to transition into a XaaS company was announced by HPE CEO Antonio Neri last year, who said that the company would offer its entire portfolio through a range of subscription based, pay-per-use and as a Service offerings by 2022. However, HPE will also continue to provide its hardware and software in a capital expenditure and license-based model, ultimately giving customers choice to consume HPE products and services as a traditional or as a Service offering.
Offering Everything as a Service places the onus on manufacturers to ensure that all resources are used optimally over a device's lifecycle, including when it is time to be reused by another consumer or recycled. This could increase product use cycles and decrease waste in the system, setting us on a course to becoming good corporate citizens, with sustainability high on our agendas.

About the Author
PresidentNtuli
President is passionate about innovation and sustainability. He believes technology innovation not only provides a platform to disrupt traditional business models, but it is also instrumental in improving the lives of all people, irrespective of their socio-economic standing.
Starting June 22

THE FUTURE IS EDGE TO CLOUD Prepare for the next wave of digital transformation. Join our global virtual event. June 22 – 24
Read more

Find out about the latest live broadcasts and on-demand webinars
Read more
View all
© Copyright 2021 Hewlett Packard Enterprise Development LP