>

>

>

Expand your data skills: free, on-demand training
Forums

Blogs

Information

English

Expand your data skills: free, on-demand training
Whatever you know today, you'll be in a stronger situation if you know more tomorrow.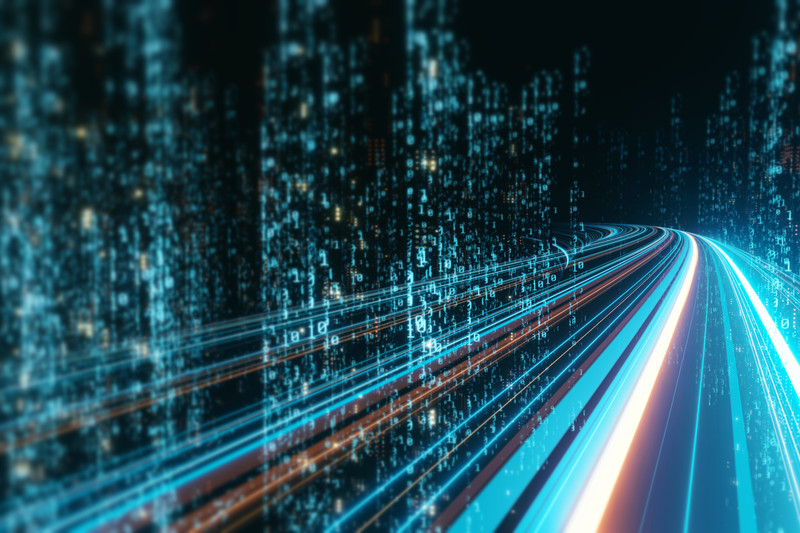 The rapidly evolving landscape around large-scale analytics and AI/ML motivates people to continually expand and hone their data and computational skills. And it's not just those looking for a new job who seek more training. The entire industry is undergoing a career change; therefore, continual education is a must.
To meet this need for ongoing learning, you can leverage a free HPE resource, HPE Ezmeral Learn On-Demand. A variety of free, online courses allow you to deepen or expand your skills in the areas of large-scale analytics, data-driven application development, and new opportunities in AI and machine learning.
Offered by HPE's Ezmeral Software business unit, this resource provides on-demand courses that touch on a wide range of timely topics. These courses target learners in multiple roles, including aspiring data scientists, system administrators and architects, and developers and business analysts. The content varies from user focused short courses to advanced technical topics. Whether you're a seasoned professional or someone new to a particular skill, the courses will provide you with useful information.
Learn on demand, when and where you want
One of the advantages of on-demand training is that you can consume courses at your own pace -- at the times and settings convenient for you. The learning content is open 24 hours a day, everyday. That includes evenings, weekends, and holidays – situations that sometimes are the easiest for people to have time to focus on improving their skills. And the courses are repeatable. You may use them initially to gain a foundation in a chosen topic and then revisit the course on a need-to-know basis as that particular skill comes into demand. Navigation makes it simple to return to a dimly recalled topic or specific lesson.
Suzanne Ferry, head of Ezmeral Digital Learning at HPE, points out that free, on-demand learning helps companies meet their audiences where they are now. Suzanne comments, "The movement towards on-demand as the primary learning mode was massively accelerated as a result of the conditions imposed by the pandemic. A format of responsive, consume-anywhere-anytime courses is consistent with how professionals want and need to learn now." And a part of this need for flexibility is to have a good selection of topics from which to choose because people are at different stages of experience.
Wide range of topics
HPE Ezmeral Learn On-Demand offers courses that provide foundational knowledge as well as hands-on technical experience. The courses deal with a variety of topics including some directly related to the HPE Ezmeral Software portfolio, such as administration of the HPE Ezmeral Data Fabric. Also offered are courses on broader topics not specific to Ezmeral, including how to build applications with Apache Spark or an introduction on how to work with containers and Kubernetes. Course topics are collected into various series, each with several courses, and new courses are constantly being added.
Below is a glimpse at the collection of series topics currently available: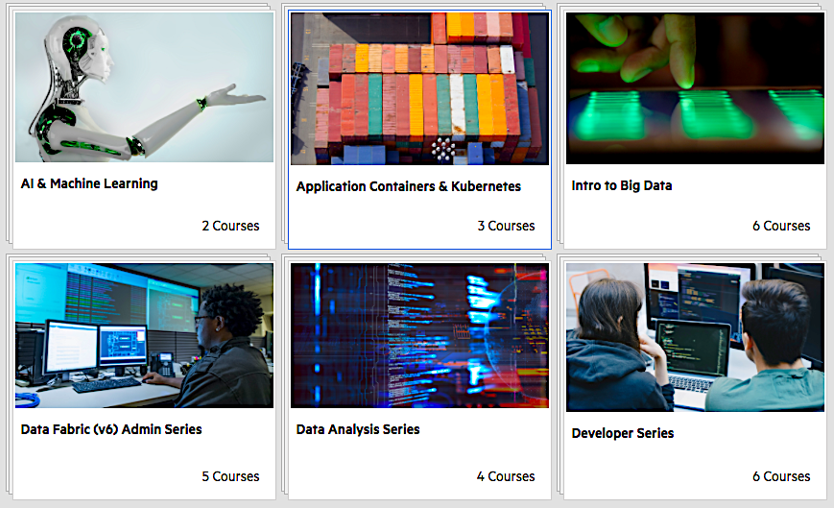 Free training is available: HPE Ezmeral Learn On-Demand. Currently, 6 series offer a variety of courses for different experience levels.
Who are the courses for?
As I mentioned earlier, HPE Ezmeral Learn On-Demand training includes courses for people with different roles and across a range of experience levels. People use these courses to refresh skills or to acquire new skills. Each course series focuses on a different topic; and within a series, you'll find a selection of use case or concept-focused, non-lab courses. More technical courses with hands-on labs are also offered.
Here's a short description of four of the courses offered across different topic series:
Introduction to Artificial Intelligence
The introductory course, Introduction to Artificial Intelligence, is unusual because it gives an excellent grounding in what AI and machine learning are without requiring that you have deep technical background. It shows how these adaptive, learning-based approaches make use of data and what they can deliver in terms of practical business value. This non-lab course provides solid content about the concepts essential to AI and machine learning as well as a basic understanding of how algorithms work.
Business leaders, architects, data engineers, and data scientists will find this course material useful. It can be found in the AI and Machine Learning Series.
Apache Spark Applications
Developers will benefit from training on how to build Apache Spark applications. Options for developers span a spectrum of different experience levels, including hands-on, technical courses appropriate for those just getting started, as well as courses for people seeking more advanced experience with Spark. For example, consider these two courses from training offered in the Developer Series:
The course titled Build-Monitor Apache Spark Applications is the second in a collection of training choices on Spark v2.1. This course teaches you how to handle the full Spark program lifecycle and SparkSession. You'll also learn how to build and launch standalone Spark applications. Monitoring applications is another important skill taught in this course, including a description of the components of the Spark execution model using Spark Web UI.
Developers already experienced with Spark may be interested in expanding their skills through the course Advanced Apache Spark. This interactive lab teaches you how to build data pipeline applications using Spark Streaming, Spark SQL, Spark GraphFrame, and MLlib. You'll learn about Spark Streaming architecture, data pipeline use cases, DStreams, and property graph operations. See the course description for details about what is covered in the course lessons and lab activities as well as the prerequisites.
Data Fabric Cluster Administration
System administrators, IT professionals, data architects, and data engineers will benefit from courses in the Data Fabric (v6) Admin Series. For example, the course titled Configure a Data Fabric Cluster, covers how to set up global configuration parameters and configure client access for a data fabric. You'll also learn how to use Access Control Expressions (ACEs) to control access to cluster data and how to configure Virtual IP Addresses (VIPs) to provide highly available access.
Interactive experience strengthens learning
Feedback from users of HPE Ezmeral Learn On-Demand tells us people enjoy these courses in part because they offer something different from the standard e-learning experience. "Often, e-learning, on-demand courses consist of a talking head addressing slides with strange music in the background," Suzanne explains. "I call that 'play and walk away' - users get the course completion either way!"
In contrast, HPE Ezmeral Learn On-Demand courses require hands-on engagement to advance to completion. According to Suzanne, "Most courses have in-course knowledge checks and additional quizzes to help you consolidate the key takeaways." This is true of both the introductory-level courses as well as those with hands-on labs. And the courses allow you to display your achievements; completion badges are available to post to your LinkedIn profile.
In the coming year, HPE Ezmeral Learn On-Demand will be developing new courses, so check back often. Planned courses include: the HPE Ezmeral Container Platform, HPE Ezmeral Data Fabric, the open source project SPIFFE from the CNCF (Cloud Native Computing Foundation), and HPE Ezmeral MLOps.
Additional Resources
If you're interested in expanding your knowledge of these and related topics, you may also want to make use of these additional resources:
Ellen Friedman
Hewlett Packard Enterprise

About the Author
Ellen_Friedman
Ellen Friedman is a principal technologist at HPE focused on large-scale data analytics and machine learning. Ellen worked at MapR Technologies for seven years prior to her current role at HPE, where she was a committer for the Apache Drill and Apache Mahout open source projects. She is a co-author of multiple books published by O'Reilly Media, including AI & Analytics in Production, Machine Learning Logistics, and the Practical Machine Learning series.

Find out about the latest live broadcasts and on-demand webinars
Read more

Visit this forum and get the schedules for online Expert Days where you can talk to HPE product experts, R&D and support team members and get answers...
Read more
View all
© Copyright 2021 Hewlett Packard Enterprise Development LP