>

>

>

Fueling Data-Driven Innovation with Containers and...
Forums

Blogs

Information

English
Fueling Data-Driven Innovation with Containers and Kubernetes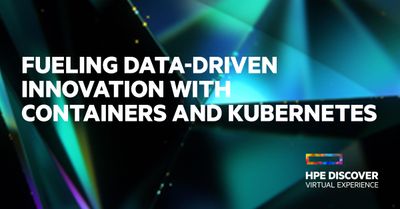 "In God we trust, all others must bring data"; this quote from W. Edwards Deming stands as a guiding mantra for data-driven innovation, which has fueled the digital transformation efforts of countless companies around the world. Some organizations bought in early, transforming into analytics companies. Others were dragged kicking and screaming into this transformation as their industries were revolutionized. And many others ignored it completely, continuing with business as usual. But whether leader or laggard, Covid-19 has created a forcing function for digital transformations as customer preferences for digital have shifted overnight with up to 75%1 of those digital preferences being permanent.
This novel change has put the imperative on companies to make quick, data-driven decisions to improve and accelerate business operations in this fast-changing environment. Because this situation truly is unprecedented, organizations can't just rely upon their historical information estates. To accurately model what is going on NOW, the most up-to-date data must be fed into new advanced analytics models and be leveraged to re-train the 100s or 1000s of existing models. Then it must be re-applied to the applications that use the insights to make operational decisions. As everyone races to incorporate these new insights, the winners will be the companies that can modernize their business the fastest enabling them to monetize the emerging digital revenue streams and differentiate their products and services with more intelligent operations.
Containers accelerate innovation
Containers are the conduit to digital transformation, as they have changed the way we deliver modern applications. They provide the foundation for data-driven innovation, bringing speed and agility to application and infrastructure deployments with the portability to let you build once and deploy anywhere across multi-cloud environments. But, simply developing, deploying, and modernizing applications with containers is insufficient. Organizations need software solutions that drive business outcomes with the flexibility and agility to pivot when markets change plus the completeness to industrialize the analytic and app modernization process.
The newly announced HPE Ezmeral software brand underscores HPE's focus on providing innovative software to help enterprises modernize their applications and processes – fueling data-driven digital transformation from edge to cloud. This portfolio includes the strategic software acquisitions of BlueData and MapR, which formed the basis for the recently announced HPE Ezmeral Container Platform -- the cornerstone of the new software portfolio.
Leveraging 100% open-source Kubernetes, the HPE Ezmeral Container Platform enables enterprises to accelerate the deployment of containerized apps at scale. Ultimately, our software platform enables organizations to achieve business outcomes with a container-first strategy that capitalizes on the value of their data and rapidly modernizes their application portfolio across any infrastructure -- whether on-prem, in the cloud, or at the edge.
The HPE Ezmeral Container Platform is a comprehensive, end-to-end solution supporting a diverse range of application workloads and user personas across hybrid-cloud environments with secure multi-tenancy, lifecycle management, and support for day 2 operations. We're not just focused on cloud-native apps and developers; we bring the benefits of containerization to monolithic stateful analytic applications and data science communities with enterprise-grade security and networking backed by a robust persistent data layer provided by the HPE Ezmeral Data Fabric (MapR).
The HPE Ezmeral Container Platform also provides a distinct advantage by running containers on bare metal, ensuring optimal performance for AI and advanced analytics. This approach delivers significant benefits not only in terms of performance but also in better utilization and cost savings because it reduces the number of virtualization layers – all while increasing container density. Ultimately, the bare metal approach lowers TCO while still allowing you to exploit the full value of your accelerated infrastructure investments to deliver the fastest results and highest throughput.
Fast, Flexible Solutions
Transformative software alone is not enough. To complete this vision of speed and flexibility, the software needs to be packaged together with the right services, optimized with the right infrastructure, and delivered and consumed the way our clients want.
Earlier this spring, our team introduced end-to-end validated reference configurations. These best-practice guides for deploying HPE Ezmeral Container Platform software with HPE Apollo, HPE Synergy, and HPE Edgeline servers were optimized and validated for workloads spanning artificial intelligence (AI) and machine learning (ML), DevOps, continuous integration/continuous deployment (CI/CD), and edge applications.
Today we announced new cloud services powered by the HPE Ezmeral Container Platform software and delivered through HPE GreenLake for pay-per-use consumption:
HPE GreenLake for Containers:
Through HPE GreenLake, clients can subscribe to a fully managed containers-as-a-service (CaaS) solution with open source Kubernetes – powered by HPE Ezmeral Container Platform software including pre-integrated HPE Ezmeral Data Fabric for persistent data storage.
HPE GreenLake for Machine Learning Operations:
Through HPE GreenLake, clients can subscribe to a fully managed as-a-service solution for machine learning operationalization built on HPE Ezmeral Container Platform and HPE Ezmeral ML Ops software.
These new packaged solutions deliver speed, customer choice, and a consistent cloud-like experience. To start, we've expedited the delivery of these solutions to under 14 days from when they are ordered. Six different options are available -- all pre-configured with dozens of out-of-the-box applications in the HPE Ezmeral Container Platform app store. There's no application lock-in – customers can also bring their preferred stack and innovate at the speed of open source by adding their own images to the app store in a matter of minutes. And best of all, these solutions can be fully managed for you by HPE. There's no patching, performance tuning, or maintenance – you just get to focus on what you do best, your business.
Lastly, in case it wasn't obvious, HPE now offers more flexibility on how to consume our software solutions: with HPE GreenLake's cloud-like pay-per-use OpEx option (fully managed and operated by HPE) or the traditional CapEx option running on any infrastructure (HPE or non-HPE), any public cloud, or at the edge.
HPE is Serious about Software
HPE is dedicated to delivering data-driven innovation through software-based solutions focused on speed and a consistent cloud experience – with the ability to license our software for deployment on any infrastructure or consumed as-a-service and managed by HPE. And this is just the beginning.
Find Out More at HPE Discover 2020
HPE Discover 2020 is a free, virtual event that started on June 23rd, and offered a rich collection of live and on-demand sessions and demos related to HPE Ezmeral Container Platform. Now available on-demand, visit the links below to view sessions and demos on HPE Ezmeral Container Platform:
On-Demand - watch now!
Interested in other sessions? Check out the full line-up of sessions from HPE Discover Virtual Experience 2020.
1) McKinsey Digital - The COVID-19 recovery will be digital: A plan for the first 90 days
Matthew Hausmann
Hewlett Packard Enterprise
twitter.com/HPE_Ezmeral
linkedin.com/showcase/hpe-ezmeral
hpe.com/ezmeral

About the Author
Matt_Hausmann
Over the past decades, Matt has had the privilege to collaborate with hundreds of companies and experts on ways to constantly improve how to turn data into insights. This continues to drive him as the ever-evolving analytics landscape enables organizations to continually make smarter, faster decisions.

Find out about the latest live broadcasts and on-demand webinars
Read more

Visit this forum and get the schedules for online Expert Days where you can talk to HPE product experts, R&D and support team members and get answers...
Read more
View all
© Copyright 2021 Hewlett Packard Enterprise Development LP