>

>

>

HPE Discover 2022 is almost here! Register now for...
Forums

Blogs

Information

English
HPE Discover 2022 is almost here! Register now for HPE Ezmeral sessions.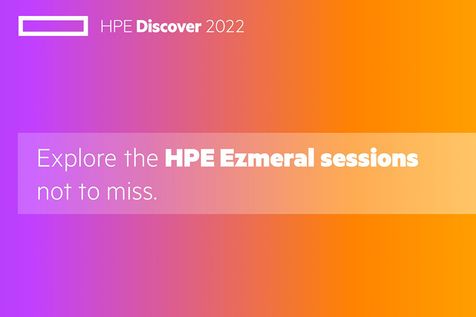 We're counting down to HPE Discover 2022, and you won't want to miss it! HPE Discover, the edge-to-cloud-conference, is THE place to find the best in edge, cloud, and everything in between. This year, you can attend the event LIVE in Las Vegas, June 28-30, 2022, or you can participate virtually.
Want to stay ahead of the trends and technologies that will rapidly move your business forward? HPE Discover 2022 is the best place to find the latest insights in secure connectivity, hybrid cloud, AI, and unified data analytics!
Register here for HPE Discover 2022!
Don't Miss these informative HPE Ezmeral sessions at HPE Discover 2022
HPE Ezmeral is a hybrid analytics and data science platform designed to unlock data edge-to-cloud. You can innovate faster with choice, efficiency, and flexibility not available from traditional and cloud-based analytic solutions.
Explore the full line-up of sessions on our content catalog and create your personalized agenda. To get you started, I've put together a list of HPE Ezmeral sessions, hands-on labs, and demos to include in your agenda-builder. Note: Live sessions, demos and hands-on labs in this article are listed in Pacific Daylight Time (PDT).
HPE Ezmeral leadership & innovation sessions
Tuesday, June 28, 2022 | 05:00 p.m. – 06:00 p.m.
Speakers: Vishal Lall (HPE), Mohan Rajagopalan, (HPE), Carl Hunte (County of Essex), Bill Adam (Alliant Cooperative Data)
Unleashing the Power of Hybrid Cloud
With data spread from edge to cloud, complementing your public cloud presence with on-premises cloud solutions is vital. When optimized for specific workloads, hybrid solutions bring better performance, latency, security, and TCO compared to public cloud. Together, HPE GreenLake and HPE Ezmeral deliver a true, hybrid cloud platform that provides a consistent cloud experience and unlocks the power of your data. In this session, we share best practices for adopting hybrid cloud architectures, and clients will share real-world analytics benefits.
Wednesday, June 29, 2022 | 12:00 p.m. - 01:00 p.m.
Speakers: Mohan Rajagopalan (HPE), Lynn Calvo (GM Financial), Derek Edwards (Anthem), Don Molaro (WWT)
Customer Conversation: How to Turn Your Distributed Business into an Analytics Factory
Data and analytics are everywhere—but what does it take to operationalize across a multi-cloud environment? It starts with the data, and then it depends on the use cases, existing technologies, usage patterns, locations, and industry. Join us for this panel session with leaders across multiple industries who have found success on this journey. They will discuss the challenges and best practices for turning your business into an analytics factory.
HPE Ezmeral business & technical breakout sessions
Tuesday, June 28, 2022 | 02:00 p.m. - 02:45 p.m.
Speaker: Matt Hausmann (HPE), Bill Adam (Alliant Cooperative Data)
The Great Unification: DataOps + MLOps
As data lake and data warehouse techniques have started to blend, the result is the need to unify data analytic capabilities. This unification cuts across all major aspects of your data estate, bringing together data, clouds, users, analytic techniques, and processes. In this session, we will dive into the requirements for a modern data lakehouse to deliver across the entire analytic spectrum.
Wednesday, June 29, 2022 | 09:00 a.m. - 09:45 a.m.
Speaker: Milind Bhandarkar (HPE)
Deliver High-Performance SQL Workloads for Data Lakehouses, Privacy Guaranteed
As enterprise data volumes continue to grow, so does the complexity to access and manage them. Data silos continue to be a major inhibitor to digital transformation initiatives, and they are growing in complexity. With HPE Ezmeral Unified Analytics, you can tackle this challenge head on by using a PrestoDB-based distributed SQL query engine that guarantees data privacy while effectively orchestrating data seamlessly across enterprise data silos. This session will cover the building blocks and typical use cases for a modern data lakehouse.
Wednesday, June 29, 2022 | 03:00 p.m. - 03:45 p.m.
Speakers: Kiran Kumar Mavatoor (HPE), Sridhar Reddy (HPE), Pavan Naramreddy (Transunion)
Simplify Your Approach to Data Analytics
Analytics and machine learning are key elements to every data-driven enterprise. The good news is that organizations have volumes of data to analyze. The not-so-good news is that data science teams are hampered by existing silos that decrease data integrity and decision makers' trust in the insights. HPE Ezmeral Data Fabric centralizes, cleanses, stores, and completes in-place processing across hybrid data types, allowing your business to make confident, more certain decisions.
Wednesday, June 29, 2022 | 10:30 a.m. - 11:15 a.m.
Speakers: Matt Maccaux (HPE), Emrah Sayginer (Aksigorta)
From Hadoop to Infinity and Beyond
Business-critical analytical applications depend on Hadoop, but there have been major technology innovations in data management and analytics. Object-based data platforms, hybrid deployment, and open-source compute options like Apache Spark (TM) and Presto SQL have emerged, leaving many enterprises questioning the future return on their current data lake investment. Attend this session to find out how to de-risk your business by modernizing your Hadoop estate with modern data and analytics strategies.
Wednesday, June 29, 2022 | 01:30 p.m. - 02:15 p.m.
Speakers: Ron Reuben (HPE), Sundari Voruganti (HPE)
Transforming the Enterprise Into a Data-Driven Business: Let DataOps Be Your Guide
Done well, enterprise data analytics and AI drive market differentiation. The foundation is data. Not just any data—trusted, high-quality data, with business context, delivered on-demand, guaranteeing privacy and security, respecting data residency, and leveraging data gravity across the multi-hybrid cloud. The outcome—quicker insights and time to value. In this session, we discuss challenges businesses face as they embark on this journey, best practices, pitfalls, and considerations between open-source vs. commercial-off-the-shelf approaches.
Thursday, June 30, 2022 | 09:00 a.m. - 09:45 a.m.
Speakers: Ka Wai Leung (HPE), Amir Rapson (vFunction)
Modernize Legacy Applications for the Cloud with vFunction and HPE Ezmeral
The need to modernize legacy monolithic Java applications is increasing. This transformation is vital for businesses to take advantage of modern cloud architectures. This session introduces various Java application modernization strategies to teach how to lower the risk and accelerate delivery of your app migration projects. We will offer insights and demo how to efficiently decompose such apps into microservices for on-premises or HPE GreenLake deployment using vFunction, a cloud modernization tool, and HPE Ezmeral.
HPE Ezmeral demos
Note: You can view these demos during HPE Discover Showcase hours; they do not have a set time.
HPE Ezmeral simplifies the delivery of data and analytics across distributed locations. You'll be blown away by how we connect the data from distributed power plants into a single logical data store and then apply analytics for predictive power requirements and fleet management.
Come and be a part of deep learning powered by HPE Ezmeral. See how the processing of real-time streaming analytics reduces the time lag between when events happen and when you can process them for insights.
In today's digital world, customers expect a personalized shopping and service experience. This demo shows how HPE IT and HPE Ezmeral work together to centralize different types of data into a single petabyte-scale data store. HPE Ezmeral securely manages containerized applications connected to this data. This enables an end-to-end ML pipeline for predictive analytics to support HPE's service and customer support organization.
HackShack meetups
Please click on individual sessions to see dates and times for the meetups.
HPE Ezmeral theater sessions
Tuesday, June 28, 2022 | 12:30 p.m. - 01:00 p.m.
Speaker: Joann Starke (HPE)
Common Ground: How to Unify Business Intelligence and Data Science Teams
Data lakehouses are a new architectural approach for enterprise data that unifies traditional SQL-based and modern analytics into a unified experience that also preserves existing approaches to data by users and apps. A unified data layer provides frictionless access to data while access to popular open-source tools, libraries, and frameworks can be layered on top to deliver a consistent analytic experience from data scientists to business analysts.
Tuesday, June 28, 2022 | 03:30 p.m. - 04:00 p.m.
Speaker: Srikanth Venkataseshu (HPE)
Demystifying Analytics and Machine Learning in a Hybrid Cloud Environment
Your data is everywhere—in data lakes, databases, cloud data warehouses, object stores, and even streaming. You want to generate insights from all the data. But how? From analytics powering business intelligence to predicting the future outcomes through AI and machine learning, the choice of tools can be very overwhelming. In this session, we will take a pragmatic look at how you can build an efficient analytics foundation so you can find the right tool—the needle in a haystack.
Wednesday, June 29, 2022 | 10:00 a.m. - 10:30 a.m.
Speakers: Richard Hatheway (HPE), Steve Tramack (HPE)
Container Orchestration as a Service for AI, Machine Learning, and Analytics
About 90% of global organizations will have containers in production environments by 2026 in order to accelerate app development and innovation. This theater session will focus on the industry's first enterprise-grade container orchestration platform, HPE Ezmeral Runtime Enterprise. Hear how our customers can modernize both traditional and cloud-native apps, extending the benefits of containers to more enterprise apps.
Thursday, June 30, 2022 | 10:00 a.m. - 10:30 a.m.
Speaker: Matthew Morris (HPE)
Who Moved My Data Lake?
In the book "Who Moved My Cheese?", we learn about change and the challenges of doing things because they are comfortable. Your data has moved. In this session, we will demonstrate how to migrate Hadoop applications to HPE Ezmeral Data Fabric and HPE Ezmeral Runtime and share a few best practices and customer examples along the way.
Build your playlist
Are you planning to attend virtually and want to build your own playlist? Here's how:
Once you have registered for HPE Discover, log in to the virtual platform to view each of the keynotes, sessions, demos, and hands-on labs you wish to attend. You can filter your selections based on content type, areas of interest, or keyword search. Then simply click on the "+" icon to add the item to your My Playlist. You can also download your playlist into your preferred personal calendar.
Experience 3 action-packed days!
Creating digital advantage doesn't have to be painful or require making tradeoffs. Join us at HPE Discover 2022 to hear the latest on the HPE GreenLake edge-to-cloud platform, the cloud that comes to you. Learn how to accelerate your data-first modernization across edge to cloud.
We look forward to seeing you – in person or virtually – at HPE Discover 2022!
Hewlett Packard Enterprise
twitter.com/HPE_Ezmeral
linkedin.com/showcase/hpe-ezmeral
hpe.com/software

About the Author
Matt_Hausmann
Over the past decades, Matt has had the privilege to collaborate with hundreds of companies and experts on ways to constantly improve how to turn data into insights. This continues to drive him as the ever-evolving analytics landscape enables organizations to continually make smarter, faster decisions.

Find out about the latest live broadcasts and on-demand webinars
Read more

Visit this forum and get the schedules for online Expert Days where you can talk to HPE product experts, R&D and support team members and get answers...
Read more
View all
© Copyright 2022 Hewlett Packard Enterprise Development LP