>

>

>

>

Guidelines and Requirements for HPE Nimble dHCI
HPE Nimble Storage Solution Specialists
Forums

Blogs

Information

English
Topic Options
Mark Topic as New

Mark Topic as Read

Float this Topic for Current User

Bookmark

Subscribe

jharris-itguy16
Advisor
Mark as New

Bookmark

Subscribe

Mute

Email to a Friend
‎02-04-2020 12:04 PM - edited ‎04-09-2020 06:10 PM
‎02-04-2020 12:04 PM - edited ‎04-09-2020 06:10 PM
Guidelines and Requirements for HPE Nimble dHCI
I have had lots of questions posed to me around requirements and guidelines for the new HPE product, Nimble dHCI. I read through the documentation posted online and in the InfoSight portal and checked it against some of the experts at HPE and came up with a summary.
When considering an HPE Nimble dHCI solution, the key drivers should be to simplify deployment, management, growth, and support. To support this simplification the solution requires specific components and architecture for storage, compute, and connectivity. Here are the guidelines for HPE Nimble dHCI:
Storage Array Guidelines
1Gbit/s interfaces not supported. 10Gbit/s minimum.
HPE Nimble Storage array management network ports must be used for Mgmt only.
> We don't support Data and Mgmt on the same interface.
> As a minimum, 1 x Network card (10Gbit) must be added to the Nimble array.
FC not supported in the first release.
Other features such as replication, encryption, and HPE Cloud Volumes are supported. Those features are managed from the HPE Nimble Storage user interface, not from vCenter Plugin.
ProLiant Server Guidelines – Greenfield
DL360 and DL380 ProLiant models supported
4 ports, 10Gbit/s needed on each server.
> Port #1 and #2 are used for Management, VM Network and vMotion.
> Management is the native vlan in trunk (It's important)
> Port #3 is used for iSCSI #1
> Port #4 is used for iSCSI #2
We use SLP to discover server. Servers must have an IP address configured on the ESXi management interface.
> HPE Factory express will enable DHCP on ESXi server, so if customer has a DHCP, he doesn't have to configure any IP. If he doesn't have DHCP, customers will have to configure an IP on each server before starting the deployment tool.
We don't support SD card/USB drive as the boot drive. You must use SSD or/and SAS drives.
ILO and ESXi management interface are in the same VLAN.
ILO Shared port configuration is supported.
DNS servers are required especially during a vCenter deployment. If customer doesn't have a DNS server, vCenter deployment will take more than 30 minutes and it will fail the stack setup.
vSphere license with vSphere HA feature minimum.
Min server = 2, Max server = 20
Networking Guidelines
10Gbit/s connectivity required for server management and iSCSI networks
1Gbit/s RJ45 ports required to connect to server iLO ports
10Gbit/s connectivity required for Nimble iSCSI networks
1Gbit/s or 10Gbit/s connectivity can be used for Nimble management network
3 VLANs required (Greenfield or Brownfield)
> 1 x VLAN for Management
> Management VLAN is the native vlan
> 2 x VLAN for iSCSI
> VM Networks are on the Management interface (Tag)
Supported Switches for Greenfield Deployments:
The following list of HPE and Cisco switches have been validated for dHCI solutions
> HPE M-Series (Mellonox)
> HPE FlexFabric 5710, 5945
> HPE Aruba 8325
> Cisco Nexus 3k, 5k, and 9k
Supported Switches for Brownfield Deployments:
> dHCI Brownfield configurations do NOT need certified switches
> Best practice is to utilize validated dHCI switches whenever possible
> Switches should follow criteria outlined in the "HPE Nimble Storage Deployment Considerations for Networking" documentations (page 6)
Network Switch Feature Recommendations:
> Flow Control
> Jumbo Frame (supported, not required)
> Non-blocking backplane
dHCI cabling pre-requisite
2 x Ethernet switch minimum;
> Switches can be stacked or not, it's up to the customer;
HPE Nimble Storage array has a minimum 1 x 10Gbit/s Network card (SFP+ or Base-T)
> We don't support Embedded port for data traffic
To make cabling easier for server and storage, match Odd-Numbered Ports with Switch 1 and Even Numbered Ports with Switch 2. E.g. Odd-to-Odd and Even-to-Even.
Cabling example
Use the methodology shown in the following figure to cable your HPE ProLiant server, HPE Nimble Storage array, and network switch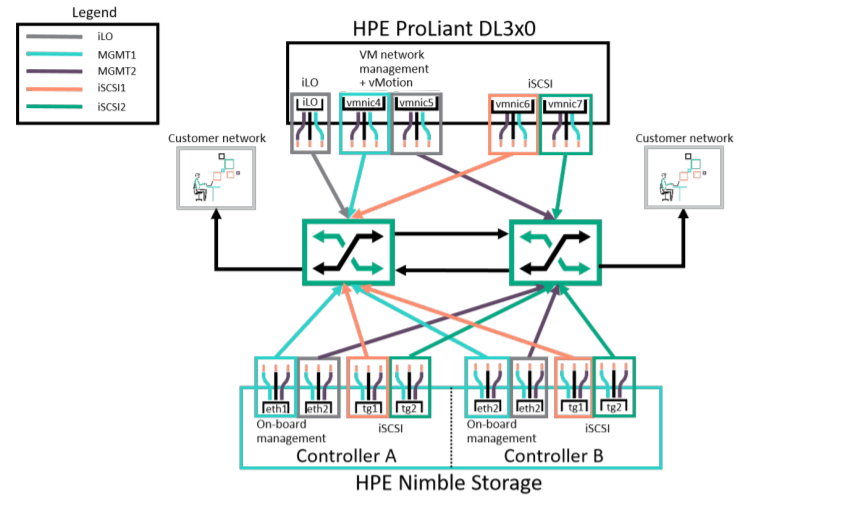 Nimble dHCI Support Guidance
One of the key parts of dHCI that add differentiating value is the single point of contact for support. With HPE M-Series switches, every part of the stack will be supported by Nimble (Tier3) support, but even if you went with another supported switch (Aruba, FlexFabric, or Nexus) the rest of the stack would go through HPE Nimble support.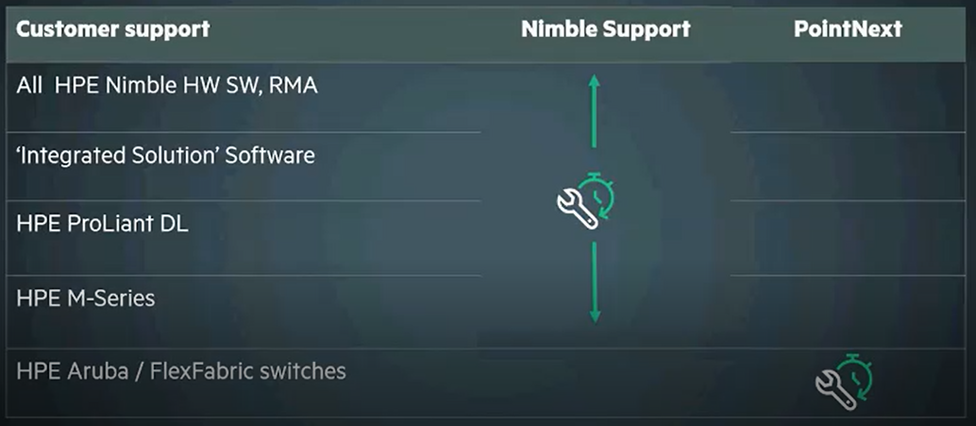 Minimum support level requirements:
> HPE Nimble Storage: HPE NS Support
> HPE ProLiant DL: HPE Foundation Care
> HPE Aruba or M-Series: HPE Foundation Care
HPE ProLiant DLs, and HPE Switches require a care pack
Coverage Windows (e.g., 24/7 coverage) for HPE Nimble Storage and HPE ProLiant DLs must align
Nimble Support takes first support call for HPE Nimble Storage, HPE ProLiant DLs and HPE M-Series switches*
*HPE Pointnext takes first call for HPE FlexFabric and Aruba; Customer has to open a case directly with HPE Pointnext
Reference Documents
QuickSpecs: HPE Nimble Storage dHCI
https://h20195.www2.hpe.com/v2/GetDocument.aspx?docname=a00067739enw
Whitepaper: HPE Nimble Storage dHCI and VMware vSphere Deployment Guide - Brownfield Deployment
https://infosight.hpe.com/InfoSight/media/cms/active/public/HPE_Nimble_Storage_dHCI_and_VMware_vSphere_Deployment_Guide_-_Brownfield_Deployment.pdf
Whitepaper: HPE Nimble Storage dHCI and VMware vSphere 6.7 Deployment Guide - Greenfield Deployment
https://infosight.hpe.com/InfoSight/media/cms/active/public/HPE_Nimble_Storage_dHCI_and_VMware_vSphere_6.7_Deployment_Guide_-_Greenfield_Deployment.pdf
BLOG: What is HPE Nimble Storage dHCI?
https://community.hpe.com/t5/Around-the-Storage-Block/What-is-HPE-Nimble-Storage-dHCI/ba-p/7053360#.XTIh--hKhhE
BLOG: HPE Nimble Storage dHCI - Technical Overview
https://community.hpe.com/t5/HPE-Storage-Tech-Insiders/HPE-Nimble-Storage-dHCI-Technical-Overview/ba-p/7054163#.XTIiX-hKhhE
Video: HPE Nimble Storage dHCI (Disaggregated HCI) Deep Dive
Technical webinar to learn more about HPE Nimble Storage dHCI, an intelligent platform with the flexibility of converged and the simplicity of HCI
https://www.hpe.com/h22228/video-gallery/us/en/products/data-storage-hybrid-cloud/data-availability-protection-and-retention/f649c0a0-cee8-4f85-a74c-e859269c803e/hpe-nimble-storage-dhci-disaggregated-hci-deep-dive/video/?splistid=5992984331001
Video: How to deploy a HPE Nimble Storage dHCI infrastructure with a new vCenter
In this video, we will deploy an HPE Nimble Storage dHCI infrastructure with a new vCenter
Video: How to deploy HPE Nimble Storage dHCI using an existing vCenter
In this video, we will deploy an HPE Nimble Storage dHCI infrastructure using an existing vCenter
Video: Deploying HPE Nimble Storage dHCI in an existing HPE ProLiant environment
https://www.hpe.com/h22228/video-gallery/us/en/products/b3921768-591b-4dda-9746-3ae69317638c/deploying-hpe-nimble-storage-dhci-in-an-existing-hpe-proliant-environment/video/
© Copyright 2022 Hewlett Packard Enterprise Development LP