>

>

>

HPE Synergy and HPE Composable Fabric: The "sliced...
Servers & Systems: The Right Compute
Forums

Blogs

Information

English

HPE Synergy and HPE Composable Fabric: The "sliced bread" of VMware-based Synergy solutions
Extending a simplified, fully composable operating model across your data center for VMware-based HPE Synergy environments.
The idiom "greatest thing since sliced bread" is used all the time when it comes to new ideas and innovations that change the way people consume and use things like they have been for a long time. HPE started "slicing the bread" at a smaller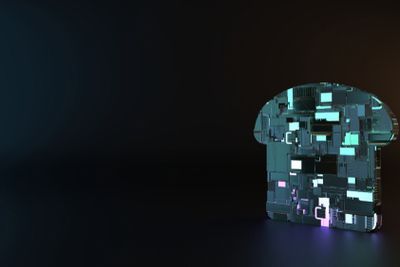 scale for server networking first with HPE Virtual Connect for our HPE ProLiant c-Class bladed system and HPE OneView. HPE Virtual Connect allows for:
Change-ready server blades that let you add, move, replace, or upgrade server blades, as well as move workloads without affecting your LAN or SAN in an edge-safe manor.
Wiring once, and then adding, moving, and changing network connections in minutes instead of days.
Requiring up to 95% fewer network cards, switches, and cables to buy, install, qualify, and maintain.
Simplifying your network; use one module for all your data and storage connection needs.
Here's the key feature: Automated VLAN provisioning within the frame for all compute modules based on the server profiles defined in HPE OneView as well as the uplink sets that connected each enclosure to your network. Follow that with expansion of HPE Synergy innovation by enabling the automation of the networking across multiple enclosures (logical enclosures) eliminating the need for a top-of-rack (ToR) switch to connect up to five (5) HPE Synergy frames together.
When you require larger scale connectivity across multiple HPE Synergy enclosures, HPE Composable Fabric (aka a "new way to sliced bread") was introduced to address varied environments. This includes VMware-based environments running HPE Synergy (that have multiple HPE OneView Logical Enclosures), or environments that include HPE ProLiant and HPE Synergy servers as a part of the same solution. HPE Composable Fabric can be that single fabric that can orchestrate the provisioning and automation of the connectivity between those components. HPE Composable Fabric is a software-driven, automated, and workload intent-based network fabric that delivers increased agility, reduced operational costs, and frictionless scale.
HPE Composable Fabric highlights
Extending the composability across multiple HPE Synergy logical enclosures, HPE Composable Fabric additionally reduces network complexity thanks to the flat fabric that seamlessly integrates with VMware environments, delivering zero-touch deployment and lifecycle management. This solution provides higher efficiency and better resource utilization by removing reliance on complex and costly topologies.
The HPE Composable Fabric works with VMware vCenter and VMware NSX (also components of VMware Cloud Foundation) to help the software-defined data center create a first-class user experience for network and data center administrators. Here in all their high-level workflows for configuration, provisioning, and automation are provided through native VMware tools. Once HPE Composable Fabric becomes aware of a VMware vCenter and/or NSX instance it provides automation of lifecycle events and environmental awareness. For example when new workload domains are deployed within the VMware Cloud Foundation environment, HPE Composable Fabric provides automation of lifecycle events and environmental awareness with the self-documenting visualization capabilities.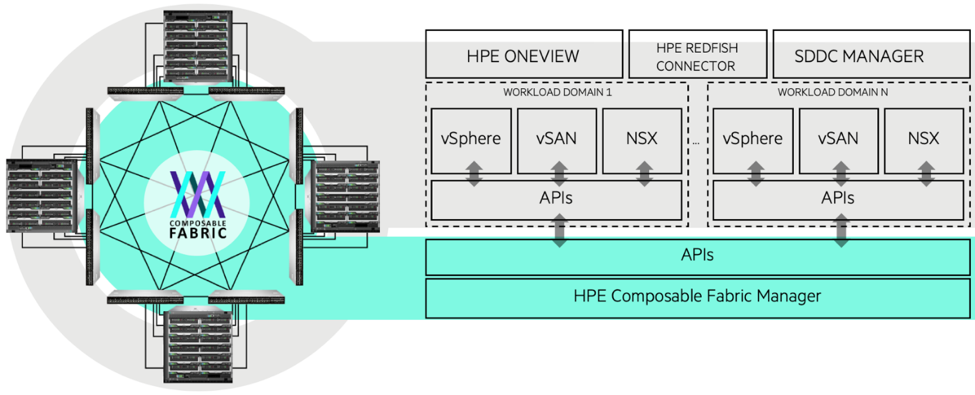 Figure 1. HPE Composable Fabric Manager delivers API level integration with vSphere, vSAN, and NSX Manager
HPE Composable Fabric works with VMware Cloud Foundation through the HPE Composable Fabric Manager and pretested, and fully supported API level VMware integration with vSphere, vSAN, and NSX. The integration set contains specific logic and interfaces to VMware. This enables HPE Composable Fabric to automatically discover managed elements such as physical nodes, virtual machines [VMs], virtual LANs [VLANs], link aggregation group [LAGs], and VMkernel adapters. It also provides workflows to automate operations such as dynamic network provisioning for VM lifecycle events and storage path optimization—all managed through vSphere embedded HPE Composable Fabric Manager plugin.
HPE Composable Fabric discovers VMkernel adapters that participate in vSAN environments. It creates an exclusive physical path that is dedicated to carrying vSAN storage workloads. Storage creates a noisy neighbor problem, which is why storage teams typically build separate dedicated networks for storage traffic. This creates unnecessary cost and complexity. In contrast, HPE Composable Fabric provides a single network fabric where vSAN storage traffic is algorithmically partitioned from other workload traffic that could negatively impact its performance.
In addition, HPE Composable Fabric integrates the network's physical data path and control path with the VMware NSX® network virtualization layer to create a truly synchronous, physical and virtual network experience.
To demonstrate this integration in action, let us first look at what happens when we have an integration with a VMware vCenter instance with HPE Synergy Compute node.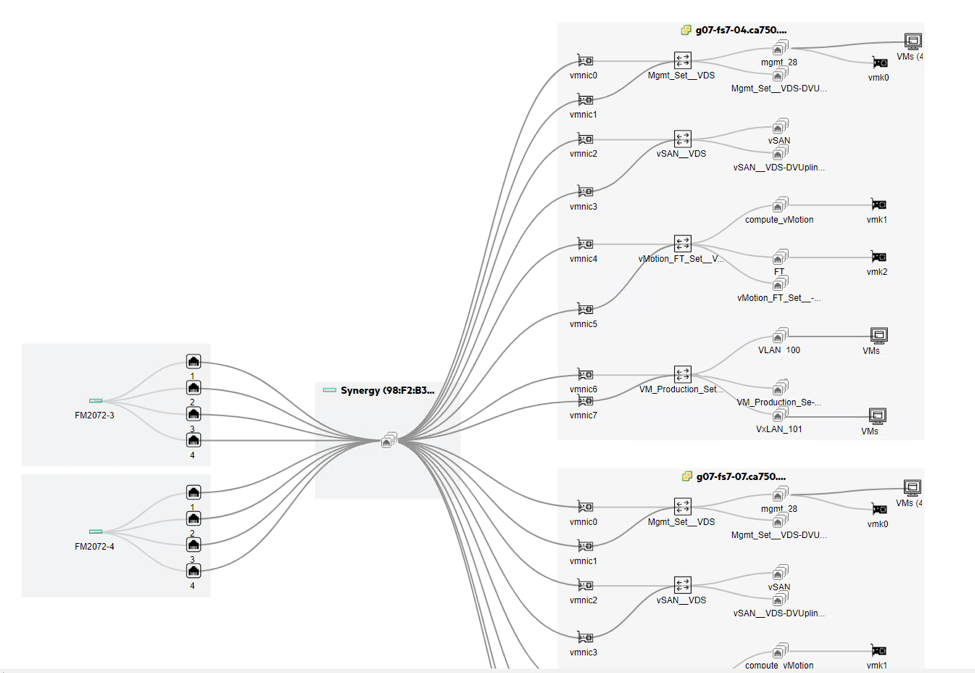 Figure 2. Host Visualization view in HPE Composable Fabric Manager
For those not familiar with the HPE Composable Fabric, what you are seeing above is the Visualization view of the HPE Composable Fabric and everything attached to it. On the left, you have two HPE Composable Fabric switches, each with four (4) connections to a HPE Synergy Logical Enclosure using HPE Virtual Connect Synergy Edition modules (the middle of the picture). Then on the right you are seeing two hosts (one partial) that are within that HPE Synergy Frame. There are a lot more hosts connected, but for this blog, I want you to clearly see a simplified example with only a couple hosts. On the right, for each host, you can see each of the NICs on each hosts and VMware Distributed (or standard, not used on these hosts) switch these NICs are connected to. You can see in the visualization further details of Port Groups on each virtual switch and VMs and VMkernel ports assigned to them.
Now that HPE Composable Fabric has that knowledge, whenever you change the configuration of your VMware environment, the network automatically reacts accordingly. For example, if you add a new VLAN (in this example VLAN 2001), that VLAN will automatically be added to the Composable Fabric and be accessible across that fabric wherever needed. Doing this via the HPE Synergy running HPE OneView HyperVisor Cluster Profile functionality will add the VLAN to the entire solution in one pane of glass. You can make the changes in vCenter itself as well, you need to make sure that HPE Synergy running HPE OneView has the VLAN provisioned properly (for everything to work fine). Here is a quick overview:
Before the VLAN is added:

Figure 3. Downlink_to_G07_LE01 before new VLAN (2001) is added – HPE Composable Fabric Manager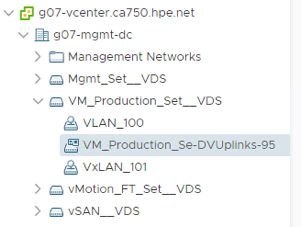 Figure 4. VM_Production_Set__VDS before new VLAN (2001) is added – VMware vSphere
Now add VLAN 2001 to the appropriate network set in HPE Synergy OneView (VM_Production_Set)
Add the VLAN 2001 Network to HPE Synergy OneView. Don't forget to add it to you Logical Interconnect uplink set connecting the HPE Synergy to HPE Composable Fabric!
Add VLAN 2001 to the appropriate Network Set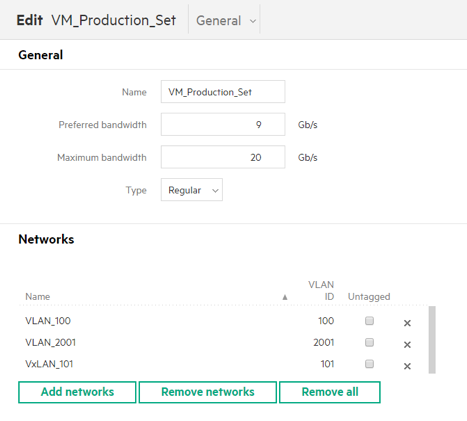 Figure 5. Added VLAN 2001 to the VM_Production_Set network set – HPE OneView
Now in HPE OneView Hypervisor Cluster Profile, you will see that it is inconsistent with the Server Profile Template you used for your VMware hosts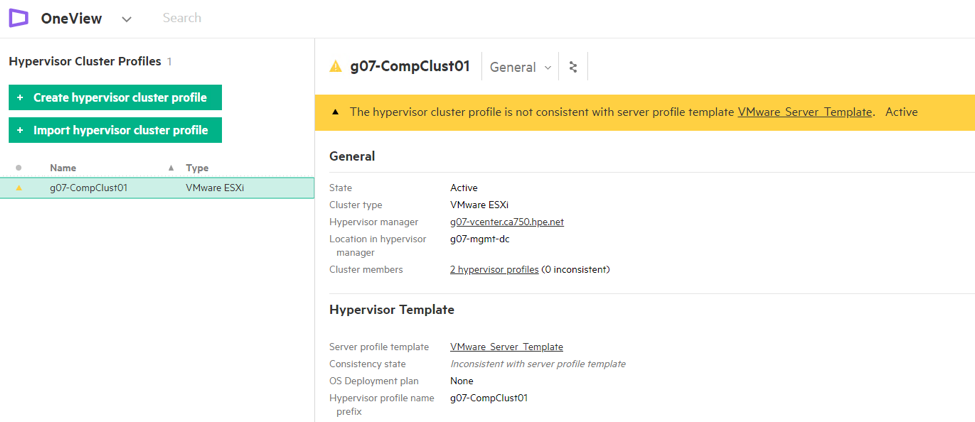 Figure 6. Hypervisor Template Consistency state "Inconsistent with server profile template" – HPE OneView
Edit the Hypervisor Cluster Profile, in this example g07-CompClust01, and just select OK. This will synchronize the changes (the addition of VLAN 2001) and now show that the cluster members are inconsistent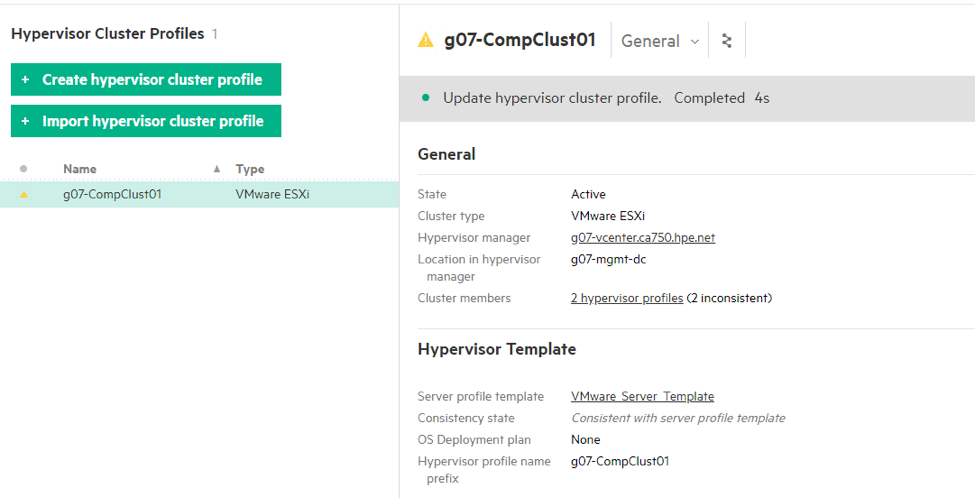 Figure 7. Cluster Members inconsistent with Hypervisor Cluster Profile
From the Hypervisor Profile Screen, select one of the hosts and click Actions -> Update from hypervisor cluster to add the new VLAN to the Distributed vSwitch configuration in VMware vCenter.
You will now see the new network added to the Distributed switch.

Figure 8. VMware vSphere - the new network/port group (VLAN 2001) was added to VMware Distributed Switch by HPE Synergy OneView
You will also see the new network (VLAN 2001) on the HPE Composable Fabric switch as well on the downlinks to that HPE Synergy logical enclosure, and any other HPE Synergy logical enclosures that contain hosts that have that new network provisioned to it.

Figure 9. HPE Composable Fabric Manager - new network (VLAN 2001) added to Link Aggregation group. It is used for connection to HPE Synergy
You can also see it in the Host Visualization view.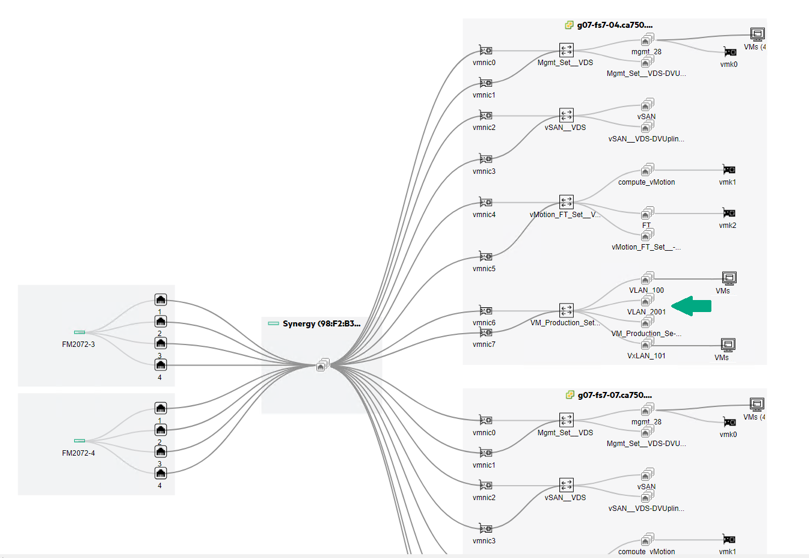 Figure 10. HPE Composable Fabric Host Visualization – view of the new VLAN 2001 Port Group created on the g07-fs7-04 HPE Synergy host
Any other hosts using that same distributed switch will become consistent in HPE OneView automatically. If you are using Standard vSwitches, you will have to repeat step 5 for each hosts.
That is it! When compared to traditional networking solutions, HPE Composable Fabric delivers significant simplification and flexibility in the way that the fabric infrastructure is designed and deployed. The composability you would expect from a HPE Synergy environment running VMware can scale beyond the rack level to row and even the datacenter level (without the need to worry about programming a Spine/Leaf or aggregation switch architecture) to allow all your HPE Synergy hosts running VMware to communicate to each other.
For more information, reach out to your HPE sales representative and tell them you want to see VMware-based HPE Synergy solutions in action.

---

Meet Server Experts blogger David Fogaren, Master Integrated Infrastructure Architect, Enterprise Solutions and Converged Systems, HPE. David is a lead architect for the HPE Converged System and Architecture 700/750 product lines. His primary responsibility is looking across the HPE portfolio and strategic HPE partnerships to create value based HPE converged infrastructure offerings. These offerings allow HPE, HPE system integrators and value added resellers to sell and deploy an HPE-based converged virtualization solution for their customers with faster deployment, simplified IT operations, and a single point for support from HPE.
Server Experts
Hewlett Packard Enterprise
twitter.com/servers
linkedin.com/showcase/hpe-servers-and-systems/
hpe.com/servers

Find out about the latest live broadcasts and on-demand webinars
Read more

Visit this forum and get the schedules for online Expert Days where you can talk to HPE product experts, R&D and support team members and get answers...
Read more
View all
© Copyright 2022 Hewlett Packard Enterprise Development LP