>

>

>

HPE backup and recovery solution for SAP HANA usin...
Servers & Systems: The Right Compute
Forums

Blogs

Information

English

HPE backup and recovery solution for SAP HANA using HPE Recovery Manager Central
Learn more about the HPE backup and recovery solution for SAP HANA using HPE Recovery Manager Central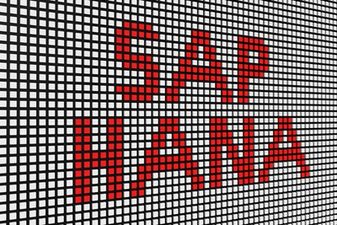 (RMC) on HPE Superdome Flex Servers.
Do these questions sound way too familiar?
Are you struggling with slow backups?
Are backup costs a concern?
Have you missed recovery time objectives in the past due to slow recovery of your database?
Do you think snapshot-based backups are a management nightmare?
If you are answering "YES!" to one or more of these questions, then you might be ready to explore storage snapshots as a complementary backup and restore strategy for large SAP HANA Database backups.
SAP HANA and HPE Superdome Flex
SAP HANA® is a data platform built for running in-memory transactional and analytical workloads. SAP HANA offers a faster and simplified architecture that consolidates both online analytic processing (OLAP) and online transaction processing (OLTP) landscapes into a single database.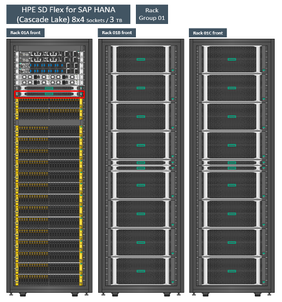 Figure 1. Solution overviewHPE Superdome Flex predefined appliance configurations, offered as single or multi-rack solutions SAP HANA with 3PAR All-Flash Storage, are designed to support medium to large scale-up or scale-out environments with the ability to grow in future. The solution starts from 4 sockets and can be scaled up to a 32-socket server to host SAP HANA databases in the size of 1.5TB up to 24.0TB.
As shown in Figure 1, configurations for large-sized businesses typically consist of multiple systems in each category such as Production (PRD), Quality Assurance (QA), and Test & Development (DEV) systems. As SAP landscapes are getting larger and complex, SAP HANA customers are looking for quick and seamless backup and restore solutions to address their business needs with a reduced administration overhead and at the same time keeping backup costs under control.
Efficient backup and restore are key to ensure that an organization can meet recovery time and recovery point objectives. All database backups generally involve backing up its data and log volumes. A database recovery mostly involves a restoration of the latest data file backup and optionally apply log information generated after the last data backup. It is therefore critical to have a reasonably high frequency of data file backups available to minimize the log information that needs to be applied to achieve the desired HANA database status.
What are the top challenges for SAP HANA customers designing backup/restores infrastructure?
So do these challenges also sound very familiar?
Slow backups and restores (mostly for large databases)
Cost of backups
Adherence to RTO (Recovery Time Objective) and RPO (Recovery Point Objective)
Being able to use snapshot-based backups without letting it become a management nightmare
Take a look at the solution!
The solution
To address these, HPE Recovery Manager Central (RMC) has been integrated with HPE Superdome Flex Solutions for SAP HANA. This enables the capability of maintaining a complex portfolio of snapshots and backups for the entire landscape of SAP HANA systems in an automatic and seamless fashion. Let's look deeper into HPE RMC.
HPE Recovery Manager Central (RMC)
HPE has developed the HPE Recovery Manager Central (RMC) tool as a software solution which integrates HPE 3PAR StoreServ Storage with HPE StoreOnce as a backup appliance for integrated snapshot based backups of SAP HANA databases.
HPE RMC mitigates some of your concerns around management complexity in dealing with SAP HANA backups in general and snapshots in particular. Key features of RMC include:
Easy deployment with simple and intuitive GUI for database administrators
RMC facilitates policy-driven copy data management
Automatic, application-consistent snapshots
Express Protect additional protection for the existing snapshots
Here are key solution components:
HPE StoreOnce Data Protection Backup Appliance
HPE StoreOnce Data Protection Backup Appliances are disk-based backup devices that can be used for high speed backups. HPE StoreOnce backup devices are super-efficient in deduplication and supported with most industry standard backup applications. In the current solution, these devices serve the storage required by HPE RMC to physically store SAP HANA snapshot backups. HPE StoreOnce backup can replicate backup images from a primary site to secondary site over the network. This complements SAP HANA system replication functionality that is implemented by many customers as a part of their disaster recovery strategy. Offsite movement of backup images eliminates the need to offsite backup media thereby helping to reduce backup and recovery costs.
Central Management Server (CMS)
HPE Superdome Flex solution for SAP HANA comes with a Central Management Server (CMS). This is an HPE ProLiant DL360 Server running Microsoft Windows 2019 server and is used to configure and manage the solution components such as LAN switches, SAN switches, Server nodes, and HPE 3PAR StoreServ storage.
Integration of HPE Recovery Manager Central (RMC) on Central Management Server (CMS)
To implement RMC on the CMS server, it is required to connect the Fibre Channel (FC) adapter of the CMS to the existing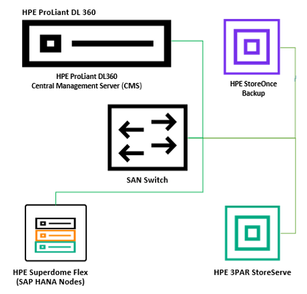 Figure 2. Revised SAN layout (includes HPE StoreOnce)FC SAN switches. After applying the relevant zoning configuration on the SAN switches the CMS Fibre Channel adapters can access the HPE 3PAR hosting the SAP HANA database. Figure 2 depicts the SAN connectivity.
Once the CMS FC access has been established, Recovery Manager Central (RMC) can be installed on top of Microsoft Hyper-V as a virtual machine on the Central Management Server (CMS). To complete the implementation of a backup solution with the option to bring backup data to virtual tape media, an HPE StoreOnce product can be installed.
Recovery Manager Central (RMC) Snapshot
The HPE Recovery Manager Central (RMC) snapshot feature provides data protection for an SAP HANA database as it initiates a point-in-time copy of the data volumes. As illustrated in Figure 3, when the snapshot job is triggered, HPE RMC communicates with SAP HANA to determine the location of the data volumes. The HPE 3PAR snapshot on the related Virtual Volumes is created. HPE Recovery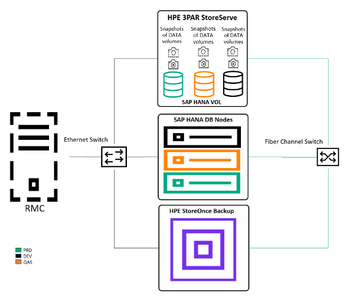 Figure 3. RMC Snapshot dataflowManager Central (RMC) creates SAP HANA application consistent snapshots that are easy to restore in case of any failures.
These snapshots are extremely fast as they are merely an update of the metadata of the changed blocks. Effectively what happens in the background is that the blocks that need to change are written on the available free blocks and the existing block pointers are re-aligned to the new blocks. Copying the snapshot does not impact the performance since provisioned volumes do not witness any additional IO due to backups. These high-speed snapshots enable multiple backups to be taken during a day or before and after any critical activity on the database. If some storage reservation is done on the 3PAR storage the last few snapshots can be stored on the 3PAR storage.
Recovery Manager Central (RMC) Express Protect
HPE Recovery Manager Central (RMC) extends the data protection capability for SAP HANA databases with the Express Protect feature. Express Protect makes use of technologies in HPE 3PAR and HPE StoreOnce to create low-bandwidth backups of snapshot sets to HPE StoreOnce Catalyst stores. RMC Express Protect backups are much faster than traditional ISV-based backups. Data is moved directly from a primary storage to protection storage without any intermediate server bottlenecks.
Recovery Manager Central (RMC) Restore
The SAP HANA database must be shut down and data and log volumes must be unmounted before initiating the recovery process in the scale-up installation. In scale-out, the data and log volumes need to be unmounted from each worker node.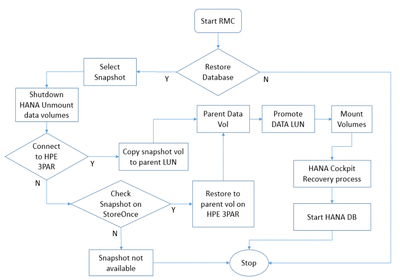 Figure 4. RMC Restore process flowchartThe flowchart in Figure 4 explains the restore process followed by RMC for SAP HANA database. At a high level the restore process is to first look for a suitable snapshot on the 3PAR storage and if unavailable on 3PAR to look for a snapshot-based backup on the StoreOnce. After restoring the snapshots, the volumes must be mounted, and the recovery process needs to be started on HANA Cockpit. Post recovery the HANA database is started.
In most cases, the restore is done from the last successful backup. If multiple snapshots are stored on the 3PAR storage itself then the restore can be extremely fast. Recovery from snapshots is also fast because, like backups, all that is happening in the background is re-aligning of the pointers from new changed blocks to the older status of those blocks in the storage. This helps to ensure RTO is achievable. Multiple snapshot backups enable close RPOs to be met.
To dig deeper, please download the white paper HPE Recovery Manager Central for SAP HANA configuration and best practices guide. This document explains in detail the best practices for configuring such as adding SAP HANA hosts, SAP HANA database, and also all the different scenarios supported in snapshot backup and recovery solutions.
In conclusion
The solution addresses the challenges of maintaining multiple snapshots and backups for a complex SAP HANA database portfolio of systems that are running on HPE Superdome Flex Single Rack (SR)/Multi Rack (MR) servers. While storage snapshots enable fast backup and restore, they can also enable database refresh from production instance to quality assurance, test, and development instances. HPE Recovery Manager Central for SAP HANA configuration and best practices guide provides complete configuration details and guidance on setting up RMC for Backup, Express protect, and Restoring SAP HANA DB using RMC.
Please contact your HPE representative or HPE Certified Partner should you want to discuss your specific business needs. And here are more resources to help you learn more about HPE solutions for SAP HANA:
HPE Superdome Flex Server Quick Specs
---
Meet HPE Server Experts bloggers

Praveen Ambati Praveen has 18 years of experience in multiple SAP technologies on HPE Infrastructure. Currently working with HPE Solution Engineering Team focused on SAP HANA to build specialized solutions around HPE portfolio.

Roman Gast Roman is for a long time with the HPE SAP Solution Engineering team working on storage architectures and certifications for SAP HANA solutions.
Sanjay Kumar Batra Sanjay has two decades of experience in the IT industry. Currently, he is a Solution Architect with the HPE Solution Engineering Team – SAP HANA, which is focused on creating Solutions and Reference Architectures for enterprise use cases around SAP and/or SAP HANA technologies.
---
Server Experts
Hewlett Packard Enterprise
twitter.com/HPE_Servers
linkedin.com/showcase/hpe-servers-and-systems/
hpe.com/servers

Find out about the latest live broadcasts and on-demand webinars
Read more

Visit this forum and get the schedules for online Expert Days where you can talk to HPE product experts, R&D and support team members and get answers...
Read more
View all
© Copyright 2022 Hewlett Packard Enterprise Development LP