>

>

>

What to look for when choosing an SAP HANA service...
Servers & Systems: The Right Compute
Forums

Blogs

Information

English

What to look for when choosing an SAP HANA services partner
Selecting the right SAP HANA services could be the difference between long-term business success and expensive losses. Here's what to look for when choosing your SAP HANA implementation partner.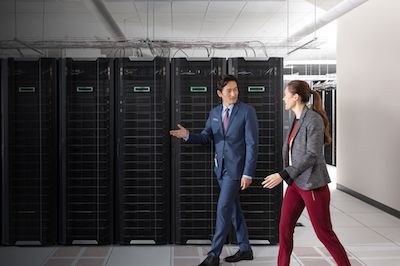 If you're the CIO or decision maker in charge of an SAP HANA project, you know it's not just a simple hardware selection exercise. Your SAP HANA system could easily become mission-critical to your organization. That means the right implementation plan could be the difference between long-term business success and expensive failure.
The first step to creating a successful plan is finding the right partner for both the SAP HANA services you need and the hardware you want to run it on. A good partner can help you anticipate the important issues you may face at each stage of your SAP HANA implementation so you can optimize business outcomes. Here are some things to consider when looking for a partner who can support you for the duration of the project.
Why SAP HANA?
SAP HANA began in 2010 as an in-memory database for real-time analytics, but it quickly evolved into a complete hybrid transactional/analytical processing platform (HTAP). As such, it has realized nearly limitless use cases for real-time and predictive analytics. It has also become the only database option for all new SAP business applications, making it key for everything from data warehousing to enterprise resource planning.
SAP HANA may be powerful technology, but it can be complex from an operational point of view. Sizing, infrastructure design, hardware installation, and ongoing support can all be taxing for an unprepared business. Whatever your use case, the bottom line is that you need to maximize business success by choosing the partner who can minimize risk during every stage of the project lifecycle.
Starting with sizing
Any new implementation project starts with determining what size hardware your organization needs. Fortunately, sizing any SAP application is a science, not an art. SAP provides standard SAP Quick Sizer tools used by all SAP hardware vendors. Based on transaction volumes, these tools can calculate the amount of CPU, memory, and storage needed for all systems and servers in your project, facilitating smooth growth for any SAP HANA use case. With this approach, you can more accurately evaluate the infrastructural feasibility and cost of your SAP HANA project.
This tool was developed, in part, with the help of the Hewlett Packard Enterprise SAP Competence Centre team in Walldorf, Germany. Over several decades, HPE partnered with SAP to fine-tune performance benchmarks and sizing algorithms for all SAP applications. This experience makes HPE a trusted expert in SAP project sizing. If you have a particularly large or complex SAP project, partnering with an experienced HPE team can help you directly with your system sizing.
Creating a detailed design plan
The next step is to take the sizing output and carefully design your SAP HANA infrastructure for each of your SAP landscape systems (development, QA, production, etc.). You may choose a managed private or a public cloud infrastructure, or you may prefer a traditional on-premises approach—or a mix of both. On-premises installments tend to be more popular simply because organizations need maximum control of mission-critical SAP applications, especially ERP. However, what's right for you can only be determined by you and your implementation partner.
When it comes to hardware, most organizations have so far opted for a pre-packaged standard SAP HANA appliance, but the more flexible (though more complicated) SAP Tailored Datacenter Integration (TDI) approach is gaining popularity among larger enterprises. If you're considering that approach, be sure to look for an implementation partner that offers hardware that has been approved to support TDI and that can provide services to help you make the most of it.
You also need to carefully design your infrastructure to be resilient and to support the high availability (HA) and disaster recovery (DR) features your organization needs. If you require fully automated recovery in case an SAP server fails, then it's wise to ask your implementation partner if they can offer a relevant solution.
Finally, since SAP HANA was developed on Intel, it's important to find a leader in Intel technology space. For example, HPE has in-depth experience developing Intel systems and is usually first to market with new Intel servers already pretested using the standard SD two-tier SAP benchmark. HPE offers platforms that support standard SAP HANA appliances as well as a range of HPE SAP HANA TDI solutions for customers needing that level of infrastructure flexibility.
Finally, you will need to design your infrastructure for future growth to ensure scalability and avoid expensive box swaps later. Examine your potential partner's offerings for solutions that enable flexibility and agility, as well as for past experience working with growing companies.
Planning your installation
Once you've determined exactly what your SAP HANA infrastructure will look like, it's time to start installing it. That's where the technical consulting aspects of your SAP HANA services partnership come in.
Your SAP project teams usually need their SAP HANA systems in a hurry, but rushing rarely results in success. To meet this need, many companies use cloud in a Hybrid IT scenario to rapidly provision development systems. Your production system infrastructure, however, is likely to be on premises. It must be professionally installed and commissioned. You will also need to adequately test all HA and DR scenarios before going live. This is a stage when you'll have to rely heavily on a trustworthy partner to meet your needs both in a Hybrid IT situation and in your on-premises deployments.
Be sure to guarantee that your partner can address specific considerations that matter to your organization. For example, you may want to automate parts of your SAP HANA system operations. A strong partner will be able to help you automate where your organization needs it most.
If you plan a migration from an existing SAP ECC system to a new SAP S/4HANA system, there are even more considerations a partner can help you navigate. You will need to measure your existing system's peak usage to clean up all data and to remove all nonessential custom code. If your ECC database is especially large, you will need a partner to help you plan to minimizing the impact of downtime when converting to the new system.
To help you with all this, HPE has over 500 SAP-certified technical consultants globally who can provide these installation services through their Pointnext service portfolio, including SAP HANA–based software and HPE OneView system management tools. HPE also offers the optional standard HPE Workload Aware Security for Linux (WASL) software for automating the security compliance of both Linux and SAP HANA.
Ensure future support
Partnership shouldn't have to end once your SAP HANA implementation is complete. It is imperative that any future hardware or software problems are resolved as quickly as possible, and that you have someone to turn to should an issue arise.
HPE is the only SAP HANA services partner that has integrated its infrastructure support teams' processes with those of the SAP software support teams. This is invaluable in difficult support situations when it is initially unclear whether you have a hardware or a software problem.
A partner with a proven track record
By planning for these critical success factors at each stage of your SAP HANA project, you will greatly reduce its risks and optimize its potential business outcomes. The key is to choose a partner that has a track record of both best-in-class hardware and trusted implementation consulting.
Because of its reliability and consideration for all stages of an implementation, HPE powers the largest market share of installed SAP HANA systems worldwide (about 40 percent), according to Gartner. These installed systems include both cloud and hosting service providers, as well as end-user customers of Hybrid IT.
The majority of the largest SAP systems run on HPE infrastructure. These high-end systems feature HPE Superdome Flex Servers that now provide HPE Persistent Memory support in kits featuring Intel® Optane™ DC persistent memory. HPE Superdome Flex is the most scalable server on the market, being SAP-certified from 4-32 sockets and from 1.5-24TB of shared memory. HPE's own highly complex business supply chain processes also run on SAP software and have since SAP R/3 was first introduced in 1992. In a complex world, it always pays to make the safest choice.
To learn more about how you can get the help you need for your SAP HANA project, take a look at the HPE SAP HANA services available to you.
---

Meet Infrastructure Insights blogger Dr. Derek Prior, independent SAP analyst. For nearly 19 years, Derek Prior, PhD, was a Research Director within the ERP team at the leading analyst firms Gartner and AMR Research. The core of his broad SAP research included technical architecture, Basis operations, support, and business value challenges faced by end users throughout the lifecycle of SAP ERP business applications. Over that time he advised thousands of organizations that were Gartner clients all around the world and spoke at many Gartner and SAP conferences. The big issues he focused on were SAP HANA migration, S/4HANA, managed SAP cloud IaaS services, Basis, SAP Centres Of Excellence (COE), and the SAP Solution Manager.

Insights Experts
Hewlett Packard Enterprise
linkedin.com/company/hewlett-packard-enterprise
hpe.com/apollo

Find out about the latest live broadcasts and on-demand webinars
Read more

Visit this forum and get the schedules for online Expert Days where you can talk to HPE product experts, R&D and support team members and get answers...
Read more
View all
© Copyright 2022 Hewlett Packard Enterprise Development LP