>

>

>

A quick start for Manufacturing IoT using the new ...
Forums

Blogs

Information

English

A quick start for Manufacturing IoT using the new Industrial IoT Starter Kit

By Brian Duffy
HPE Edgeline & Moonshot Global Program Manager
In manufacturing, industrial IoT stands at the forefront of many companies' digital transformation initiatives. But the vision of a connected factory that operates at peak efficiency by leveraging industrial IoT for analytics, predictive maintenance, automated QA, and other operational improvements faces a big challenge: Getting all of the devices, plant equipment, and data sources onto the same platform and securely integrated with cloud applications and management tools. Building such an IoT architecture that gives insights into operations while boosting overall equipment effectiveness (OEE) could take months.
The challenge becomes a lot easier to face with the launch of the Industrial IoT Starter Kit (IISK) from HPE, Softing, and Microsoft. The end-to-end solution is the fastest and easiest way for a company to link a production line to the cloud. With a single kit, staff or integration specialists can connect up to 100 controllers, servers, and associated devices in less than a day.


From traditional plant operations to a connected factory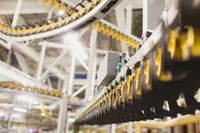 The idea behind connected factory is simple: Take plant equipment, IoT sensors, and other operations technology (OT) and information technology (IT) systems, connect them with each other and powerful analytical tools and cloud applications, and use the data to derive insights, trigger automated processes, improve OEE, and ultimately boost profitability and competitive advantage. According to a report published by the McKinsey Global Institute, the Internet of Things will generate at least $1.2 trillion and as much as $3.7 trillion in value per year by 2025 in manufacturing.
But for individual companies, making the journey from traditional plant operations to a true connected factory is a daunting task. For example, consider a typical production line for a small electronic part. Raw materials and components are fed into the line, where machines and their operators can assemble, test, and package the parts. It's a complicated mix of standalone and daisy-chained controllers and data sources, which include:
Programmable logic controllers (PLCs) from various manufacturers used to control industrial equipment, usually featuring proprietary interfaces to access process- and machine data.
Modern PLCs with OPC UA interfaces.
OPC Classic servers feeding legacy Supervisory Control and Data Acquisition (SCADA), human-machine interface (HMI) technologies, and manufacturing execution systems (MES).
Sensors and SCADA applications running automated processes that connect via an OPC UA server or client.
Legacy MES systems used to manage inventory and historian agents connected with Windows-based clients using OPC Classic specifications.
A mix of other data sources including SQL, NoSQL, and XML, some hosted locally or others hosted on cloud storage platforms.
Adding new IoT sensors and applications and placing all the data into a virtualized environment bring additional layers of complexity. Working with data integrators or assigning staff to build out the system's architecture and IoT infrastructure would be a painful, time-consuming exercise. The impact on production would be significant if devices have to be taken offline or reconfigured.


What's in the Industrial IoT Starter Kit?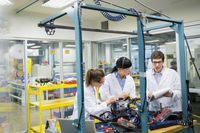 The IISK does away with the complexity. It's built upon the hardy HPE GL20 IoT Gateway configured with CPU, memory, connectivity, and I/O ports and slots. The GL20 is designed to be placed at the network edge, whether it's on the plant floor or at a remote facility. Bundled in this IISK is a software stack that contains the following pieces:
The software delivers powerful industrial connectivity, communication, and management tools. Companies will be able to visualize and analyze connected factory data in new ways, and lay the foundation for industrial IoT to drive predictive maintenance, QA, and new types of factory automation.


Setup and configuration is quick
The IISK allows staff to easily connect the controllers and data sources using a simple software wizard. One Starter Kit can connect up to 100 controllers. The controllers may come from Siemens, Mitsubishi, Rockwell, Allen Bradley, Schneider Electric, WAGO, Phoenix, or other compatible controllers. Other plant equipment and applications may support OPC UA or OPC Classic specifications. The IISK can connect and configure all of them. This minimizes the impact on operations and staff time. Client applications may run on-premises or in the cloud, and they can be connected via various protocols including OPC Classic and OPC UA, as well as secure MQTT and REST.
Managers seeking to minimize disruption to operations will appreciate the ability to first deploy the IISK in a lab environment. This mode provides all the capabilities and strengths needed to evaluate and test the architecture . When deployed in production, there is no need to modify existing firewalls and security protocols.
The IISK from HPE, Softing, and Microsoft provide a robust data and integration solution, as well as a head start into cloud-based OEE and manufacturing analytics. To learn more about the starter kit, visit www.HPE.com/info/Industrial-IoT-Starter-Kit.

Featured articles:
Empowering the Digital Enterprise to be more efficient and innovative through data-driven insights from the Internet of Things (IoT)

Find out about the latest live broadcasts and on-demand webinars
Read more

Visit this forum and get the schedules for online Expert Days where you can talk to HPE product experts, R&D and support team members and get answers...
Read more
View all
© Copyright 2021 Hewlett Packard Enterprise Development LP