>

>

>

ABB at HPE Discover: Focusing on the edge generate...
Forums

Blogs

Information

English

ABB at HPE Discover: Focusing on the edge generates measurable value from day one

Roger Hansen
R&D Senior Engineer, Digital Design
Digitalization can greatly improve results. The better the quality of the data and the quicker it is delivered, the better the outcome. This applies not only across a wide range of OT systems but also the wider universe of IT systems for which most of the performance enhancing digital solutions are being developed. With so many different systems and protocols in the market today, turning digital potential into digital reality can be hampered by a variety of legacy systems and communication protocols. This must be streamlined to maximize returns from digital investments.
A 2017 survey by Accenture and Microsoft revealed that 50% of digital investments are going into data storage -the infrastructure designed to store, manage & retrieve massive amounts of data which is then analyzed to optimize performance. Only 13% of these investments are applied into Edge technology, which performs data processing at the 'edge' of the network, nearest the data source.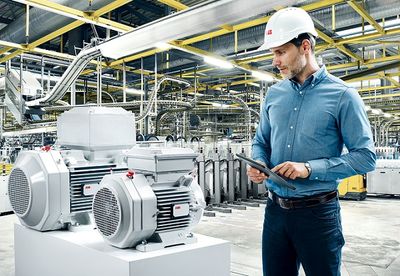 By being "smart" at the Edge where data is collected, one can aggregate information and limit the investment needed for big data storage. The challenge is that much of the key data is locked in diverse legacy systems and devices, each with their own protocols. Many are so old, there are few engineers who still understand them. Plus, using 5 to 10 different software types to extract the data is slow and inefficient. Without ensuring quality of the data gathered, digital improvement and value is limited. How can companies do effective predictive maintenance, if they don't have the right information or it is lacking sufficient quality?
ABB Ability EdgeInsight running on HPE Edgeline Converged Edge System collects data from field devices/gateways/PLCs in OT (operational technology) systems, converts the various field protocols into one common protocol and serves the standardized output to the IT infrastructure while simultaneously guaranteeing no access to the field network.
Data can thus be shared efficiently beyond individual sites while protecting site assets from potential outside interference or harm. Being able to protect the OT / control systems from IT network influence is a table stakes requirement for access to the oil & gas sector.
Data is merged close to field level ensuring the same timestamp and context across vendors and protocols. By unifying complex industrial languages at the edge, one can save up to 75% of the data normally sent through control system databases and avoid data gaps due to control system updates, downtime or faults.
Unlike others offering proprietary solutions, ABB recognizes the value of open-architectures in an increasingly connected world. ABB Ability EdgeInsight's vendor agnostic nature means users have maximum flexibility as there are no proprietary lock-ins and they own their data. We are currently focused on process performance (increasing customer production, lowering environmental footprint) and condition monitoring (predicting maintenance instead of the usual schedule-based maintenance), specifically for rotating machinery and electrical equipment. This is something every oil and gas installation in the world has, along with many other industries.
At HPE Discover in Las Vegas on Wednesday at 11am (Session IF5097), hear how ABB Ability EdgeInsight running on HPE Edgeline Converged Edge Systems can be used to start creating value for customers immediately by allowing to start small, deploy fast and continuously improve.
It is a key enabler in a pilot project we have for a big O&G customer, where secure streaming of data from large gas compressors to our Insight Portfolio (Dashboards, analytics) cuts the analysis from days to minutes. Before implementation of this solution, they had to shut down the compressors to do performance tests and analysis. Today, the system is monitored continuously, in real time.
---
In addition to this session, make sure to explore the ABB booth (168) and the following sessions:
ABB Ability Industrial IoT Platform enables cloud, on-premises and hybrid deployments (B5211 Tue 19th Jun 10:30)
Secure Edge Data Center drives Enterprise computing at the edge (B6279 Wed 20th Jun 16:30)
Empowering the Digital Enterprise to be more efficient and innovative through data-driven insights from the Internet of Things (IoT)
Starting June 22

THE FUTURE IS EDGE TO CLOUD Prepare for the next wave of digital transformation. Join our global virtual event. June 22 – 24
Read more

Find out about the latest live broadcasts and on-demand webinars
Read more
View all
© Copyright 2021 Hewlett Packard Enterprise Development LP