>

>

>

AI in the public sector: Improving government oper...
Forums

Blogs

Information

English

AI in the public sector: Improving government operations with AI at the edge
See how AI is transforming how government agencies do their work as they capture increasing amounts of data at the edge that quickly becomes valuable insights.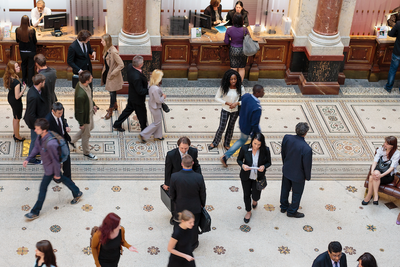 Here's a bold statement for you: The expansion of artificial intelligence (AI) is revolutionizing the public sector—and transforming how state and local governments, departments, and agencies do their work
This is not hyperbole. It's already happening today. In fact, a recent report presented to the U.S. government concluded that rapid developments in AI can reduce the cost of core governance functions, improve the quality of decisions, and unleash the power of administrative data.1 The result? More efficient and effective government performance.
Transforming government operations with AI—all the way to the edge
In the public sector, the ability to harness data instantly for strategic decision-making is already changing how governments perform, innovate, and prepare for the future. With high-value data streaming from a rising number of sources, government organizations are leveraging AI at the edge to effectively capture troves of information and convert it into insights.
Deploying AI where data is generated and decisions made eliminates the latency between data collection, analysis, and action. As a result, agencies that span intelligence, defense, and safety can respond to events autonomously and even preemptively.
In using AI and machine learning (ML) models to present actionable insights, an Edge AI platform aggregates data across supply chains from suppliers, equipment, tools, sensors, video cameras, and systems into a common dashboard. Capturing and analyzing relevant data in near real-time provides extensive visibility into all areas of operation.
Use cases bolster the case for AI
Government organizations are utilizing AI at the edge for game-changing applications such as quality control, predictive maintenance, and asset management. These capabilities are transforming federal operations by enabling more informed decision-making, immediate and autonomous actions, and better overall performance. This AI platform equips organizations with the time-sensitive information required to power these capabilities, when and where they need it. As a result, organizations are able to streamline and improve OEE to remain highly effective, efficient, and competitive.
As a more specific example, consider organizations implementing computer vision technology. In this scenario, the AI platform delivers insights more rapidly and with higher accuracy. Instead of reacting to problems as they arise, governments can use these insights to anticipate potential operational and equipment issues and address them proactively, avoiding downtime.
Watch and hear more about the role of AI in the public sector
In this FEDSCOOP interview, HPE's Dr. Eng Lim Goh, Senior Vice President and CTO for AI, talks about the progress the U.S. federal government is making in achieving digital transformation goals.
Dr. Goh notes seeing an increasing understanding of the value of AI to mission outcomes. And, while he recognizes that organizations are at varying stages of their AI journey—from early stages to proof of concept to advanced production, he believes that there's value in teams learning from each other and encouraging each other through these ranges of AI maturity.
Dr. Goh also discusses the critical role that zero trust and micro-segmentation models will play in securing agencies with modern technology architectures and implementing robust cybersecurity frameworks. He explores how AI can help secure highly distributed environments—with an expanding number of users, devices, and identities accessing networks from edge to cloud—that are poised to have the biggest impact on the governments of tomorrow.
Consider this solution for AI at the edge
At HPE, we understand that AI, data, and analytics are integral to achieving greater insight for superior outcomes. This solution brief offers more details on how HPE, C3 AI, and Intel have developed a fully-integrated turnkey AI solution that can be easily deployed to accelerate time to value. It is purpose-built for edge locations that require low latency for AI applications and highly resilient data security. Improving Federal Operations with AI at the Edge - Solution Brief.
1. Government by Algorithm: Artificial Intelligence in Federal Administrative Agencies REPORT SUBMITTED TO THE ADMINISTRATIVE CONFERENCE OF THE UNITED STATES, February 2020, https://www-cdn.law.stanford.edu/wp-content/uploads/2020/02/ACUS-AI-Report.pdf
---
Insights Experts
Hewlett Packard Enterprise
twitter.com/HPE_AI
linkedin.com/showcase/hpe-ai/
hpe.com/us/en/solutions/artificial-intelligence.html

THE FUTURE IS EDGE TO CLOUD Prepare for the next wave of digital transformation. Join our global virtual event. June 22 – 24
Read more

Find out about the latest live broadcasts and on-demand webinars
Read more
View all
© Copyright 2021 Hewlett Packard Enterprise Development LP