>

>

>

AI innovation drives insights: Prescriptive mainte...
Forums

Blogs

Information

English

AI innovation drives insights: Prescriptive maintenance and image-based quality control
Whatever your business or industry, there is no escaping the ongoing need for equipment maintenance—from factory floor to retail store and beyond.
But how and when you deal with maintenance (and oftentimes quality control) is fast evolving, thanks to innovative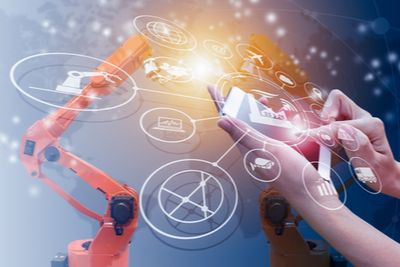 prescriptive maintenance services and image-based technologies that incorporate artificial intelligence (AI) and machine learning.
First, a brief history of asset maintenance
For the longest time, most maintenance was reactive. Something breaks and you fix it. Today, most organizations are in preventative maintenance mode. Say, for example, a manufacturer gives a service window of 1,000 hours running time for certain machinery. At that point the service happens, whether it's needed or not.
Maintenance has evolved now to include predictive and prescriptive maintenance, meaning you only service assets as they actually need it. But in many cases, maintenance still involves spending a lot of time performing manual inspections and asset analyses with information often recoded by hand into spreadsheets.
To accomplish maintenance effectively, you need modern digital tools and technology to provide accurate data that enables you to understand trends and recognize forthcoming problems, so you can then fix them before they impact your business.
Data collected directly from machinery may sense temperature, vibration, and speed, while providing a condition-based monitoring view along with a real-time understanding of what's happening with the machinery. Historical data enables you to predict what is going to happen in the future with that machine. You get to a point where you know in real time what's happening with the machinery—and you have the ability to predict failures before they happen.
Enter prescriptive maintenance—and quality control
The prescriptive piece comes in when you begin to understand the business criticality or the business impact of an asset. If, for example, you have two pieces of machinery on a production line, both may have the identical probability of failure. But one is on your critical manufacturing path, and the other is more of a production buffer.
As a business, the way that you are going to deal with those two pieces of machinery is different. This is where the prescriptive piece goes beyond prediction to understanding the business context of that machinery and applying that to how you react when something happens with that machine.
Keep in mind that while maintenance challenges focus on equipment, closely associated to that is the need to continually improve the quality of the produce the equipment produces. So, if you have a large piece of machinery that you can test to assure it's running perfectly during a production run, you can say with greater certainty what the quality of the outcoming product will be.
Accelerating insights with AI, analytics, and optimized technology
Comprehensive digital prescriptive maintenance services can help your company make better equipment‑based decisions tailored to your needs, your systems, and your environment—while also automating associated actions. And, as you automate prescriptive maintenance, adding image-based technology (think video surveillance and computer vision) can enable greater quality control as well as real-time machine maintenance solutions.
At its core, this modern approach to asset maintenance and quality control leverages the advantages of AI solutions and technologies to effectively and efficiently digitize assets. The goal is two-fold: improve performance and improve business value.
Seeing is believing: use cases
Today, HPE's data scientists and AI solution experts from HPE Pointnext are working with our clients to plan for and deploy AI-based solutions for prescriptive maintenance and image-based quality control. Here are a few use cases that showcase problems being solved.
In the retail aisle: One large international retailer, for example, was looking for ways to streamline regular maintenance and service repairs to equipment located in its stores and warehouses. As a point of perspective, this retailer managed more than five thousand stores and filed approximately 600,000 work orders a year for damaged in-store assets such as vending machines. The company was looking to improve the accuracy for identifying assets, filling out repair orders, and attaching A/V documentation. Working with HPE Pointnext AI experts and leveraging the software from HPE Education Services "Video Remote Guide Software," the team added computer features to the software to recognize different assets requiring maintenance. This image-based quality assurance solution is expected to reduce the number of service orders, enable self-service, and speed-up maintenance
On the factory floor: With their factories producing nearly five terabytes of data per day, a data storage company wanted a solution to optimize its manufacturing process. In collaboration with HPE Pointnext experts, the company defined an edge-to-cloud architecture that leverages AI analytics to converge its IT and operational technology all into one system to deliver real-time analytics and failure event detection.
Before satellites head up to the sky: In another case, HPE worked with a satellite manufacturer to bring the advantages of image-based quality control to the inspection of just-built satellites. Historically, an employee performed inspections manually, taking notes and filing his observations in a report. Now coordinated cameras perform that inspection in real time. This fully automated cycle eliminates human error while speeding the quality assurance process.
Right here at HPE: HPE is now using video analytics, robotics, and artificial intelligence to improve server quality at its partner manufacturing facilities. HPE and the global manufacturer use Relimetrics AI-powered video analytics to improve and verify quality of HPE products. AI and IoT experts from HPE Pointnext together with Relimetrics delivered the customization and scalability of the solution to automate quality inspection and error detection on the production line.
More examples from more industries: The public transportation department of a major international city is partnering with HPE to use image-based robotic services to predict when escalators in metro stations might be experiencing an issue. Once a potential problem is pinpointed, geolocation services are used to connect with the service person who is closest and ready to provide the needed fix. Avoiding the dreaded "dead escalator" issue certainly is a good thing for helping keep commuter customer satisfaction high.
Another HPE client is looking into prescriptive maintenance for connected cars with a proof of concept (POC) that uses image-based predictive maintenance and AI to predict problems with car components before they happen—and automatically schedule the car in for preventative "pitstop" maintenance.
3-step methodology at work to speed design and deployment of AI strategy
In the use cases just mentioned, HPE AI and data experts used a three-point methodology to guide clients through their specific AI journeys that include image-based prescriptive management and quality control:
Explore—We work with clients to understand the outcomes and challenges AI brings. We ground teams on common AI terminology, fostering shared understanding and selecting the best use cases. The goal is to clearly align technology with the business, so the initiative benefits from having the business buy in early on.
Experience—We identify the data sources that will be required for the use case and create a high-level roadmap for use case implementation. This is followed by a proof of value (POV) as to how the solution would be deployed into a production environment. This POV is tested and the outcome is validated.
Evolve—Now we are ready to work with clients to evolve and scale the AI solution. Leveraging HPE's optimized infrastructure that spans from AI edge to cloud coupled with HPE GreenLake pay-per-use consumption models makes this a much easier part of the complete journey.
When you engage with our AI experts, you can discover innovative new ways to apply AI to your enterprise in weeks as opposed to months—so you can quickly identify how to maximize the value of your data. This insight translates into tangible benefits that include limiting scheduled downtime, avoiding defective production, reduced costs through automation, and improved quality.
If you want to dig deeper, please download and read:
---
Meet our AI Insights bloggers:

Peter Baudelle is a consulting strategist with the HPE WW Center of Expertise for Artificial Intelligence, Data and Emerging Technologies. He is in charge of technically or operationally feasible long-term AI analytics strategies and plan development for customers and is remains involved in the first implementation stages.

Iveta Lohovska is a data scientist with with the HPE WW Center of Expertise for Artificial Intelligence, Data and Emerging Technologies. She has a passion for AI, natural language processing, and related areas like machine learning and data mining. She is experienced in project lifecycle development with a focus on data warehouse augmentation and IoT data.

Insights Experts
Hewlett Packard Enterprise
twitter.com/HPE_AI
linkedin.com/showcase/hpe-ai/
hpe.com/us/en/solutions/artificial-intelligence.html

Find out about the latest live broadcasts and on-demand webinars
Read more

Visit this forum and get the schedules for online Expert Days where you can talk to HPE product experts, R&D and support team members and get answers...
Read more
View all
© Copyright 2022 Hewlett Packard Enterprise Development LP