>

>

>

Accelerate data-driven healthcare insight with the...
Forums

Blogs

Information

English

Accelerate data-driven healthcare insight with the value of AI
Artificial intelligence (AI) is instrumental in transforming medical data into actionable insight at any scale and can help improve operations throughout your organization. Here, Vanessa Braunstein, product marketing lead for NVIDIA Healthcare, joins HPE's Rich Bird in a discussion detailing the ways HPE and NVIDIA are helping healthcare organizations discover the potential of AI.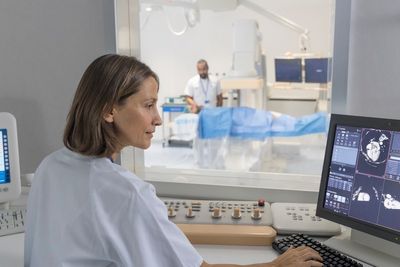 The demand for healthcare is escalating as populations grow, life expectancy increases, and advances in healthcare make it possible to diagnose patients faster, more accurately and less invasively. Clinical teams are shifting the way that they see patients and diagnose diseases, utilizing telemedicine, new instruments, new workflows, and new tools to optimize patient and healthcare staff's experiences.
Hospitals are generating over 50 petabytes of data per year and this amount is expected to increase by 100% every 73 days in 2021. The explosive growth is overwhelming existing infrastructures and causing 97% of this valuable information to go unused. The ability to glean medical insights is more important than ever in order to quickly make sense of unstructured healthcare data, plus bring it together to get a holistic view of a patient's overall health.
Organizations are now rethinking their clinical and operational processes—from resource and data management to delivering immediate, personalized care to a rising number of patients. But there are still significant obstacles:
Deploying information and integrated health services
Optimizing operational workflows
Providing secure and reliable access to medical information
Leveraging data analytics to ease staff burdens
Controlling IT cost and complexity
Remaining compliant with health and government mandates
To meet these challenges, organizations must update their technology environments to maximize operational efficiency and be ready to deploy AI models across hospitals, perhaps across various locations. The right technologies will enable faster, data-driven healthcare operations to accelerate the future of patient care.
Transforming healthcare with AI
Artificial intelligence (AI) is instrumental in transforming medical data into actionable insight at any scale. Healthcare organizations are leveraging AI to harness petabytes of information to help improve staff productivity, optimize workflows, anticipate equipment maintenance, make diagnostic decisions, streamline medical instruments, flag urgent cases, and reduce costs. AI-enabled applications have already been developed to monitor patients and to streamline healthcare practices, using operational tools like touch screens and medical equipment.
Smart hospitals are using these applications to accelerate the conversion of raw, sensitive data—too much for staff to make sense of on their own—into insights. AI machine learning and deep learning are used to model and simulate a variety of tasks to achieve better outcomes. Now, these complex data workloads can be executed quickly and accurately to optimize the delivery of patient care.
AI for operational efficiencies helps to optimize workflows to achieve faster results from healthcare applications and data. Greater visibility and control of healthcare operations allow organizations to make better-informed decisions that can prevent and resolve issues, enable timely patient care, and deliver more effective health and wellness services. In this way, breakthrough AI technologies are driving improvements across ER and hospital management, patient care management, resource management, claims management, services operation, compliance, and fraud detection.
The ability to access intelligence on demand fuels higher levels of performance, with fewer resources, at a lower cost. Despite these benefits, many organizations are slow to adopt or scale AI. According to Accenture, 76% of organizations struggle to scale AI across their operations, and 84% of those surveyed fear missing their growth objectives if they cannot scale AI. Next-generation technologies are essential to overcome this roadblock that can support smart, scalable, and cost-effective healthcare.
Adopting next-generation solutions
HPE is empowering the future of healthcare with insight on demand. The HPE AI platform is a comprehensive solution designed to enhance clinical outcomes and efficiencies—all at unprecedented speed and scale. The HPE Apollo 6500 systems and HPE ProLiant DL380 servers are NVIDIA-Certified Systems, validated for the performance, manageability, security, and scalability required for modern applications. The HPE AI platform also features Cray ClusterStor E1000 storage systems, delivering high throughput to GPUs with unprecedented agility to execute demanding AI workloads. These systems are optimized for AI and data-intensive workloads and come with validated AI, HPC, and analytics software in a range of healthcare applications. Healthcare organizations can configure DevOps and MLOps software to fit their specific requirements, so the staff can focus on patient outcomes. Supported by a robust ISV healthcare ecosystem, GPU-optimized software simplifies IT deployment and management while optimizing performance, helping data scientists, developers, and researchers focus on building solutions, gathering insights, and fueling medical insight.
Organizations can choose to deploy AI healthcare solutions on-premises—in conjunction with GPU-accelerated virtual desktop infrastructure (VDI)—or as a service. Beyond traditional financing and leasing, HPE Financial Services and HPE GreenLake give you flexibility in how you acquire and consume IT. HPE GreenLake offers AI as a service, a pay-per-use model that brings cloud-like agility with the security and control of on-premises IT. HPE GreenLake for VDI includes NVIDIA GPUs and is redefining how healthcare organizations operate with VDI as a service (VDIaaS). A simple and secure way to buy and scale VDI, VDIaaS eliminates the need for costly upfront investments or continuous upgrades by extending the choice of payments options.
To help you get started, HPE Pointnext Services are available to plan and implement your ideal AI solution. You can collaborate with HPE experts to identify your specific business goals and operational requirements, identify issues, and select the best technologies, tool, and services for your needs.
Discovering the potential of AI for healthcare
HPE and NVIDIA are preparing healthcare organizations to glean insights from enormous siloed healthcare data to help with patient care. The HPE AI platform is engineered with leading-edge technologies, tools, and services to accelerate intelligence and performance, while dramatically decreasing your TCO. These comprehensive solutions capitalize on AI to enhance how you work, learn, and make decisions, helping you transition seamlessly from the age of information to the age of insight. Together, we are pioneering a new era of healthcare.
Let us help you unleash optimal efficiency through healthcare insight with the value of AI.
---
Meet our Tech Insights guest blogger

Vanessa Braunstein leads product marketing for NVIDIA Healthcare. She has worked with life science researchers and the clinical community on building and implementing AI to optimize workflows in hospitals, medical research institutions, pharmaceutical companies, and cancer centers. Vanessa received her BA from UC Berkeley in molecular and cell biology, and then studied public health and business at UCSF and UCLA.
Insights Experts
Hewlett Packard Enterprise
twitter.com/HPE_AI
linkedin.com/showcase/hpe-ai/
hpe.com/us/en/solutions/artificial-intelligence.html

About the Author
Rich_Bird
Rich Bird has worked in the IT industry for 20 years with some of the largest commercial brands. For the last 5 years he's been focused on healthcare IT at Hewlett Packard Enterprise, and believes deeply that digital technologies can, will and need to have an impact on the delivery of better healthcare, for people all over the world. Educated in Computer Science at Coventry University, and starting his career as a network engineer for Rolls Royce, he moved into human communications roles in 2006. Rich leads teams in delivering integrated marketing campaigns into National, local and regional Governments in the UK, where Rich found his passion for making the complex concepts of IT, simple and understandable for his audience. During this time he found his true calling, Healthcare, and how digitization can improve real people lives. He created a companywide growth board focusing on the UK NHS, pulling together disparate teams of sales, marketing, solutions architects, chief technologists and the country leadership teams for HP/HPE UK. Rich is a strategic thinker who understands the practical elements that are required to get the job done and deliver real impact. His areas of specialization include Healthcare IT, Marketing, Communications, and NLP.
Starting June 22

THE FUTURE IS EDGE TO CLOUD Prepare for the next wave of digital transformation. Join our global virtual event. June 22 – 24
Read more

Find out about the latest live broadcasts and on-demand webinars
Read more
View all
© Copyright 2021 Hewlett Packard Enterprise Development LP