>

>

>

Boost banking efficiency and performance with AI-e...
Forums

Blogs

Information

English

Boost banking efficiency and performance with AI-enabled applications
The banking industry is undergoing a massive shift as institutions work to increase the effectiveness of operations. Global trends like rising cybersecurity risks, high customer expectations, mobile banking, and the development of competitive services have made it essential for banks to reinvent themselves. Here two experts in the financial services industry, Jennifer Smith, global marketing lead at HPE, and Kevin Levitt, global business development lead at NVIDIA, discuss the impact of these trends and the role AI is playing.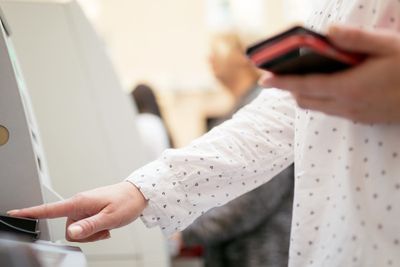 For banking executives, staying ahead of rising expectations means optimizing critical processes to create new efficiencies and realize better outcomes, while maintaining high standards of security. Their goal is to enhance products and services—like digital account, loan, and account management tools—to meet customer needs, capitalize on industry demands, and drive revenue.
Banks that run on traditional or outdated technologies often lack crucial levels of compute power and flexibility, which can slow time-to-value and open them up to security breaches and lost revenue. Legacy environments have to work harder to meet requirements like evolving compliance mandates and keeping pace with business growth. To overcome these challenges, banks are looking for next-generation solutions that can deliver performance and intelligence at scale.
Discovering the potential of AI
Today's banks are exploring the capabilities of artificial intelligence (AI) to become more insights and data-driven. AI technologies are the foundation for productive and cost-efficient banking, providing a major opportunity for institutions to gain real-time value from massive streams of data.
Advancements in AI are fueling progress in four main banking applications—fraud detection and identity verification, conversational AI and speech recognition, robotics process automation (RPA) for document processing, and recommendation engines.
Risk management is top of mind for banking executives, an initiative spanning security, regulatory compliance, fraud, anti-money laundering (AML), and know your customer (KYC) guidelines. Cyberattacks cost individual banks $18.3 million a year. The fastest-growing financial crime in the U.S. is synthetic identity fraud, which costs a staggering $1.2 billion a year. Banks can significantly mitigate the risk and revenue loss caused by cyberattacks and other criminal activity, using AI to scan payments and flag anomalies in milliseconds.
In the call center, conversational AI and automatic speech recognition help to improve customer support experiences. Instead of spending several minutes logging call notes, banks use these applications to transcribe video and audio events instantly, to gain insights from every customer engagement as well as automate daily processes.
Banks employ RPA for document processing to further enhance operational tasks. This application is much more than simple document processing. RPA quickly extracts meaning from documents, regardless of the language or layout. This allows banks to automate workflows and make human-like decisions, eliminating the labor and expense of processing events manually.
Recommendation engines are designed to increase customer loyalty and satisfaction. Using AI and machine learning models, recommenders use information like credit scores, outstanding balances, account utilization, and customer details to offer personalized suggestions. AI enables recommendation engines to process larger models and more data at once, so banks can efficiently allocate resources to deliver the ideal products and services.
Despite these game-changing benefits, many banks don't fully utilize AI. 76% of banking executives struggle to scale AI across their businesses, and 84% of those surveyed fear missing their growth objectives if they cannot scale AI.
To succeed, banks must create a technology environment that can facilitate a new breed of intelligent applications, while minimizing upfront costs.
Adopting the right tools for your AI journey
HPE in partnership with NVIDIA is empowering banking insight on demand from edge to cloud. The HPE AI platform features cutting-edge solutions that are designed to enable faster, smarter, safer banking.
We combine NVIDIA-certified HPE Apollo 6500 systems and HPE ProLiant DL380 servers built on industry-leading NVIDIA GPUs to enable a variety of banking applications. The HPE AI platform also features Cray ClusterStor E1000, which delivers maximum throughput to your GPU nodes for unprecedented efficiency.
The HPE Apollo 6500 systems and HPE ProLiant DL380 servers are NVIDIA-Certified Systems, validated for the performance, manageability, security, and scalability required for modern applications. This makes it simple to build and deploy intelligent applications to identify critical insights in vast amounts of data, calculate risk, and automate routine tasks—all at unprecedented speed and scale.
Banks can choose to deploy these AI banking solutions on-premises—in conjunction with virtual desktop infrastructure (VDI)—or as a service. Beyond traditional financing and leasing, HPE Financial Services and HPE GreenLake give you flexibility in how you acquire and consume IT. HPE GreenLake offers AI as a service, a pay-per-use consumption model with the security and control of on-premises IT. HPE GreenLake for VDI furthers these capabilities with VDI as a service which is easily scalable and eliminates the need for costly upfront investments.
To accelerate your transformation, HPE Pointnext Services are available for you to plan and execute a successful AI strategy. We discuss your business goals, identify challenges, and select the best technologies and services to help you evolve and lead the industry.
Reinventing banking operations
HPE in partnership with NVIDIA can help you discover the benefits of AI for your business. The HPE AI platform is expertly engineered to increase productivity, dramatically improve insights, and extend profit margins, all while reducing your TCO. These robust solutions are key to unleash your AI capabilities, so you can tackle today's challenges and evolve for tomorrow's requirements.
Let us help you unlock the future of banking through the value of AI.
---
Meet our Tech Insights bloggers

Jennifer Smith leads Global Marketing at HPE for the financial services industry (FSI). She is strategically delivering innovative solutions in areas such as Hybrid Cloud, AI, Data Analytics and Virtualization to help FSI customers achieve real business outcomes. Jennifer received her B.A. in Industrial Engineering from Georgia Institute of Technology and MBA from Owen Graduate School of Management at Vanderbilt.

Kevin Levitt leads global business development for the financial services industry at NVIDIA. He focuses on global trends in accelerated compute and AI across financial services, including fintech, retail banking, credit card, and insurance. Kevin holds a B.A. from American University in Washington and an M.B.A. from the R.H. Smith School of Business at the University of Maryland.
Insights Experts
Hewlett Packard Enterprise
twitter.com/HPE_AI
linkedin.com/showcase/hpe-ai/
hpe.com/us/en/solutions/artificial-intelligence.html

Find out about the latest live broadcasts and on-demand webinars
Read more

Visit this forum and get the schedules for online Expert Days where you can talk to HPE product experts, R&D and support team members and get answers...
Read more
View all
© Copyright 2021 Hewlett Packard Enterprise Development LP