>

>

>

Cast a leading-edge infrastructure to support your...
Forums

Blogs

Information

English

Cast a leading-edge infrastructure to support your production in the next era of broadcast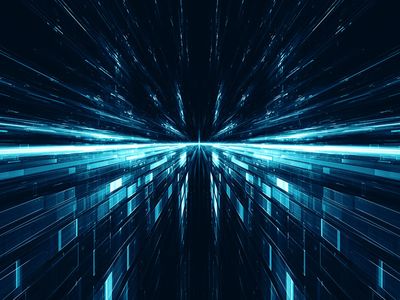 Have you cast your leading infrastructure players to support your business in the next era of broadcast? Just as a show needs a talented cast to help the lead actor shine, your broadcast technology needs supporting infrastructure solutions to bring out the best in your productions.
Today, many broadcasters are making the transition to an ATSC 3.0 world. This world revolves around IP-enabled workflows from content origination through broadcast transmission.
In this environment, broadcast businesses need an edge infrastructure that consistently performs to the highest standards. This infrastructure will need solutions that can efficiently and consistently meet the uniquely unforgiving demands of the industry. Broadcasting has less margin for error than its IT cousin: The traditionally acceptable measurements of five nines (or even six nines) for high availability in IT simply aren't good enough for broadcast. Neither are the standard architectural designs used in IT to address failover and network reconvergence timings. As any broadcasting business knows too well, even a single second of dead air due to infrastructure failure would bring complaints from your audience, your content providers, or your advertisers—all unacceptable outcomes.
IP takes the lead in content delivery
Broadcasting businesses operate in a world where the plant of technology is always multithreaded and often builds in the redundancy of multiple, independent broadcast chains from source to sink. Traditionally, only the asynchronous elements of the chain (such as edit or post) have been handed over to IT-like services. But the broadcast chain of the future will look different. IP has become today's transport mechanism of choice. Going forward, IT-based services, powered by an IP transport, will take the lead in content delivery. Over time, the role for traditional HD-SDI or ASI-delivered video essence will continue to shrink until content is, for the most part, delivered by IP from end to end.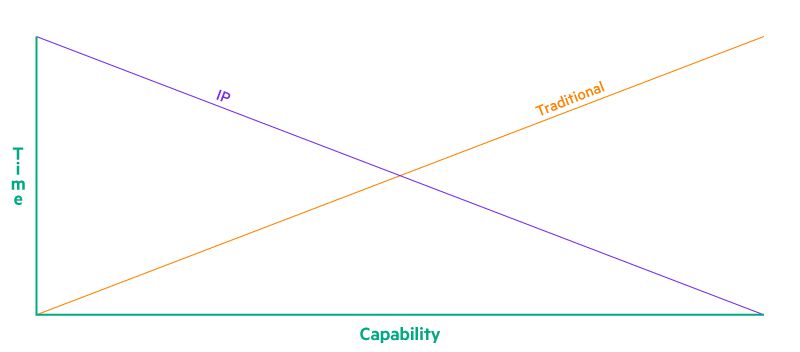 Figure 1: Content delivery is moving toward IP-to-IP delivery, end-to-end.Broadcasters must also meet the pressure to distribute more and more content to an increasingly diverse and segmented demographic—as granular as an audience of one—within an allocated, finite amount of spectrum. Here too, the broadcasting industry must look toward IP-based content delivery. Coupling the shift away from traditional content delivery methods with the pressure to reach more audiences with more content makes it an absolute must to have an infrastructure that enables economy of scale. With proven advantages for cost and connectivity, IP will be central to the broadcast chain of the future.
Building the broadcast chain of the future
At HPE, we have been focusing on what we call the "edge-to-cloud platform as a service." This is a series of capabilities that enable digital transformation—regardless of the industry—from the edges of a business all the way to whatever the instantiation of a cloud may resemble for that organization—be that on premises, hybrid, or public.
For broadcast specifically, you can think of a broadcaster's edge. Think of this as both the point at which content is first created (the point where creativity and technology touch for the first time), and conversely, the point of transmission (the point where the audience touches the content as the producer imagines it to be seen.) The important part of this concept is that both points of this edge are designed to create an experience.
Essential elements of the broadcaster's edge
To successfully create that experience for the content creator, the broadcaster, and the audience who receives the content, a broadcast chain requires an edge with several key traits.
The broadcast's edge must be:
The edge is held to the highest standards of service level agreement (SLA) so that the air is never lost during any part of the transmission.
If a problem occurs, the broadcast operator must have visibility to how the infrastructure will react and be able to ensure that service will be maintained for the air chain under all conditions.
The broadcaster's edge must be able to ebb and flow based on the values of the content and audience—accepting a proportional risk model based on the operator's appetite to accept it.
It's rare to see a broadcast business being asked to do "more with more." As always, all these infrastructure-related factors must be achievable in an economically feasible way: Most likely, businesses like yours are being asked to do more with less.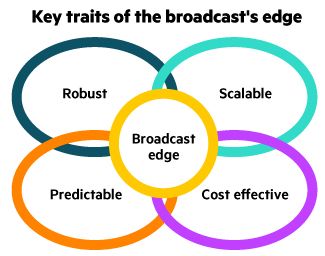 Aruba Networks, part of the HPE family, has focused on the edge for many years as businesses in industries across the gamut modernize their infrastructures to move processing from the edge to the cloud and consume the resources in an as-a-service model. Aruba has built products that made the edge economy and edge experiences possible for organizations in industries from finance to education and beyond. Coupled with HPE's robust portfolio of storage and compute capabilities, these solutions offer a winning combination for the edge.
But again, broadcasting is different. The demands are very stringent, and the tolerances for failure—or even error—are miniscule. As a result, the requirements for a broadcast-specific edge infrastructure are different as well. You could build an IP-based broadcast chain in the traditional way with dedicated components like you'd use in a traditional linear broadcast chain…but you shouldn't. If you took this old-school approach, you would lose out on the advantages of scale and capabilities that an IP network offers.
You can better answer the first tenant of robustness of content transit in other ways:
For example, to contain cost, you could consider alternative methods to deliver the content. Using SD-WAN capabilities can offer a way to provide robust and cost-effective transmission of content over IP, while making the most of the connectivity you have available—be that 4G, 5G, Satellite IP or services from a local ISP. SD-WAN technology can help deliver your content back to the broadcast center, while efficiently and effectively handling the traffic and path selection issues that come with utilizing a commodity transport like the Internet.
Maybe you've already transitioned a portion of your operations to a cloud provider; maybe you're already using cloud storage for ingest and playout. In this case, you could use a virtual SD-WAN gateway to create a secure and robust transit path directly from the source to the cloud instance.
You'll also need to consider output: By the very nature of its protocols, the ATSC 3.0 standard has introduced a new era of IP delivery. It's important to consider how edge infrastructure can impact IP delivery in this world. The goal is to create a reliable chain all the way to the point of broadcast, be that a broadcast tower or an internet delivered stream.
As discussed in another recent blog, the ATSC 3.0 ecosystem comes into its own when broadcasters move away from a one-to-many distribution to reach any number of smaller market slices. Using a cloud-like broadcast-as-a-service model makes it possible to handle the ebbs and flows needed for the scale up and down to reach those audience slices with the right content, directed advertising, or feedback mechanisms needed for interactivity. The ability to scale these broadcasting capabilities relies on an IP delivery mechanism that's based not only on unicast (one-to-one) but also multicast (one-to-many) to scale.
Self-orchestrating, self-healing broadcast network
HPE/Aruba's line of core switches handles the processing, the stringent traffic demands, and the capabilities needed to support the IP protocols for any use case. But it goes beyond that.
By coupling artificial intelligence (AI) and machine learning (ML) at cloud scale with a switch operating system designed from the ground up to ensure operations, you can build a connected edge infrastructure. This infrastructure not only moves content from source to sink, but also provides high levels of AI-based assurance to the operational characteristics of the network. These predictive and proactive capabilities can orchestrate the broadcast network infrastructure and the demands placed upon it. At the same time, these functions can monitor for potential issues from configuration mistakes to physical issues such as possible fiber or transceiver failure and flag them to the human operator before they escalate into a problem. This helps ensure steady broadcast operations from edge to edge.
Real-time compute capabilities at the edge
Beyond the network transport at the edge, a great deal of processing will potentially occur on your content during its lifecycle. HPE has a line of robust and field-hardened tried and tested compute capabilities that allow you to extend the broadcasting needs for software elements. These capabilities include real-time editing, encode, decode, or transcode along with other functions as far out as the camera operator or the broadcast tower edge—or even the content consumers. (For example, you can pull in data from the consumers of your content for purposes of real-time, contextual analytics
HPE supports broadcasters with leading-edge infrastructure
As you hold auditions for the all-star supporting cast of technology to highlight your broadcasts in an ATSC 3.0/IP world, consider partnering with HPE to deliver the edge-to-cloud platform as a service offering that will enable the experience your audience deserves.
Contact HPE's telecom digital services creation experts to learn more.
About HPE Telco Experts:

Paul Burke is Chief Solution Architect – Communication Media Solutions (CMS) Americas for HPE, focused on 5G authentication solutions as well as the intersection and orchestration of broadband/cable, wireless, and ATSC. He holds a BS degree in Electrical Engineering from the University of Massachusetts and is a respected patent holder and author in the telco industry.

Ali Dernaika is a solution architect in digital video services for the HPE Americas region since 2016. He holds a master's degree in telecommunications from Lebanese University. Ali has worked in several major telecom companies and service providers with responsibility for TV service architecture and deployment; currently he's focused on digital transformation to media clouds.
James Robertson is Vice President of the HPE/Aruba Networks Industry Executive Group, a small group of visionary industry experts recognized for their deep technical leadership and business excellence and previously spent over 20 years in the Media & Broadcast industry holding roles from Operations to Executive Management. He holds a BSc and MS in Computer science with specializations in networking, security and artificial intelligence. He is a regular presenter at industry events and contributor to numerous industry publications.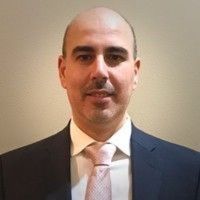 Atheer Sabti is a Global Video Solution Architect at HPE with over 20 years of experience in the technology and media industry with a working experience and background in broadcasting and telecom domains, participating and contributing to achieve business growth and expansion by means of developing and researching solutions that address the business goals, demands, and opportunities.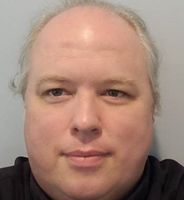 Sean P. Sullivan is an HPE North America strategy director in communications, media and entertainment, and has been with HPE since 2011. He has over 20 years' experience in the telco and media industries, currently focusing on edge cloud connectivity via 5G/FWA and ATSC 3, extending into WiFi, MEC and uCPE. He holds degrees from Florida State University and the Ohio State University.
Telco Industry Marketing
Hewlett Packard Enterprise
twitter.com/HPE_Telco
linkedin.com/company/hewlett-packard-enterprise
hpe.com/solutions

Find out about the latest live broadcasts and on-demand webinars
Read more

Visit this forum and get the schedules for online Expert Days where you can talk to HPE product experts, R&D and support team members and get answers...
Read more
View all
© Copyright 2021 Hewlett Packard Enterprise Development LP