>

>

>

Discover the hidden value of data
Forums

Blogs

Information

English

Discover the hidden value of data
Where are you on your data-driven journey? And how do you plan for what's next? Learn how an assessment of your data monetization maturity model will help you take a more structured approach to determine the current stage of data maturity.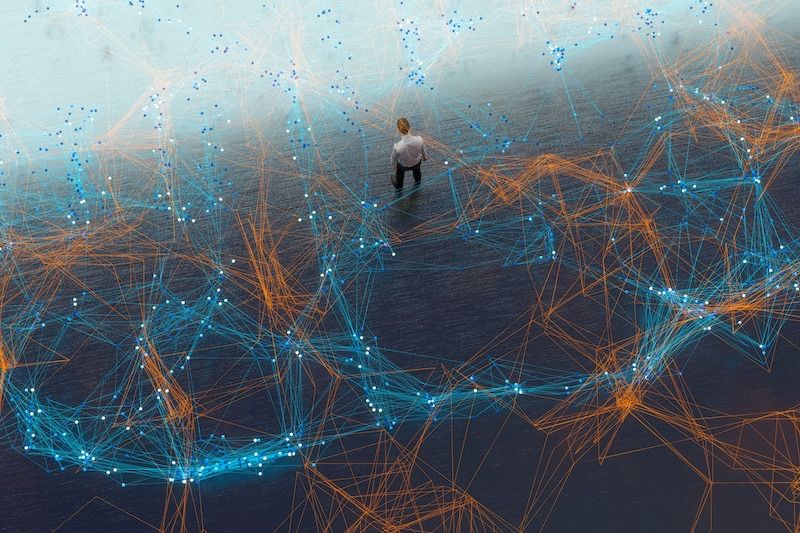 Gartner has reported that 75% of data will be created outside traditional data centers or clouds.1 With this exponential growth of data from an explosion of data sources, how can organizations leverage this massive amount of data? In the past year, the COVID-19 pandemic has driven most organizations to transform at a much faster pace, so how can we leverage on the amount of data available for the transformation efforts?
Organizations want the ability to extract actionable insights from their data to drive competitive advantage and fuel their digital transformation. So the operating model for most will be a more data-driven approach, whereby decisions and strategies are made based on information. Having the data-driven decision making approach practiced across various business units for it to be part of the culture of the organization.
In a recent research HPE conducted covering 5,000 respondents worldwide,2 we found that close to 80% of organizations reported being thoughtful and mature in using their data. While the rest of the organizations (20%-23% of respondents), rated themselves as not being proactive or having no understanding on how to best use their data. (See Table 1)
Yet, among the same group of respondents with varying degree of data maturity, the percentage of data used for artificial intelligence (AI) or machine learning (ML) did not vary much between the maturity levels. (See Table 2) These respondents covered were IT and business decision-makers, data scientists, and developers across North America, Western Europe, and APJ.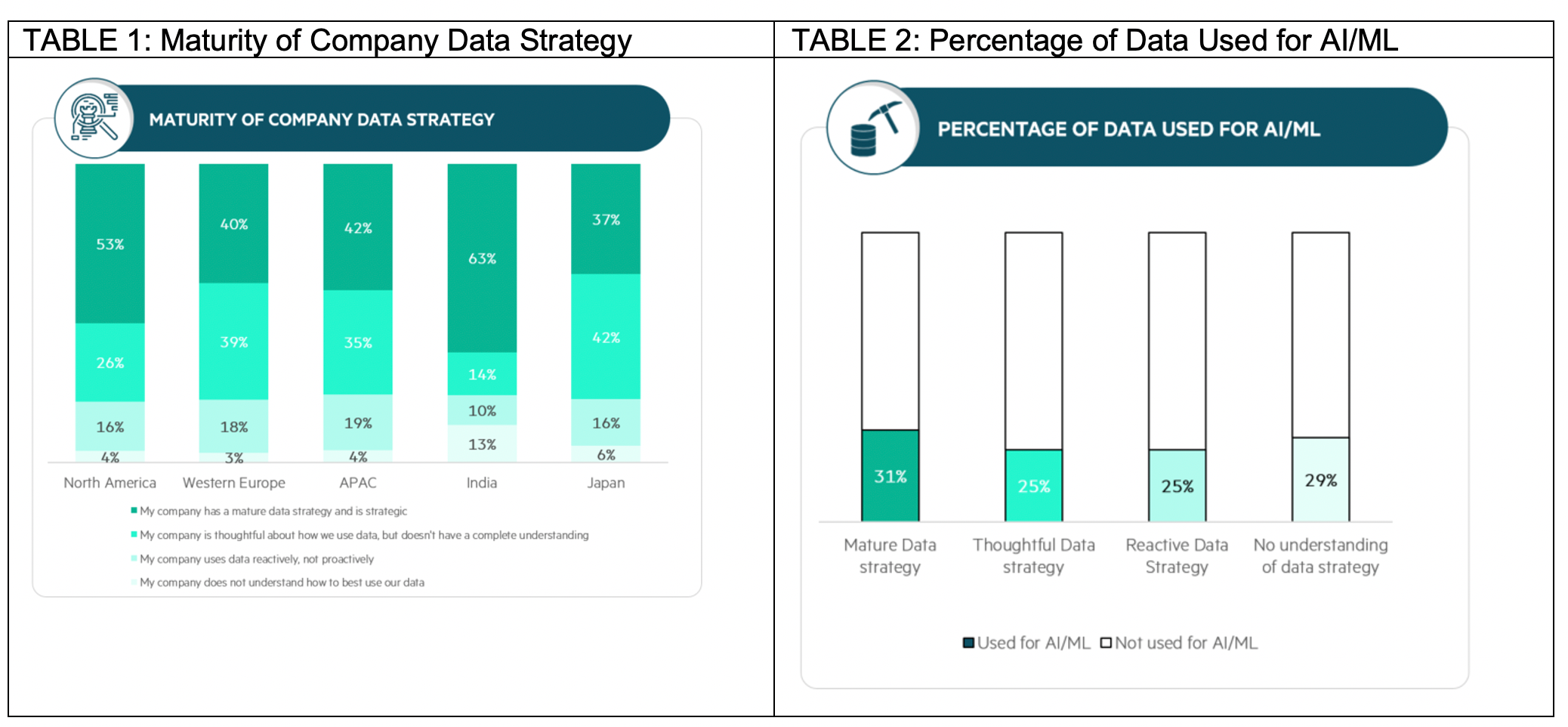 Are organizations really aware of how to better utilize data—and how to leverage this data for faster time market to gain a better competitive advantage?
Let's take a closer look at the concerns surrounding a data driven approach.
Data integration and security
To enable a data-driven approach, most organizations will need to build a data foundation that allows data to be ingested from various disparate sources to gain insight and take action. These data sources can stem from operational technology (OT) systems, commercial and industrial equipment and various applications across multiple platforms. The data can be combined and contextualised for them to be more meaningful and harness for deeper insights for business decision making with advanced technologies such as machine learning or deep learning tools.
Security is also of paramount importance as these data are key assets of every organization and may contain private data as well as organization confidential and competitive data. Any data breaches may result in reputational damage, legal lawsuits or even survival of the organization.
A holistic approach for data-driven organizations will require an ecosystem of tools, as well as unified and secure data platforms with proper data management and governance. IDC has predicted that by 2023, 50% of organizations will adopt a "data supermarket" strategy to unify data storage, access & governance capabilities to deliver a consistent data experience and maximize value of data.3
However, organizations face various challenges in their AI adoption and data analytic journey. These can be in areas such as:
Data strategy and management with data being scattered everywhere
Internal organization processes and management
AI advisory and specialist skillset
Infrastructure readiness (tools, platform)
How can most organizations best unlock the value of data? And how can they know what value they can generate or capitalize from the data?
Let's consider an approach to unlock the value of data.
Data monetization maturity model overview
In sales and marketing, we may look at customer lifetime value to assess the potential monetary value of a customer relationship to the business. This is calculated based on the present revenue value and the projected revenue over the lifetime of the customer relationship. For online retail business, this can be calculated using average purchase value, multiplied by the frequency of purchases over the average customer retention period.
Likewise, organizations will be interested to know how to assess the value of data.
Organizations may start with an enterprise model that describes the ability to generate and capitalize on value from data, the data monetization maturity model. It will enable organizations to identify their current stage of data monetization maturity and look ahead in planning to extract their data value.
Consider various approaches in looking at the data monetization maturity model. The approach that we want to share here is proposed by our HPE AI and data driven advisory services, which looks at the data maturity (ee Table 3) from three core areas. (See Table 3)
Data sovereignty—the ability to control all aspects of data generation, data consumption and data monetization
Company maturity—the ability to systematically plan and execute with readiness of strategy and people resources
Data value capabilities—the capability of architectural and technical enablers for data flow, data management and advanced analytics/AI
TABLE 3: HPE Data Monetization Maturity Model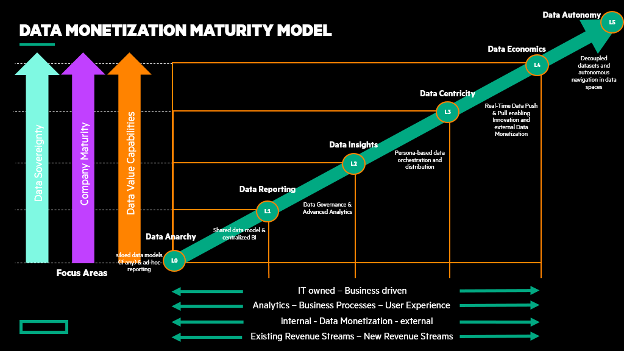 The various stages of maturity are then determined for each of the above three focus areas. The maturity of each focus area can start at the very initial stage with ad-hoc reporting or basic data models (Level 0 – Data Anarchy) and develop to higher maturity levels from Data Reporting (Level 1) to Data Autonomy (Level 5), based on characteristics of data management, insights generation and monetization.
Data maturity varies among industries, with financial services taking the lead in their data-driven approaches. For industries in their early stages of maturity, they leverage on traditional applications in providing the standard or customized reports with some efforts taken to extract some of these data for consolidation to do further analysis to start their journey (data maturity level 0 or 1).
Most often, external expertise, such as what HPE provides with our big data consulting services, can be engaged by organizations to define a roadmap for their own data maturity. This will enable organizations to maximize a data-driven approach toward margin and revenue generation while also strengthening digital sovereignty when creating sustainable competitive advantage in the data economy.
Embarking on an assessment of data monetization maturity model will enable organizations to take a more structured approach in determining their current stage of data maturity and chart their data-driven journey over time.
Learn more about HPE AI
HPE offers practical use cases and validation blueprints with partners to rapidly design and deploy your AI solution. Whether you're looking to get started, optimize, or scale, HPE AI has you covered. This infographic shows how we accelerate innovation with a proven, practical approach to AI.
Related articles:
---

Meet our HPE Expert blogger Wen Woan Lim, Industry and Workload Marketing, APJ & EMEA, HPE. Wen Woan has over 20 years of experience working with IT vendors in positioning solutions for organizational challenges. She is currently working in HPE under the global industry and workload marketing team, focusing on driving edge to cloud solutions across various industries.

HPE Experts
Hewlett Packard Enterprise
twitter.com/hpe
linkedin.com/company/hewlett-packard-enterprise
hpe.com
---
1 Gartner; Top 10 Strategic Technology Trends for 2020; October 2019
2 HPE commissioned study; HPE GreenLake Challenger Research Report; September 2020; Emerald Research Group
3 IDC; FutureScape: Worldwide Data and Analytics 2021 Predictions

Find out about the latest live broadcasts and on-demand webinars
Read more

Visit this forum and get the schedules for online Expert Days where you can talk to HPE product experts, R&D and support team members and get answers...
Read more
View all
© Copyright 2022 Hewlett Packard Enterprise Development LP