>

>

>

Experience the Future of Quality Management – Toda...
Forums

Blogs

Information

English

Experience the Future of Quality Management – Today. Catch our Video Analytics Demo at HMI

by Steve Fearn
Distinguished Technologist, HPE Pointnext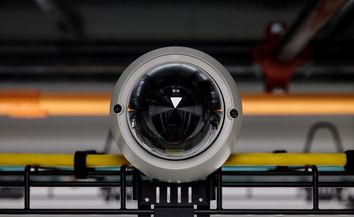 It's hard to think of a set of processes that's more crucial to a manufacturer's success than quality management – especially given today's accelerated production schedules and the proliferation of options and extras, amounting almost to customization, on many manufactured goods. Yet many quality assurance and control processes remain dependent on manual and human inputs to a quite surprising extent.
Watch a computer assembly, say, as it rolls into a QA cell, and you'll likely see a skilled technician making sure that everything is as it should be, checking that the cables are hooked up properly, the memory module is seated correctly, everything is aligned. Or consider a car with a bunch of options fitted at the factory. There's a technician eyeballing the vehicle – does it have the right wheel trim, the precisely correct paint color? Humans are not ideally suited to the task of looking down a list of components – which may all be very similar – and translating that into what they're seeing in the physical unit in front of their eyes.
Industrial IoT innovations are poised to transform quality management into a much more streamlined, integrated set of processes. If you'd like to know what that looks like, join Hewlett Packard Enterprise at Hannover Messe 2018 in Hannover, Germany, from April 23 to 27. Together with our partner Relimetrics, we'll be demonstrating a closed-loop optical quality control system using video analytics and machine learning to perform a quality audit on a server assembly.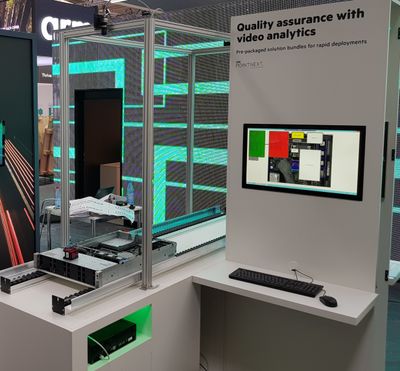 How it works.
A set of high-definition cameras performs a visual inspection of the server as it arrives on the conveyor belt. A computer vision/machine learning system from Relimetrics pulls a detailed description of the components from the manufacturing execution system (MES). It then compares that bill of materials with the data from the cameras. If it detects something it's not happy with – a component that's missing or not correctly aligned, a screw that's not tightened enough – it will flag the issue. Now the unit can be pulled out of production so that the problem can be quickly resolved, or investigated in more depth to find out how it happened. If everything is well, the system clears the server for the next step, and the unit can be boxed up and sent out to the customer.
But the demo doesn't stop there. We also show you how HPE Pointnext Lequinox platform enables the manufacturer to show the customer or distributor who ordered the server exactly what they're getting, before they get it.
Lequinox is a distributed ledger ("Blockchain-like") solution that offers real-time notarized processes that build accountability, responsibility, and traceability into transaction workflows. When the video quality control system determines that the server's build is good, it pushes a payload through one of Lequinox's APIs to provide the customer with the details of the product, as well as a serial number and a digital certificate to assure that the system is authorized to sign off on the server. It also provides a date/time stamp, and ample images from the video feed to show the configuration and assure the customer that the build is correct.
Yet another important feature about this solution is that the compute power needed to carry out these processor-hungry analytics is being supplied right where the action is happening: on the production floor. In other words, the computing or processing of the data is done at the "edge" with HPE Edgeline IoT Systems. This means that instead of sending Terabytes of video and image files back to the datacenter or the cloud, the quality assurance algorithms are executed at the edge, allowing for faster problem detection, increased data security, lower redundancy and faster actionable insights.
This is a great opportunity to see QA video analytics in action. It may be the future of quality management, but it's also very doable right now. HPE is using a similar system at its Gen10 server production facilities in Kutna Hora in the Czech Republic, and we're planning to roll it out company-wide!
To see all of this in person, stop by the HPE booth at Hannover Messe, April 23-27 (Hall 6, Booth A38). If you will not be attending Hannover Messe, you can still follow the updates from the show floor in a convenient way:
To find out how HPE can help your company collect and analyze data from connected assets, locations, and people to deliver actionable insights at the industrial edge, visit our Industrial IoT page.
To learn more about HPE's manufacturing solutions visit www.hpe.com/info/manufacturing
Featured articles:
Empowering the Digital Enterprise to be more efficient and innovative through data-driven insights from the Internet of Things (IoT)

Find out about the latest live broadcasts and on-demand webinars
Read more

Visit this forum and get the schedules for online Expert Days where you can talk to HPE product experts, R&D and support team members and get answers...
Read more
View all
© Copyright 2022 Hewlett Packard Enterprise Development LP