>

>

>

Five ways industrial companies use augmented reali...
Forums

Blogs

Information

English

Five ways industrial companies use augmented reality to drive efficiency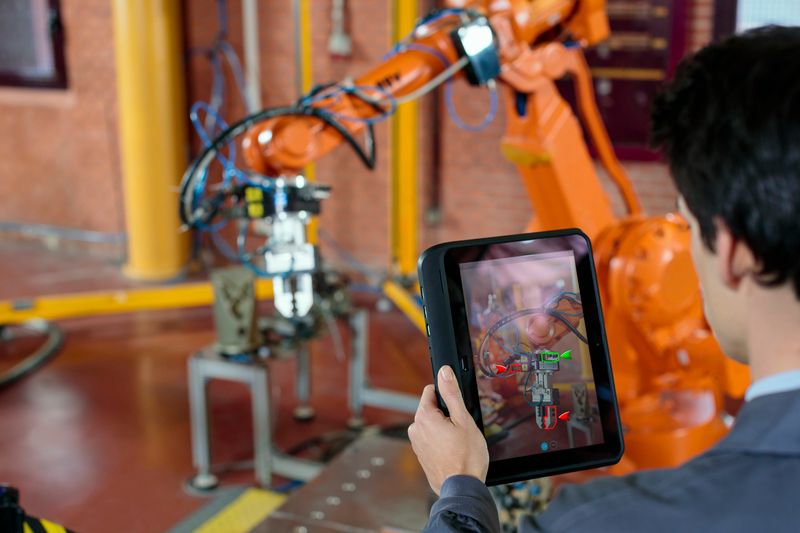 In manufacturing and other industrial verticals, there has been a lot of hype about augmented reality (AR) and similar technologies such as virtual reality (VR). The idea that engineers, operators, and plant managers will be able to don connected wearables to visualize and manipulate objects and data in a 3D space seems like something out of a science fiction movie.
While Minority Report-style applications remain a far-off scenario, other types of AR applications are rapidly taking hold. They may not be as sexy as the futuristic vision promoted by Hollywood, but they allow connected workers to complete tasks more efficiently and deliver real ROI to businesses.
Augmented reality combines the real and the virtual to help users more efficiently complete tasks or understand their environments. It encompasses everything from simple games like Pokemon Go, which overlay 3D monsters and prizes on a live video feed from a smartphone camera, to sophisticated "heads-up" displays used by military pilots to monitor the environment, track nearby aircraft, and target weaponry.
AR is used in the manufacturing, automotive, energy, retail, aeronautics, construction, and oil and gas industries to accomplish specific production, maintenance, and training tasks. Industrial AR is generally focused on these five areas:
Guided assembly. Operators wearing hands-free, heads-up displays can see step-by-step instructions overlaid on their field of view.
Training. Just-in-time learning can be delivered in the work environment through hands -free, heads-up displays or other mobile devices, reducing the need for classroom instruction.
Remote maintenance and repair. Staff at a customer's site provide live video feeds to remote experts to troubleshoot problems and provide targeted feedback.
Quality assurance. AR helps engineers and operators quickly compare manufactured output to design specs, and verify the right parts are being used and correctly assembled.
Industrial facilities infrastructure. A live video feed overlays electrical, plumbing, and network infrastructure located behind walls, ceilings, and floors for safer and more precise design and remodeling work. Virtual site inspections reduce the amount of physical visits to monitor progress.

There are many customers who are using AR solutions from HPE and its partners today to improve operations. The benefits are obvious. If you have production line workers who can see right in front of their fields of view how to assemble a widget according to multiple product variations and have their hands free to carry out the required steps, that's clearly very pragmatic. Similarly, a quality assurance engineer using AR to monitor feeds from QA stations along the production line will be able to more quickly identify quality issues.
These examples show how data from industrial AR systems can be fed directly to plant floor workers wearing head-mounted, hands-free devices. Because many of these new devices run full collaboration software (audio, video, alerts, and data on request), the worker's user experience is vastly superior to older options.
Regardless of whether the AR visualizations use 2D (text, numbers, or simple graphics overlaid on the image) or 3D (graphics with depth or 3D motion), they pull together information for better insights and decision-making, and enable personnel to do their jobs more efficiently and get results sooner.


Industrial AR and the need for speed

For most of our customers, the real driver for industrial AR adoption is speed. HP Inc., a supplier of advanced printing technologies across the globe, has used industrial AR for aftersales support and maintenance of their large format and digital presses for more than five years.
HP Inc. has learned that the fastest way to solve a customer's problem is to connect them with HP Inc. experts to perform initial triage. At one time, that might have required dispatching technicians or engineers to the customer site, taking hours or even days. Using the AR system developed by HPE, an HP Inc. customer can now don connected wearables, activate HPE's Visual Remote Guidance (VRG) software, and within fifteen seconds they're connected to an HP Inc. call center, which might be located thousands of miles away. HP Inc. support staff and experts can remotely see what the customer sees through the AR hands-free, heads-up displays.
The benefits of AR are not limited to faster response times. Additional efficiencies include:
Faster diagnosis. HP Inc. has observed a 60-75% reduction in the time required to diagnose a particular issue.
Less preset training. On-site staff can concentrate on operational training, as opposed to training to overcome stoppages.
Identifying systemic problems. Service providers can record support sessions (with the customer's permission, of course). These sessions and other data can be submitted to the production engineering group, which can then systemically address the core issues to mitigate similar problems in the future.

The end result for HP Inc. has been a 50% reduction in on-site visits, and a time-to-resolution that's twice as fast. Crucially, HP Inc.'s own customers have higher satisfaction levels, because problems get solved faster and they can get back to work more quickly.


Turnkey AR technologies and custom data migrations

Industry increasingly regards AR as a mechanism that can solve specific problems and produce compelling business cases. As IT and OT leadership learns about AR and sees examples that generate real returns on investment, it's easier to make a case for adoption.
In addition, as AR technologies improve and vendors form partnerships, streamlined implementation becomes possible. AR infrastructure, wearables, and applications are often designed to work with other components in a turnkey manner, which makes for smoother deployments and quicker results. Further, as AR technologies improve with better definition, 5G connectivity, and access to powerful edge compute, the capabilities available to industrial companies will improve even more.
That said, there is still custom work involved, particularly in situations that require a knowledge base to be transferred. It might be instructions, training materials, or product data. Such information needs to be put into a format that can be delivered via AR. This will differ from case to case, depending on the type of information, its current format, and the destination format. While automated tools exist to import data into an AR system, getting the data from its existing format into those tools is what takes time.
At the end of the day, AR is empowering workers to get their jobs done by bringing knowledge to bear in a convenient format that's easier to digest and apply to the tasks at hand. AR represents true augmentation that lets them work more independently, complete tasks more quickly, and achieve better results.


Related Topics


Guest Authors



Garry Orsolini,
Technology Director, Education Services, HPE Pointnext

twitter.com/HPE_TechSvcs
linkedin.com/in/garry-orsolini-b15a073/
hpe.com/vrg


Tripp Partain,
Chief Technology Officer, Converged Servers, Edge and IoT Systems, HPE

twitter.com/HPE_IoT
linkedin.com/in/tripp-partain-7183316/
hpe.com/info/manufacturing, hpe.com/info/iiot

Global IoT Marketing
Hewlett Packard Enterprise
twitter.com/HPE_IoT
linkedin.com/company/hewlett-packard-enterprise
hpe.com/iot
Empowering the Digital Enterprise to be more efficient and innovative through data-driven insights from the Internet of Things (IoT)

Find out about the latest live broadcasts and on-demand webinars
Read more

Visit this forum and get the schedules for online Expert Days where you can talk to HPE product experts, R&D and support team members and get answers...
Read more
View all
© Copyright 2022 Hewlett Packard Enterprise Development LP