>

>

>

Green G for Telecom Sustainability
Forums

Blogs

Information

English

Green G for Telecom Sustainability
Green G and Sustainability are hot topics this year at MWC and it is urgent! I am very pleased to see this industry being one of the most active to reduce not just energy consumption but overall environment impact of 5G and beyond. You can also watch my Telecom TV interview on this topic. I am also very happy to lead as chairwoman the Next G Alliance (NGA) Green G working group recently launched in North America, hosted by ATIS, the US Telecom Standard organization.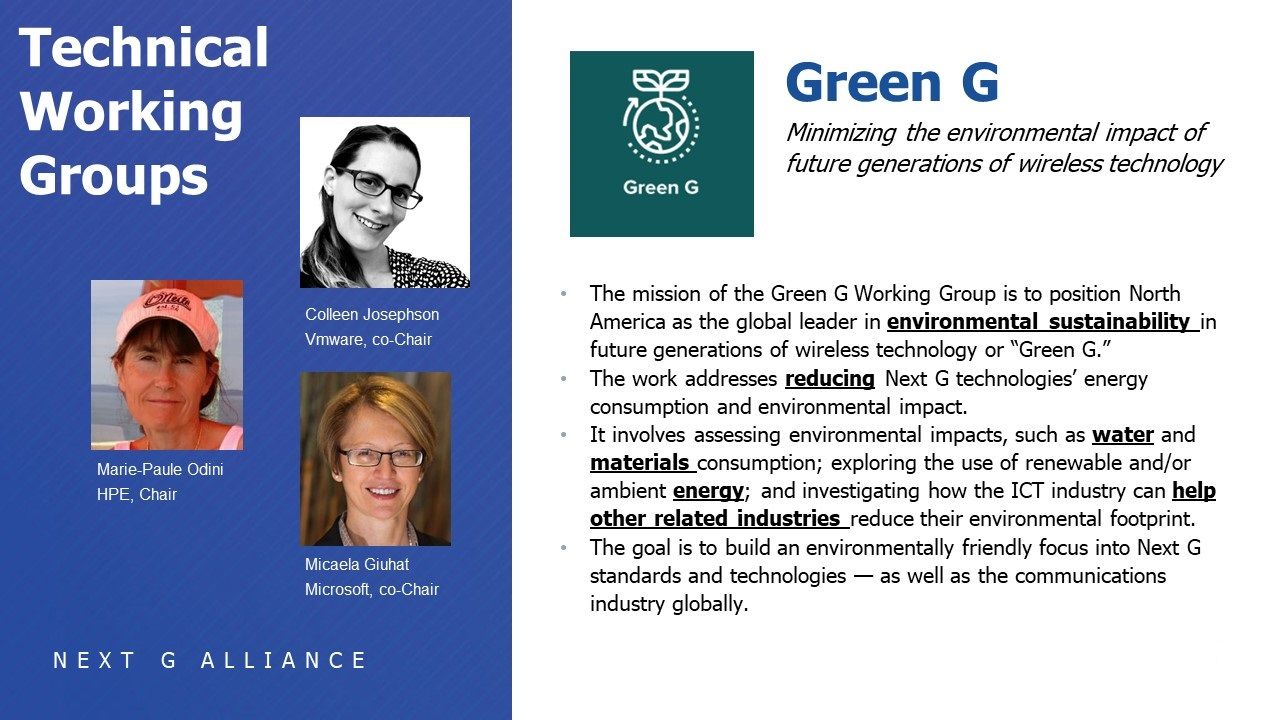 The objective of the NGA Green G working group is to position North America as the global leader in environmental sustainability in future generations of wireless technology or "Green G". We are starting by assessing the overall environmental impact of telecom networks across the value chain to provide recommendations to the industry, and the standard organizations. We also work with the research community to reduce telecom impacts, starting with 5G and evolving to Next G, 6G, and beyond. We are planning to issue a first white paper this summer and participate in a few events including IWPC and 6G Summit.
HPE is one of the leading vendors in terms of sustainability and issues annually the HPE Living Progress Report. We are in line with the Paris Agreement to become carbon neutral across our value chain by 2050 or sooner with intermediate science-based targets set for 2025. For instance, we increased the energy performance of our product portfolio 3.2x compared to 2015 levels; we sourced 44% of our operational electricity from renewables; and we issue products that are highly recyclable (ex HPE DL380 Gen10 Server – 98.5%).
In 2020, approximately 50% of HPE's portfolio had sustainability and IT efficiency attributes. HPE was an early adopter of the recommendations of the Task Force on climate-related Financial Disclosures (TCFD).
More specifically for the telecom industry, HPE is contributing at a nubmer of different levels. Of course, we provide infrastructure, and our hardware products (servers, storage, and networking) are more energy efficient and sustainable. But we also provide telecom software and in particular 5G cloud native core network functions and management platforms. Virtualization is one of the key factors that can reduce energy consumption by optimizing the allocation of resource and the placement of workloads. This can also be automated and become more and more dynamic thanks to orchestration and the evolution to zero-touch with the help of artificial intelligence and machine learning. Our intelligent assurance platform collects power consumption metrics and provides analytics and predictions that help to optimize the RAN and the core. We also participate in standards, chairing the Next G Alliance Green G working group and participating actively in NGMN Green Future Networks, as well as ETSI EE (Energy Efficiency and Environmental impact).
HPE's corporate 2025 Climate Goals and 2020 status are the following:
Reduce absolute manufacturing-related GHG emissions in our supply chain by 15% compared to 2016 levels - achieved
Enable 80% of our production suppliers (by spend) to set science based targets (SBT) – on track
Source 50% of total electricity consumption in our operations from renewables – on track
Reduce absolute emissions from transportation logistics by 35% compared to 2016 levels – on track
Increase the energy performance of our product portfolio 30x compared to 2015 levels - on track
Overall, operators are more sensitive to the topic of sustainability and very active to reduce their environmental footprint. More than 30 operator groups representing 30% of global mobile connections are already committed. They are also working together with GSMA.
Many actions can already been taken including:
Use more energy efficient equipment and technologies: typically servers are more and more energy efficient; new technologies in 5G help reduce energy consumption such as 3GPP sleep mode features; new protocols like HTTP/2 used in 5G Core are also more efficient than legacy GTP-C or Diameter.
Optimize the management of cloud resources: virtualization and cloud native enables sharing resources but also the turning on and off virtual instances or moving workloads. This could be more automated and improved.
Work with renewable energy suppliers. For instance Vodafone announced they will use 100% renewable energy by July 2021.
Recycle mobile phones and an invitation for subscribers to return their old phones.
Transition operator's and suppliers' fleet to electric vehicles.
Introduce consumer applications that inform about energy consumption based on traffic usage.
Educate people on digital sobriety.
More could be added to the list, such as: reduce water consumption, remove dangerous raw material, evolve to circular economy across the value chain, and environment friendly buildings, etc.
Why is this becoming so critical and so urgent? Let me give you a bit more context:
According to the scientific community, weather is changing around us, such as big storms and high heat in the summer, huge fires, coast erosion, species extinction, dramatic droughts--all amplified due to human-induced global warming. Climate change and global warming is a global emergency as stated by United Nations, and it requires urgent coordinated actions. 187 countries have already signed the Paris Agreement to 1) limit temperate rise to 1.5 degree, 2) review country commitments every 5 years, and 3) provide climate finance to developing countries.
Global warming is primarily caused by putting too much carbon into the atmosphere, creating what we call Green House Gases (GHG) around the planet that prevent solar heat to radiate back from earth into space. One of the primary levers we can pull that will reduce global warming is to reduce CO2 emissions and become carbon neutral or negative.
The telecom industry represents between 2 to 3% of global energy consumption, according to multiple sources including GSMA, with a 3 digit growth by 2026. But often, this is only telecom operators, and does not include vendors, device consumptions, fleet, factories etc. So overall, it is a significant impact, and this vertical is, in most countries, the most demanding in terms of energy. Also, it is mainly provided with oil and gas, fossil fuel today. Last but not least, energy is a significant budget as it represents up to 90% of the network cost for telecom operators according to some other reports.
To help the ICT industry and the telecom industry in particular, a number of standard organizations have set up environmental sustainability programs. ITU-T is providing guidance to the ICT industry to set up Science Based Targets (SBT) to meet the Paris Agreement and achieve Sustainable Development Goals (SDG).

For the ICT sector to decrease its emissions in line with other parts of the economy, it would have to reduce its CO2 emissions by 45% by 2030, 72% by 2040, 91% by 2050, and net zero by 2050. ITU-T also developed some requirements for 5G.
Other Standard Organizations (SDO) are also contributing to new specifications in this area, such as ETSI EE (Environmental Engineering) defining energy consumption and energy efficiency metrics calculation, 3GPP with new features such as sleep mode but also new energy consumption/energy efficiency metrics for slicing for instance, or NGMN Green Future Network working on metering and ecodesign.
As a conclusion, we need to take action and it's urgent !
"How could I look my grandchildren in the eye and say I knew what was happening to the world and did nothing" – David Attenborough

Find out about the latest live broadcasts and on-demand webinars
Read more

Visit this forum and get the schedules for online Expert Days where you can talk to HPE product experts, R&D and support team members and get answers...
Read more
View all
© Copyright 2022 Hewlett Packard Enterprise Development LP