>

>

>

HPE and BlueData: Accelerating time-to-value with ...
Forums

Blogs

Information

English

HPE and BlueData: Accelerating time-to-value with AI and Analytics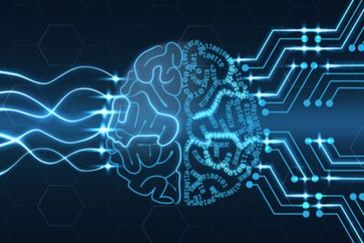 Today marks the next milestone in HPE's journey to provide our customers with the world's best platform for deploying their AI, Machine Learning (ML), and Big Data Analytics workloads.
We started the journey in late November when we announced the acquisition of BlueData and today we are pleased to announce the general availability and integration of BlueData as part of HPE.
This acquisition started with three important pillars: people, platform, and customers:
As many organizations can attest, finding this level of talent in a market starved for AI / ML, analytics, and data science expertise is extremely difficult. HPE is ecstatic to have the BlueData staff join our team and lead the way in software development, data science, customer success, ecosystem building, and product excellence.
After people, the BlueData EPIC platform is a close second. We were looking for a solution that would help our customers to accelerate their AI and Analytics deployments, and the container-based BlueData EPIC platform was an obvious choice.
Lastly, but most important, the team at BlueData has had incredible success in customer adoption within some of the most demanding enterprises in the global economy. Their customer list is a "who's who" of Fortune 500 and Global 2000 leaders in their respective industries, including financial services, life sciences, healthcare, and manufacturing. These marquee customers have served as a beacon to guide the strategy and direction for the BlueData platform.
HPE will do everything in our power to continue to make these customers our lighthouse deployments, and expand upon that model for success. We are investing in all functions of BlueData across the board and the early adopters of the BlueData platform will benefit from our ability to scale the product and advance their customer success. You can read more about the HPE-BlueData product vision in a new blog post on bluedata.com. For more details on our HPE Pointnext services and customer success portfolio, read the new blog post.
Why BlueData?
When HPE made the decision to acquire, integrate, and scale BlueData, the strategy was simple and elegant. On behalf of our customers, we are making investments in three key technology areas across AI, hybrid cloud, and "as-a-service" consumption models.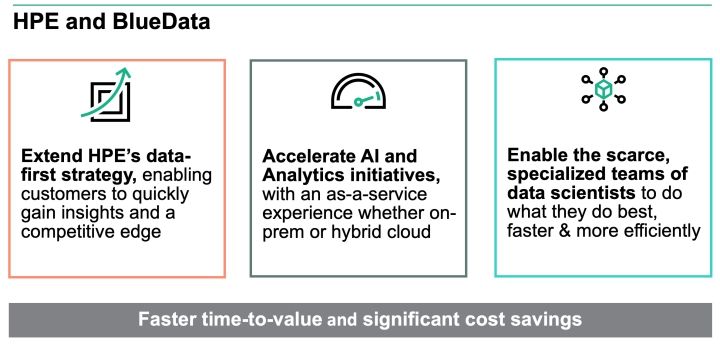 It's clear that the BlueData EPIC platform fits in the area of AI: Helping our customers to deploy open source Machine Learning and Deep Learning tools like TensorFlow, running applications from our ecosystem partners like H2O.ai, and utilizing GPGPUs and accelerators. As we've seen with many of our products and services that provide AIOps (like HPE InfoSight), any way that we can assist customers with their deployment of AI and Analytics data pipelines is a huge advantage. Enterprises in every industry are looking to use AI/ML to deliver competitive advantage and drive business innovation. Now they can use BlueData EPIC to quickly deploy their preferred AI/ML tools and applications, freeing up their data science and data engineering staff to do what they do best: building their models and data pipelines.
Customer choice prevails
HPE is also determined to provide our customers with choice, and this is consistent with our overall hybrid cloud strategy. Whether your deployment model is on-premises, in the cloud, or some combination of the two, we are here to support all types of deployment scenarios. The BlueData EPIC platform can be deployed on our customers' infrastructure of choice – any vendor, any server, any storage, any public cloud service. And now that BlueData is part of HPE, we will preserve the ability for BlueData customers to deploy on any infrastructure. That having been said, HPE will be providing solutions and reference architectures that combine BlueData with our HPE Apollo-based infrastructure building blocks and predictable deployment recipes.
Lastly, more and more customers are coming to HPE for consumption-based models. Because BlueData is a subscription-based software platform and provides a secure, API-driven, and multi-tenant architecture, its place in the HPE GreenLake portfolio is obvious. Our vision is to provide an AI and Analytics hybrid cloud platform that customers will consume from HPE with an "as-a-service" experience and consumption model – including all the software, infrastructure, and services needed for success.
HPE+BlueData
The combination of HPE and BlueData represents a unique and powerful hybrid cloud solution for AI/ML and Big Data Analytics workloads. Our mission is to make our customers successful with their most challenging of digital transformation projects and accelerate their time-to-value with the ever-changing ecosystem of AI and Analytics applications. Here at HPE, we're committed to helping driving innovation and adoption in this area and we're looking for the next generation of builders to get on board. Embrace the speed of change and partner with HPE to assist with your AI and data-driven journey.
Learn more
---

Meet Infrastructure Insights blogger Patrick Osborne, VP and GM of Big Data and Analytics. Patrick is responsible for product development, product management and strategy in the areas of Big Data and Analytics.

Insights Experts
Hewlett Packard Enterprise
twitter.com/HPE_HPC
linkedin.com/company/hewlett-packard-enterprise
hpe.com/apollo
Starting June 22

THE FUTURE IS EDGE TO CLOUD Prepare for the next wave of digital transformation. Join our global virtual event. June 22 – 24
Read more

Find out about the latest live broadcasts and on-demand webinars
Read more
View all
© Copyright 2021 Hewlett Packard Enterprise Development LP