>

>

>

HPE enables GPU-as-a-Service for enterprise AI dep...
Forums

Blogs

Information

English

HPE enables GPU-as-a-Service for enterprise AI deployments
To ease initial start-up and create a foundation that can scale to production, enterprises can trust HPE for a quick route to AI that fits with their technology choices.
In this article: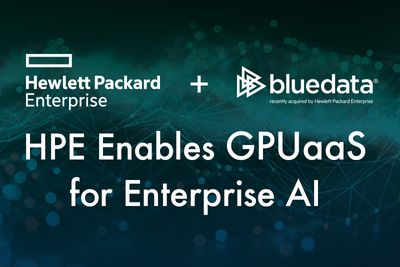 Democratize access to NVIDIA GPUs for AI, machine learning, and deep learning. With HPE's BlueData software and GPU-enabled servers, IT administrators can offer GPU-as-a-Service (GPUaaS) for their internal users to enable on-demand and elastic provisioning of GPUs, allocate right-sized GPU resources for multiple workloads, and deliver significant cost savings.
Evaluate different GPU-accelerated tools and technologies to meet different requirements, including HPE's ecosystem of AI application and infrastructure partners.
Deliver faster time-to-value for a variety of machine learning and deep learning workloads, including GPU-accelerated applications such as H2O Driverless AI with HPE.
The ability to leverage data in today's computationally intensive business environment is a key indicator of a business's success. As AI adoption in the enterprise grows, HPE delivers the compute and storage power to meet the challenges posed by machine learning (ML), deep learning (DL), and data analytics.
Each customer's AI transformation journey is unique, requiring different environments and architectures for AI and advanced analytics. HPE helps you get started with your transformation journey and quickly scale, saving you time and resources, by delivering software and hardware solutions that accelerate enterprise computing in the way that works best for your infrastructure and application choices.
AI in the enterprise requires an optimized stack to ensure a successful deployment and speed the time-to-value. Together with our partners and the open source ecosystem, HPE provides enterprise AI solutions that fit with your application and infrastructure preferences. Our industry-leading solutions enable machine learning, deep learning, data science, and other compute-intensive AI workloads in on-premises data centers, hybrid cloud deployments, and at the edge.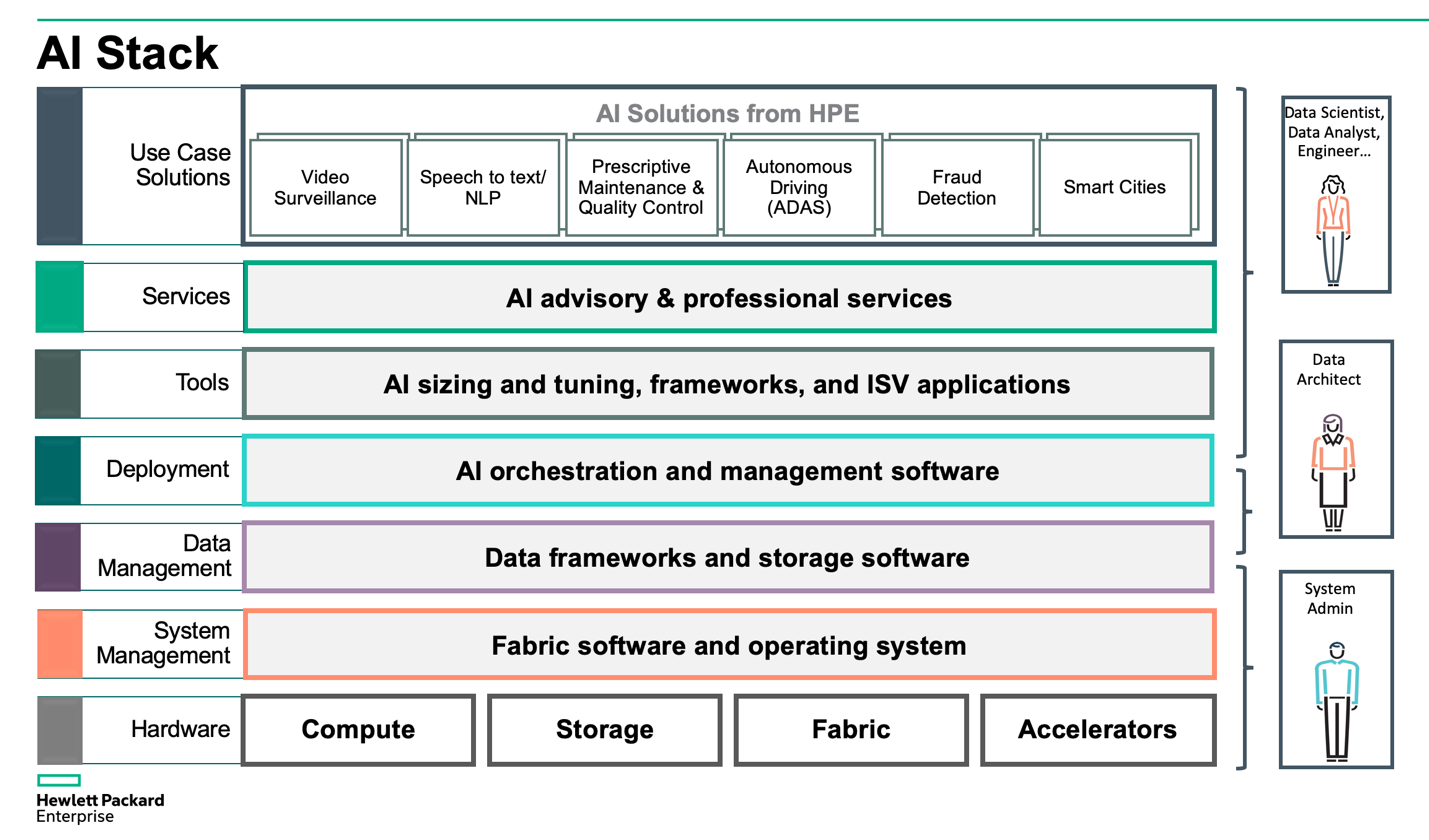 Allocate and provision GPUs dynamically with GPUaaS
As enterprises embark on this AI transformation journey, one of the most common infrastructure choices is to use NVIDIA GPU acceleration for machine learning and deep learning.
In today's modern enterprise environment, it can be challenging for IT teams to meet the growing demand for GPUs from multiple data science teams, for multiple different AI applications and use cases. Typically, the IT team provisions and deploys a GPU server dedicated to a single application, thereby queuing up different teams to each wait for their turn. And once provisioned, IT teams want to optimize the utilization of these powerful resources to ensure the best possible return on their GPU investment.
To address these challenges, GPU-as-a-Service (GPUaaS) delivers on-demand and elastic provisioning for GPU-accelerated applications, while sharing and allocating GPU infrastructure resources across multiple applications. Until recently, GPUaaS was only available through public cloud services or managed services. But many enterprise customers want that same cloud-like experience for on-premises GPU infrastructure running in their own data centers – enabling GPUaaS in a private cloud or hybrid cloud architecture for their internal users.
Now HPE enables enterprise IT organizations to provide GPUaaS for their on-premises deployments to increase business agility, optimize GPU utilization, and increase ROI for GPU infrastructure. This new solution combines software from BlueData (recently acquired by Hewlett Packard Enterprise) with HPE Apollo and HPE ProLiant DL servers using NVIDIA GPUs. HPE recently announced the integration of HPE servers with BlueData software, and this is one of the use cases for this powerful new combination of HPE hardware and software. Ultimately, our vision is to combine the GPUaaS solution with HPE GreenLake to provide a complete "as-a-service" experience and consumption model.
This video provides an overview of this exciting new GPUaaS solution.
Using the container-based BlueData software platform, a pool of GPUs from multiple servers can be consolidated and shared across multiple ML/DL applications – with each application assigned the appropriate number of GPUs. IT administrators can offer on-demand and elastic provisioning of containerized GPU resources, including NVIDIA CUDA libraries and extensions, with just a few mouse clicks. In addition, using BlueData's unique ability to pause containers (where GPU, CPU, and Memory resources are released while the overall application state persists), data science teams can run multiple environments on shared GPU infrastructure without re-creating or re-installing their applications and libraries.
To learn more about GPUaaS from HPE, download the solution brief.
Quickly deploy and scale AI/ML applications including H2O Driverless AI
To scale, data science teams need to adopt a variety of different tools and techniques that will allow them to get better results, and quickly deliver more insights to the business. One such option is H2O Driverless AI, a leading application for automatic machine learning from H2O.ai. HPE is working closely with AI ecosystem partners like H2O.ai to help customers with their AI transformation journey.
H2O.ai has established itself as a leader in AI/ML with over 16K installs for open source H2O. H2O.ai also provides the commercial H2O Driverless AI application for automatic machine learning. Driverless AI delivers automatic feature engineering, model validation, model tuning, model selection and deployment, machine learning interpretability, time-series, NLP and automatic pipeline generation for model scoring. H2O Driverless AI takes advantage of GPU acceleration to speed up the automatic machine learning process, and includes support for GPU-accelerated algorithms.
H2O Driverless AI is optimized to run on GPU-enabled HPE Apollo and ProLiant DL servers, providing world-class performance and versatility. For large-scale enterprise AI initiatives, H2O Driverless AI can be deployed with the container-based BlueData software platform from HPE to deliver faster time-to-value for AI/ML, while ensuring enterprise-grade security and performance. BlueData also provides pre-built container images for open source H2O and H2O Driverless AI with NVIDIA CUDA libraries.
To learn more about HPE and H2O.ai, download the solution brief. .
Are you attending the annual HPE Discover event next week in Las Vegas? We'll have several sessions and demos focused on how HPE can help you on your AI journey. Access and download the Discover Agenda Builder to find the full range of AI topics at the event. In particular, we recommend that you check out our GPU-as-a-Service demo in the Transformation Showcase AI neighborhood.

Pankaj Goyal
Vice President, HPE AI Business
Hewlett Packard Enterprise

About the Author
PankajGoyal
Pankaj is building HPE's Artificial Intelligence business. He is excited by the potential of AI to improve our lives, and believes HPE has a huge role to play. In his past life, he has been a computer science engineer, an entrepreneur, and a strategy consultant. Reach out to him to discuss everything AI @HPE.
Starting June 22

THE FUTURE IS EDGE TO CLOUD Prepare for the next wave of digital transformation. Join our global virtual event. June 22 – 24
Read more

Find out about the latest live broadcasts and on-demand webinars
Read more
View all
© Copyright 2021 Hewlett Packard Enterprise Development LP