>

>

>

How 5G and the Intelligent Edge will transform man...
Forums

Blogs

Information

English

How 5G and the Intelligent Edge will transform manufacturing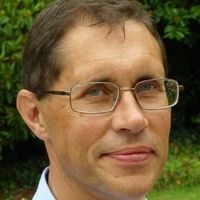 Colin I'Anson, HPE FellowBy Colin l'Anson
HPE Fellow

After years of planning, 5G is being released for mobile users. Soon, enterprise-grade 5G services will be available across verticals, including manufacturing. While some marketing campaigns erroneously suggest that 5G is little more than a "faster" 4G, manufacturers need to understand that 5G delivers far more than faster connectivity. Features of the next-generation wireless communications based on include:
Ultra-reliable, low latency of 1 millisecond for mission-critical real-time use cases such as autonomous vehicles or industrial control systems.
capacity to support millions of low-power devices, including IoT sensors and connected machinery used in factories.
Massive bandwidth that can support data-heavy use cases including augmented reality and video analytics.
Network slicing, enabling tailored connectivity for devices and applications.
Fast handoffs between external 5G networks and internal enterprise networks using Wi-Fi 6 (IEEE 802.11ax) can be achieved.
This last point deserves additional explanation. There is a lot of excitement over Wi-Fi 6, and justifiably so. While 5G delivers extremely high data rates, reliable coverage inside buildings is an issue.
Wi-Fi 6 deployments are far better suited to small scale environments such as inside or around a factory or fulfilment center. Data performance matches or exceeds 5G, and from an overall cost perspective, is cheaper to own. Wi-Fi benefits further from already being well understood by enterprise IT departments.
Crucially, Wi-Fi 6 and 5G are complementary technologies. The 5G core can support other Radio Access Network (RAN) technologies, including Wi-Fi 6, and services can be incorporated into Wi-Fi 6 that are similar to key 5G features. For instance, HPE Aruba has included in its ArubaOS a new application assurance solution for its Wi-Fi access points called Air Slice that replicates network slicing and other QoS features of 5G.
The ability of Wi-Fi 6 to serve as a connectivity bridge between enterprise networks located inside a factory and 5G networks operated by telcos outside creates a massive opportunity for manufacturers. The two technologies are not only engineered to work seamlessly with each other, but can connect to IoT devices that may use the main networking protocols. Consistent connectivity minimizes the disruptive visibility of public/private service handovers, and opens the door to innovative use cases that lead to better products, and ultimately, happier customers.


New revenue and innovative business models from Intelligent Edge infrastructure for Manufacturing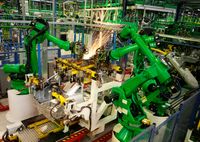 Manufacturers are already be planning for innovative use cases at the Edge, which encompasses locations that are situated far from enterprise data centers or clouds. Examples include assembly lines, warehouses, vehicle fleets, petrochemical refineries, or cargo vessels. According to Gartner, by 2025 some 75% of enterprise-generated data will be created and processed outside of data centers or clouds, compared to about 10% today.
As more devices are connected at the Edge, and more data from those devices becomes available to manufacturers, the need for intelligence at the Edge will be paramount. It doesn't make sense to send data gathered at the Edge to some far-away data center, if it's needed on the plant floor. There is a real cost involved, not only in terms of transmitting the data, but also in terms of increased latency and the risk of disruptions if an application in the data center is not available. Having compute and analysis take place at the Edge is critical to generating insights in near real-time, and taking immediate action as a result.
When I talk with HPE customers, the "aha!" moment for the adoption of 5G and the Intelligent Edge often takes place when new connectivity and compute benefits are viewed in the context of closed-loop manufacturing. This conceptual framework describes how rich data and insights from various parts of the product lifecycle can help inform other parts of the business and improve the product.
At the same time, the business is realizing performance and efficiency gains from new edge technologies and the consistent connectivity provided by 5G and Wi-Fi 6. The ultimate benefits: a better, healthier customer base that is more likely to reorder, as well as the ability to identify needs or develop new services that can lead to transformative new business models.
For instance, what if customers have the opportunity to purchase data associated with the production of physical components, and use that data to improve their own products? That's exactly what Texmark, a petrochemical manufacturer, is planning to offer its own customers as it ramps up its IoT capabilities at its plant in Texas. This "data-as-a-service" model creates stronger bonds with customers and helps justify Texmark's investment in its edge infrastructure. Texmark has already deployed Aruba Wi-Fi and ruggedized HPE Edgeline Converged Edge Systems powered by Intel Xeon as part of its Intelligent Edge roadmap, and will be able to take advantage of Wi-Fi 6/5G integration as enterprise-grade 5G services become available.


5G architecture requirements for manufacturers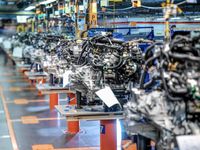 Manufacturers and carriers are still thinking through how they can get the most out of 5G. It's not hard to imagine some very compelling 5G use cases.
Take a busy distribution center that processes thousands of incoming and outgoing shipments every day. Currently, packages can be tracked as they enter and leave the loading dock and move around the facility. This helps streamline flow within the distribution center. However, there are few insights into what happens to shipments before they arrive or after they leave.
With 5G, the status of incoming and outgoing packages, not to mention connected vehicles, personnel, and tools, can be instantly shared through internal Wi-Fi 6 and external 5G networks. This grants unparalleled visibility not only to internal operations, but also into the external supply chain, and even retail performance. Looking at this type of use case through a closed-loop manufacturing lens, it's a chance to further optimize the entire value chain, and set up feedback loops that lead to better products and better business outcomes.
Figuring out how to leverage the synergies between 5G/Wi-Fi 6 and the Intelligent Edge will entail a deep understanding not only of the manufacturing use cases at hand, but also network design to make sure the system is actually capable of running at high speeds without bottlenecks getting in the way. Architecting these systems will require expertise in operations technology, mechanical engineering, control engineering, and real-time IT.
Manufacturers won't be on their own, though. They will be able to turn to HPE and its network of trusted IT and Operations Technology (OT) partners, who bring decades of experience in networking, hardware, applications, cloud, and systems integration. HPE can help manufacturers design their digital transformation journey, connect and secure devices and data, and manage the IT infrastructure from the Edge to the Cloud.
Ultimately, the coexistence of 5G and Wi-Fi 6, enabled by the Intelligent Edge will allow businesses to target inefficiencies that have persisted for decades, using machine learning, video analytics, and other emerging technologies. Removing waste will not only have a revolutionary impact on operations and the bottom line, but also on the wider world in terms of reduced energy and resource consumption, and the future of our climate.
To learn how 5G, Wi-Fi 6, and edge computing can drive smart manufacturing, download the Moor Insights & Strategy opinion paper, "HPE delivers intelligent connectivity".
Moor Insights & Strategy report: HPE Delivers Intelligent Connectivitu
Starting June 22

THE FUTURE IS EDGE TO CLOUD Prepare for the next wave of digital transformation. Join our global virtual event. June 22 – 24
Read more

Find out about the latest live broadcasts and on-demand webinars
Read more
View all
© Copyright 2021 Hewlett Packard Enterprise Development LP