>

>

>

Hybrid IT and intelligent tech put your business i...
Forums

Blogs

Information

English
Hybrid IT and intelligent tech put your business in the fast lane to customer engagement
Author: Jeff Enters, Global Chief Technologist for Pointnext Networking, Hewlett Packard Enterprise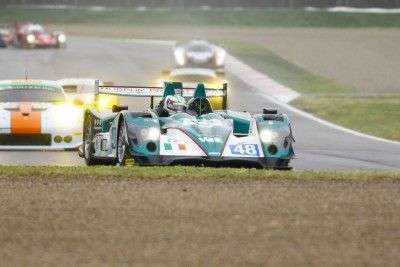 The European Le Mans Series attracts teams, sponsors, drivers, and up to 100,000 fans per race from all over the world for racing events at six of Europe's leading circuits. With three days of endurance racing at each stop, these hard-charging competitions push machines and drivers to the edge. Now they can use Mobile Engagement and Hybrid IT capabilities to create immersive, connected experiences through Intelligent Edge computing.
Hewlett Packard Enterprise (HPE) has extensive experience in this space and offers Intelligent Spaces—Venues technology, powered by Aruba and HPE Pointnext, that allows race fans to connect before, during, and after a race. Both event-driven and well-trafficked venues can use this technology to build a better customer experience through analytics, as well as convert leads with proximity marketing.
Crafting a customer-centric event
Intelligent venues are centered around a high-density wireless design. That design must be able to securely manage an onslaught of new and unknown mobile devices connecting to the network, either within a brief window of time for attendees converging on events at public venues or continuously for customers at locations such as transportation hubs and retail stores. In addition, the technology must make access simple and responsive, while also protecting venue resources and the personal privacy of attendees as user-presence information is gathered.
The goal here is to connect with customers and fans when they are readily available—either directly inside or near your site. Capturing actionable analytics will allow customer-facing staff to create personalized or location-based offers that further engage each individual, delivering an experience that will help attract future customers and fans and keep busy businesses thriving.
An upwardly mobile experience
Mobile apps are the conduit through which you can reach and engage with customers. For the race tracks where the European Le Mans Series and International Motor Sports Association race, HPE builds apps that create an enhanced experience for fans before, during, and following races, whether they are inside a high-density wireless deployment or outside.
Ahead of a race, tracks can use a mobile app to enable ticket purchases, provide directions to the venue, send out relevant marketing messages leading up to the event, and deliver real-time schedule updates and weather information.
During a race weekend, in which six race series could be running—making it typically impossible to get leaderboards for each—the app provides real-time and consolidated views of those leaderboards. It also shows the attendee how to interact with the physical location. The user can see venue information including: directions to an assigned seat, a walkable map of the venue, and where to get help, such as emergency care or lost and found. Attendees can order food from the app and pick it up via a fast-track line at the food vendor, or have the food brought directly to them. With context awareness, food orders can even be delivered to the race fan if they're moving from one area of the venue to another.
After a race, fans can check statistics, learn more about future events, and connect with drivers on their social media accounts.
Potential use cases for the technology go far beyond special events. To name a few, Intelligent Venues solutions can also support smart workplaces, enhance retail experiences and even provide customized content to travelers at an airport or train station.
Analytics provide opportunities
The goal of these apps and venue-specific networks is to drive more customer engagement and a better overall experience using hybrid IT connections. The objective is to link those devices and the data they create in ways that your business can use.
Through analysis of consumer actions, venues can promote offers that match what the real-time data shows. Capturing how people move through an outdoor event space, for example, could help drive the future location of concession stands or navigational signs. Proximity-aware push notifications can give customers discounts as they walk by certain sections of a store and record the most frequently trafficked areas for future product promotion. Your customer-facing staff can also push target offers based on the customer's purchase history or even their persona. For example, are they a first-time visitor, or a regular customer? All of this data can be logged and used for future business purposes.
Making the case for marketing
Transforming your traditional venue into an intelligent venue is a sure way to have deeper interactions with guests. It also provides you with marketing opportunities to attract sponsors and advertisers.
Through our analytics platform, the data you collect can show ROI to sponsors and reveal which ad placements are most effective and why. This also offers the chance to constantly monitor and improve offers based on how guests interact with them. As it becomes harder to capture consumer attention, in-app ad placements, social media posts, coupons, and short video commercials can deliver meaningful connections between brands and their most fervent consumers.
Your indoor or outdoor venue, and even your enterprise, can use mobile technology to transform the customer experience, connect with guests in new ways to drive loyalty and tap into analytics to discover business insights and sponsorship opportunities that will ultimately boost your revenue.
Featured articles:
Jeff Enters
Global Chief Technologist for Pointnext Networking
Hewlett Packard Enterprise
---
What to know how to create this type of engagement at your venue? Let experts from HPE Pointnext, like Jeff Enters, show you how.
Interested in seeing this technology first hand, join us at HPE Discover 2018 from June 19-21 to see the Le Mans car, meet professional racer Max Hanratty and learn how our Intelligent Venues solution is engaging race enthusiasts pre, during and post-race time from experts like Jeff Enters, Global Chief Technologist for Pointnext Networking at HPE..

Starting June 22

THE FUTURE IS EDGE TO CLOUD Prepare for the next wave of digital transformation. Join our global virtual event. June 22 – 24
Read more

Find out about the latest live broadcasts and on-demand webinars
Read more
View all
© Copyright 2021 Hewlett Packard Enterprise Development LP