>

>

>

Hybrid Workplace for the power user
Forums

Blogs

Information

English

Hybrid Workplace for the power user
In our rapidly changing business environment, companies are doing everything they can to continue operations and maintain their competitiveness in the midst of the prolonged pandemic. Workstyle transformation in this situation, such as developing remote work and hybrid workplace models, has become a matter of survival.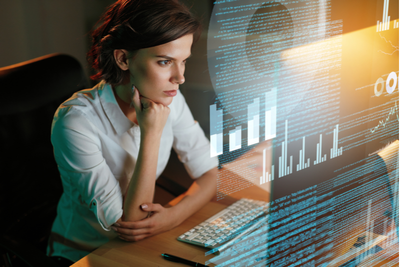 Reinvent your workplace
In the past, workstyle transformation was discussed in the context of employee satisfaction, consideration for work-life balance, and productivity improvement. But with COVID-19, they have come to be positioned as high priority management issues from both a business continuity and risk management point of view.
There are a wide range of issues to be considered, including the leveraging real estate and layout of offices, human resources concerns such as work rules and evaluations, and changes to business processes that require employees to come back to the office. In terms of technology, one of the major changes brought about by COVID-19 was the acceleration to the cloud. The pandemic drove the rapid scale-up and scope of remote work, and there is a growing interest in how the cloud can facilitate productivity and collaboration among geographically dispersed teams.
But there's more to consider than administrative tasks for employees.
We also need to consider and plan for new ways of working for power users – such as design and development professionals who work in the manufacturing industry, trader operators in the financial industry, telemedicine options used in patient outreach in the healthcare industry, software developers, and so on. HPE is driving its own transformation for the future of the office and the way we work, based on our vision of a hybrid workplace, or edge-to-office.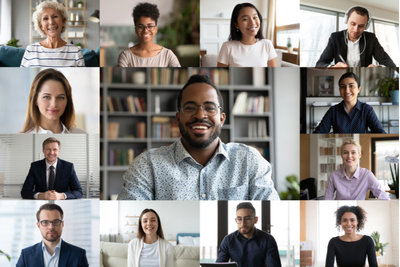 In developing this program, employees were divided into two groups: "edge workers", who are those individuals who mainly work from home or other remote locations, depending on their job description; and "office workers" who are those who need to work at a physical HPE location. Our goal is to provide a work experience that is more flexible to increase productivity and innovation. In this context, the office is expected to be the hub of the company's culture and teamwork, but will include our edge workers as vital participants in day to day operations via collaboration tools like Microsoft Teams or Zoom.
In this blog, we will discuss the current state of remote work, issues you need to consider, as well as solutions to support remote work for power users. This data and the resulting recommendations come after having to react quickly in response to local and national lockdowns – and experience gained from rapidly executing our new approach.
The challenge to define the new workplace during COVID-19
According to the World Economic Forum's The Future of Jobs Report 2020 - 1.3 , it was reported that the remote and hybrid workforce made up approximately 44% of the world's workforce. These employees were able to work remotely during the COVID-19 crisis, while 24% of workers were unable to perform their job responsibilities. This estimate indicates the desirability of expanding the availability of remote work.
In a global survey conducted last August, HPE asked 3,830 people about the impact of COVID-19 on their IT strategy, and we received the following responses. 
The top three responses were related to remote work, indicating a high level of interest.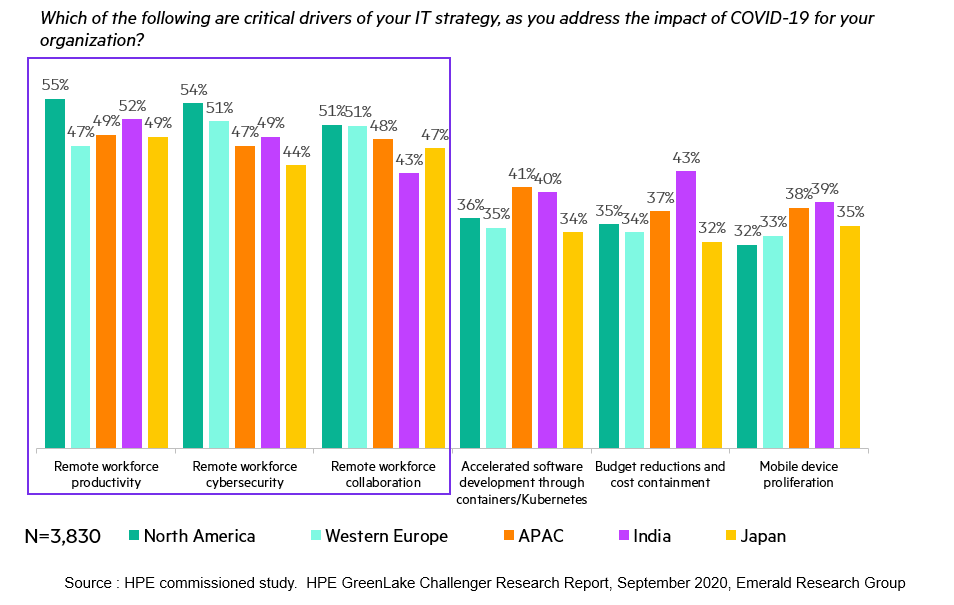 As shown in the survey results above, improving productivity, collaboration, and security when working remotely, is an important part of IT strategy in all regions.
The customer challenge is to maximize productivity and organizational resilience by enabling secure, seamless and safe digital workplaces for employees across sites, facilities, campuses, home offices – and everywhere in between.
The future of the workplace is hybrid
It is important to create a seamless employee experience that brings people and technology together to unleash productivity and potential, wherever work needs to happen.
For employees, the ability to use the same tools and services regardless of where they work, whether in the office or at home, and the ability to continue the same work without special operations or support, leads to increased productivity and satisfaction.
Thus, in driving seamless remote work that does not depend on where you work, there are several important aspects you must consider from an IT perspective. You will need:
A flexible and secure desktop environment for both in-office and remote work
Secure access to data and applications necessary to complete work tasks
A fast, stable network environment that supports easy access to applications and information
Collaboration tool(s) to increase productivity and facilitate open communications
Identification mechanisms for recognizing users and devices, and controlling access
Remote support and education, and
Security for all of the above areas.
Creating a hybrid workplace for power users
In order to build secure and flexible desktop environments for remote work, which is one of the key success factors, solutions such as VDI are available from many vendors – including HPE. Even if existing solutions are sufficient for the daily work of many office workers, remote work by power users may have different requirements. Performance, accessibility, bandwidth and capacity, as well as other issues, will need to be identified and resolved for a successful remote implementation for power users.
Here are some types of power users, and ideas to consider to successfully support their remote work:
Traders in finance, or securities, and engineers who analyze trades
Multiple high resolution screens
Operations with the lowest latency requirements
2D static and video content playback
Engineers in manufacturing or BIM
Multiple high resolution screens
3D rendering and modeling
Fast model loading
Software developers
High resolution screens
Reduced compile time, and low latency keyboarding
Rapid, accurate version control, and protection of intellectual property
As a solution to help these power users work remotely, we offer our HPE Bare Metal VDI solution, which creates trusted digital workspaces because it is specifically designed to meet the needs of traders, engineers, healthcare professionals, graphic designers, solution architects, and software developers.
Watch the following videos that demonstrate power user use cases, in various industries.
Bare Metal VDI - Financial Traders workstations
Bare Metal VDI - Engineering & BIM workstations
Bare Metal VDI - Healthcare moonshot
Bare Metal VDI – SW Developers
Service Providers - Bare Metal VDI
Summary and related information
COVID-19 has accelerated the need for hybrid workplaces and new ways of working, which requires holistic consideration of the three perspectives of management, operations, and IT. In particular, IT requires a solution that supports a viable remote desktop environment, network, security, operations, ID management, and collaboration. Another major issue that will need to be addressed is how to support remote work for power users.
HPE brings together a complete set of expertise and technology to help customers realize their hybrid workplace vision for all kinds of workers – from general collaboration requirements, to specialized workload for power user.
If you have further interest in HPE's hybrid workplace and related solutions, please take advantage of three of our on-demand webinars:
Hybrid Workplace: Redefining the Employee Experience See how new hybrid workplace technology is enhancing collaboration and improving the employee experience as we celebrate Employee Appreciation Day with business leaders from IDC, AMD, and HPE.
Workplace Next Webinar—Hybrid Digital Workplace Learn from industry experts and explore practical steps to build a workforce strategy that supports your culture and delivers productivity – regardless of physical location.
VDI Strategies for a Distributed Workforce Hear from experts as they discuss best practices and strategies for designing a VDI service that empowers employee productivity and is easy to manage, deploy and scale for your business.
Check out additional information on the expanding role of edge and remote work:
Reinvent Your Workplace Video Maximize productivity and organizational resilience by enabling secure, seamless and safe digital workplaces for employees across sites, facilities, campuses, home offices and everywhere in between.
Bare-metal VDI Learn more about our high performance, energy efficient, workload-optimized infrastructure that is ideal for virtualized desktop applications.
Related articles:
Want to know the future of technology? Sign up for weekly insights and resources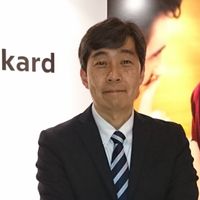 Meet HPE Blogger Kohei Kubo, EMEA & APJ Industry and Workload Marketing Manager. Kubo-san is responsible for driving Edge to Cloud solutions in the Industry and Workload Marketing team. He is based in Tokyo, Japan.
Connect with him on LinkedIn and Twitter!

Find out about the latest live broadcasts and on-demand webinars
Read more

Visit this forum and get the schedules for online Expert Days where you can talk to HPE product experts, R&D and support team members and get answers...
Read more
View all
© Copyright 2021 Hewlett Packard Enterprise Development LP