>

>

>

Innovative manufacturing and what comes after indu...
Forums

Blogs

Information

English

Innovative manufacturing and what comes after industry 4.0 at the 1st Industrial Pioneers Summit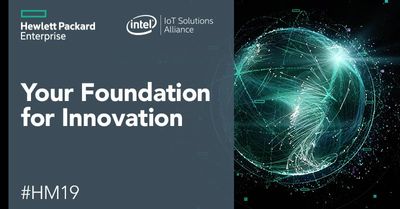 From April 1 -5 Hewlett Packard Enterprise will be at the Hannover Messe 2019 showcasing solutions that power data-driven manufacturing to create smart factories that are agile, autonomous and predictive. Together with our partners will present four showcases in one production line, which demonstrate some core steps of digitization in manufacturing production and processes based on Edge Computing. As most companies today work in heterogenous environments with different degree of automation and digitization, it is very important to offer open and holistic solutions. First data is already created in product design and should be available together with all the data from all following phases in the production process right up to quality assurance and customer services – the result is correlated data from all closed loop manufacturing phases. Data can be enriched with further external data and finally build the digital foundation for such great opportunities like AI and realtime analysis. Working with data, its security, high availability, intelligent storage and resulting final value creation are HPE's core competencies.
Our digital production line
With our partner eco-system we integrate all standard protocols and IoT platforms and consolidate them. That we show in our production line on Hannover Messe with PTC, ABB, Schneider Electric, Relimetrics and Microsoft. Finally it is all about the benefit for the customer to take him on the fast lane: achieve higher process automation, maximum uptime and highest results out of his production.
Talking OT and IT network, this is core business of our Aruba company partnering with Siemens for the OT space. All wired and wireless IT devices can be protected by enforcing policies through Aruba Clearpass.
1st Industrial Pioneers Summit: What comes after Industry 4.0?
As part of the Hannover Messe 2019, this year the 1st Industrial Pioneers Summit takes place on Tuesday, April 2. At the summit, key drivers of manufacturing processes such as digitalization, artificial intelligence, man-machine collaboration, and platform economy, will be discussed with focus on future developments and scenarios. Technologies and solutions to connect the entire supply chain are already in use, but what can be expected to come after industry 4.0?
Digital Manufacturing..it's all about flexibility, adoption of Edge Intelligence with AI & Economics
Data is the new oil, we´ve heard this quite a bit the last years from lots of recognized leaders. Companies like Facebook or Google have built their business models upon data.
It´s time for us to use our data for our benefit. Easily said, difficult to do. I will share ways to engage the workforce, build solutions based on requirements - like latency or confidentiality - in a tangible way. Sharing our own product oriented AI solutions, saving significantly service resources. For me it´s all about a pragmatic approach, think big, start small. Digital is all around, very important are the right economics. Digital projects need to pay for themselves – scientific approaches will not gonna fly.
Watch the replay of the livestream with Matthias Roese
On April 2, 1:00 - 1:30 pm, you have the chance to watch the livestream with Matthias Roese. If you can't make it watch the replay that will be available later on. If you are attending Hannover Messe 2019 you can also get your ticket for the 1st Industrial Pioneers Summit to see all keynotes live on-site. Learn more about Matthias Roese's keynote on digital manufacturing.

Matthias Roese, Chief Technologist Manufacturing, Automotive and IoTMatthias Roese serves as global chief technologist for Hewlett Packard Enterprise Manufacturing, Automotive & IoT, based in Germany.
He joined HPE from Siemens in 2006. His background in the consulting space means he brings expertise in both the OT and IT world. For the past eight years, Matthias has worked in HPE's consulting arm, in which he has worked on developing solutions for customers in manufacturing, utilities, and telcos. Most of his recent engagements have been driven by customers' lines of business, with a clear focus on real business outcomes, with changing business models, rather than classic IT measures. Bridging the gap between business and IT is crucial for the majority of companies, and Matthias is one of the leaders within HPE driving this opportunity.
Learn more about HPE's approach towards circular economy and closed-loop manufacturing
As a manufacturer ourselves, we feel a keen sense of responsibility to preserving our planet and precious resources. As such we are doing our part to reduce manufacturing waste, greenhouse gas emissions and lower our carbon footprint across our manufacturing value chain, and making our own manufacturing processes smarter to realize this vision.
And we are sharing this experience and our vision of Circular Economy = Reduce. Recylce. Re-manufacture
with customers as sustainability is embedded throughout the product's lifecycle. Learn more in the blog post "How two frameworks can help manufacturers achieve sustainability and business goals", written by Matthias Roese and Christopher Wellise, HPE Chief Sustainability Officer.
Other sessions you should not miss:
HPE's Digital Supply Chain: How to use digital technologies to transform a Supply Chain, FORUM AUTOMATION, Speaker: Peter Kazimir, hall 14, booth L19, 11:20am - 11:40am
Unlocking efficiency in manufacturing with AI, Bitkom Innovation Forum, Speaker: Matthias Roese, hall 6, booth B30 Forum, 10:30am – 11:00 am
Control Hardware Evolves at the Edge, Panel at IIOT Infrastructure Conference, Speaker: Matthias Roese, Convention Center (CC), Room Bonn, 2.30pm-4pm
Learn more about HPE's activities at #HM19
For information, updates, insights, and more about how HPE is accelerating manufacturing at Hannover Messe 2019, follow these sources:


Event sponsor
Empowering the Digital Enterprise to be more efficient and innovative through data-driven insights from the Internet of Things (IoT)
Starting June 22

THE FUTURE IS EDGE TO CLOUD Prepare for the next wave of digital transformation. Join our global virtual event. June 22 – 24
Read more

Find out about the latest live broadcasts and on-demand webinars
Read more
View all
© Copyright 2021 Hewlett Packard Enterprise Development LP