>

>

>

IoT and Digital Transformation: 4 Must-See Intervi...
Forums

Blogs

Information

English

IoT and Digital Transformation: 4 Must-See Interviews from HPE Discover Madrid 2017
If you weren't able to make it to HPE Discover Madrid 2017 in December, you missed a terrific show – but here's a great opportunity to catch up on some of the highlights as seen through the eyes of Daniel Newman, Principal Analyst with Futurum Research. Daniel is one of the liveliest tech interviewers I know, and he's not one to be reticent when it comes to expressing an opinion on the power of the Internet of Things for digital transformation! He sat down with business leaders and HPE execs at Discover to get their take on some of the big themes of the event in a series of videos.
You might want to start with Daniel's own overview of the series. He introduces and explains the new focus on consumption-based infrastructure and why it's crucial for the future of hybrid IT: "If you were here in Madrid, you would see that the digital transformation movement is really going to happen when things move to more consumable models." Great commentary here also on how companies can get started on transformation initiatives, and on what Daniel calls "the coolest thing of all" – the evolving paradigm of outcome-as-a-service. "If I were a businessman," he says, "I would be all over that."



Next up: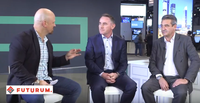 How ABB is taking industrial automation to the next level with HPE. ABB is a leading provider of automation solutions to industrial customers in more than 130 countries, and it's hard to imagine a company that's better placed to drive innovation in the industrial IoT. In this interview with Ciaran Flannagan, who heads up ABB's global data center business, and HPE's Hellmer Rahms, who manages the relationship between the two companies, Daniel explores the current successes and future goals of the partnership. Check out the video to find out how ABB is moving beyond condition monitoring and predictive maintenance and why consumption-based solutions are central to that vision.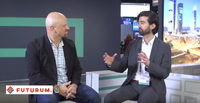 How Konica Minolta transformed into a digital brand. Konica Minolta has no lack of experience in re-inventing itself – from its roots in the camera and imaging businesses, the Tokyo-based industrial giant has expanded into a vast range of sectors, including business technologies and services, office equipment, optical systems for industrial use, and diagnostic imaging systems. But the company has no intention of stopping there, and it's currently driving comprehensive digital transformation not only for itself, but also for its customers. In this interview, Chief Technologist Christian Mastrodonato explains how Konica Minolta is building a hybrid fabric to offer its SMB customers data-as-a-service and workplace-as-a-service and why the company is investigating HPE technologies as it transforms into a digital brand.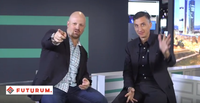 What Edge-as-a-Service can do for your business. A major focus of the conference was HPE GreenLake, HPE Pointnext's innovative suite of consumption-based IT offerings. In this video, Daniel chats with Tommaso Esmanech, HPE Pointnext Edge Services Strategist, about HPE GreenLake Edge Compute. If you're looking for a clear description of what the Edge is and why it matters, you'll find it in this interview. Better still, you'll learn how HPE's end-to-end, pay-per-use, services-inclusive solution can simplify Edge IT and accelerate your journey to the IoT. (You might also want to read Tommaso's blog post Beyond Roll-out: Mastering the Full Life Cycle of Your IoT Project.)
More information:
I am an HPE employee.
To say thanks give 'Kudos' by clicking the white Kudos star!

Starting June 22

THE FUTURE IS EDGE TO CLOUD Prepare for the next wave of digital transformation. Join our global virtual event. June 22 – 24
Read more

Find out about the latest live broadcasts and on-demand webinars
Read more
View all
© Copyright 2021 Hewlett Packard Enterprise Development LP