>

>

>

The Simpler Path to Cloud-Native 5G Networks: HPE ...
Forums

Blogs

Information

English

The Simpler Path to Cloud-Native 5G Networks: HPE 5G Core Stack, with Red Hat® and Intel®
What happens when 5G networks, cloud-native software models, and open multivendor innovation collide? Communication service provider (CSP) customers get a world of new services. And CSPs have a chance to rewrite the economics of their business.
With tomorrow's 5G networks, operators can run their infrastructure as cloud-native software, elastically scaling resources with the same speed and agility as hyperscale cloud providers. They can provision end-to-end network slices tailored for specific applications and customers. And they can use modern software processes from the world of IT—DevOps ways of working, CI/CD pipelines—to bring new capabilities to their customers quickly and continuously.
If you're migrating to an open, cloud-native 5G core in the coming years, you can expect all these advantages, and others. But like any transformation, this journey comes with some growing pains. As powerful as open, microservices-based core networks can be, they're also far more complex than previous generation networks—exponentially so.
So, what's the answer? Should you keep your legacy solutions and processes as long as possible and forego the benefits of open cloud architectures? Or, should you move full steam ahead building your own multivendor 5G core—and take on the costs and risk that come with it?
The best answer is none of the above. Today, you can deploy a next-generation 5G core that looks and acts like a single vendor solution but is fully open and multivendor. It's the HPE 5G Core Stack. And, thanks to HPE's close collaboration with Red Hat® and Intel®, it delivers all the benefits of multivendor cloud networks in a solution that's pre-integrated, pre-validated, and ready to deploy.
Pre-integration has its privileges
To take full advantage of 5G, you need to start with a core stack that's implemented as a fully cloud-native, services-based architecture—not just the same old monolithic core software stuffed into a container. But that's just the beginning. You also need to integrate all the other multivendor pieces of the solution: platform-as-a-service (PaaS), telecom infrastructure-as-a-service (IaaS), best-of-breed network functions from diverse vendors, and more.
If that sounds like a big job, it is. And if you're doing it yourself, you can expect to take on a lot of complexity, high costs, and significant risk. Fortunately, there's another option: You can let HPE--and our industry-leading partners like Intel and Red Hat--do it for you.
The HPE 5G Core Stack combines Red Hat OpenShift Container Platform PaaS, IaaS powered by the latest 3rd-generation Intel® Xeon® Scalable processors, and end-to-end orchestration—all pre-integrated to work like a single-vendor solution. From the outset, you get a cloud-native 5G core that's pre-validated to deliver telco-grade performance, security, and scalability. At the same time, you retain the flexibility to use diverse network functions from the world's leading vendors on a core that's built from the ground up with open standards and interfaces.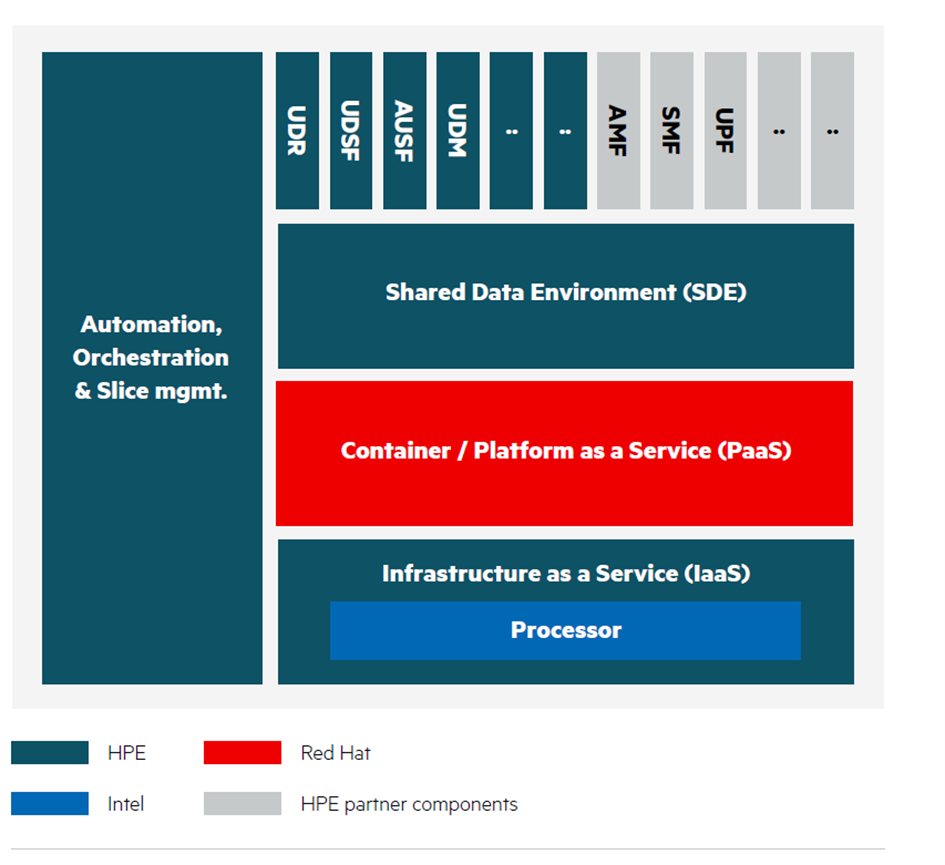 HPE 5G Core Stack with Red Hat and Intel
Inside the 5G Core Stack
HPE, Red Hat, and Intel have all made major contributions to the 5G Core Stack, including:
True cloud-native core: Unlike some cloud-washed solutions out there, HPE completely redesigned its core stack to be open and cloud-native. (See this white paper for details.) We can help you break vendor lock-in by integrating cloud-native network functions from multiple vendors on a common, service-based architecture and shared data environment. And, with end-to-end automation and orchestration, you can reduce operational costs and timelines, including commissioning a full 5G network in minutes instead of weeks.

Pre-integrated PaaS: The pre-integrated Red Hat OpenShift Container Platform provides the stability, security, and performance a 5G core demands. Red Hat engineered the solution for telecom environments to ensure support for common CSP protocols, alongside software-defined container storage and other cloud-native tools. Red Hat also worked extensively with Intel to bring the latest performance improvements in Intel processors to CSP environments.

Pre-integrated IaaS: At the IaaS level, operators typically build the infrastructure on HPE ProLiant DL360/DL380 Gen10 Plus servers. These servers, based on the latest 3rd-generation Intel® Xeon® Scalable processors, deliver performance, efficiency, and trust for 5G workloads requiring low latency, high throughput, and deterministic behavior.

Enhanced security: The 5G Core Stack uses a standards-aligned architecture that's inherently more secure than closed, proprietary solutions with black box components that are impossible to fully observe. At the same time, Red Hat and Intel also bring a higher level of security. Red Hat OpenShift Container Platform is based on Red Hat Enterprise Linux®, which has been hardened for security, including the ability to ensure the complete platform is operating according to the security policies in place. Additionally, Intel Software Guard Extensions (Intel SGX) provide a set of instructions that can increase the security of application code and data, providing protection from disclosure or modification. HPE ProLiant servers also feature the HPE Silicon Root of Trust, which creates a digital fingerprint and ensures the server will never boot with compromised firmware.

Solution-level support: HPE and Red Hat have also joined forces to integrate support teams for the solution. We work together to ensure you can meet the stringent service-level agreements (SLAs) your customers require.
Start your cloud transformation
The transition to open, cloud-native 5G core networks is not necessarily a simple one. After all, if you want the freedom to deploy and operate your network in new ways, you're going to have to do things differently. But it's absolutely possible to implement a cloud-native, services-based architecture without taking on a huge, high-risk integration effort on your own.
HPE, Red Hat, and Intel can provide a comprehensive 5G core solution that's fully validated to deliver telco-grade performance, availability, and security. We can help you shift to cloud-native software models, using cloud economics to drive down upfront costs and deploy faster with less risk. And, we can deliver all of this in a pre-integrated package that's easy to deploy and use without sacrificing openness and flexibility.
Ready to take the next step in your 5G journey? Learn how HPE, Intel, and Red Hat can help you tap into the benefits of a cloud-native core in the HPE 5G Core Stack solution brief. See how we've reimagined CSP core networks from the ground up in this white paper.
Visit hpe.com/5G for more information.
Andy Bryant
Hewlett Packard Enterprise
twitter.com/AndyTelco
linkedin.com/in/andybryant/
hpe.com/5g
HPE WW Telco Marketing / @AndyTelco
Starting June 22

THE FUTURE IS EDGE TO CLOUD Prepare for the next wave of digital transformation. Join our global virtual event. June 22 – 24
Read more

Find out about the latest live broadcasts and on-demand webinars
Read more
View all
© Copyright 2021 Hewlett Packard Enterprise Development LP