>

>

>

The edge is everywhere at HPE Discover
Forums

Blogs

Information

English

The edge is everywhere at HPE Discover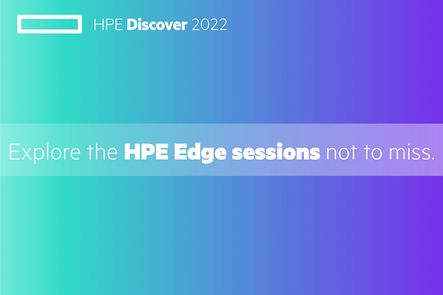 A big focus for HPE Discover will be at the edge; how to maximize the richness of growing data surrounding your customers, citizens, employees, and infrastructure. At the same time, managing data distributed across stores, factories, clinics, schools, and all remote locations can be daunting. Throughout the week, we will showcase and discuss the latest ways to connect, protect, analyze, and act upon your data.
We welcome you to dive into all the latest topics at the edge, including AI, consolidation, data management, simplifying edge deployments, private 5G, and let's not forget -- security. But as you know, technology does not drive your deployments; rather, it is what your organization gets from the technology. To frame technology in your language, you will see the edge come to life in demos highlighting cities, renewable energy, manufacturing, healthcare, and even in space.
Join us, whether in Las Vegas or online, to engage with experts and your peers to capitalize on data from edge to cloud. The demos and sessions will provide a great platform to learn, ideate, and get immersed in all things distributed across the edge.
Register here for HPE Discover 2022!
Let's join up at the edge
Explore the catalog and plan your days here. Please be sure to check out and build your agenda so you don't miss your what's most important! To help you streamline your edge choices, let's explore the top sessions and demos. All activities are listed in Pacific Daylight Time (PDT), so please update your calendars accordingly.
Top edge sessions
Wednesday, June 29, 10:30 a.m.
Speakers: Jeff Edlund (HPE), Jeff Lipton (HPE), Vignesh Ramamurthy (Infosys), Steve Sligar (LyondellBasell)
5G and the connected edge will impact every industry and change the world – Are you ready?
HPE's new connected edge solutions bring unified private 5G, Wi-Fi 6 mesh access, and edge compute to telcos for deploying industry-specific workloads and services. Our experts discuss bringing the best of cellular and Wi-Fi together to bring the connected edge and new applications.
Wednesday, June 29, 4:30 p.m.
Speakers: Lin Nease (HPE), Denis Vilfort (HPE)
Edge First: Seven Examples of How Enterprises Are Delivering Results Now
With investments in edge computing growing 16% YoY, distributed enterprises are now fully realizing that a better operating model is at hand by switching to an edge-first IT strategy. This session will discuss how HPE customers are getting tangible results by switching to edge-first strategies to realize their next level of operational excellence. Join the session to learn from these cutting-edge customers and get inspired to see how these powerful principles can be applied to your organization.
Wednesday, June 29, 1:30 p.m.
Speaker: Denis Vilfort (HPE)
Edge First: How to Develop a New IT Strategy for the Next Level of Operational Excellence
If you are a CxO, LOB, or IT strategist charged with delivering the next level of operational excellence and quantifiable results across the distributed enterprise, this session is for you. We'll discuss the data processing needs of the modern distributed enterprise and share insights on how to use metrics like data gravity to make the right investment decisions. We'll further discuss data lifecycle principles across edge, core, and public cloud. Finally, we'll share three easy steps for you to get started with your own edge-first strategy.
Tuesday, June 28, 5:00 p.m.
Speaker: Jeff Winterich (HPE)
For organizations to modernize along their digital transformation journey, more processing of data needs to occur where the data originates (in this scenario, at the edge). In this solution demonstration, we will show multiple AI workloads running on an HPE Edgeline EL8000 using HPE Ezmeral Data Fabric for edge/core/cloud connectivity. The applications will include Signal Identification (DeepSig), Computer Vision (Chooch.ai), and GPU-accelerated analytics (Heavy.ai).
Edge demos
Your business runs on data, with much of this data distributed across edge locations. Whether your data is files, objects, streams, or databases and spread across edge locations, the core data center, and public clouds, the HPE Ezmeral Data Fabric helps you to modernize data infrastructure and breaks down silos. Data can freely be accessed across your entire distributed enterprise. Applications or teams can now directly access objects or files regardless of where they are located. This demo will show you how.
When running multiple factories, stores, hotels, or hospitals, minimizing complexity is paramount to operational excellence. Even across multiple geographies, you can easily deploy the power of an edge computing cluster with HPE GreenLake to manage your data. This demo illustrates how HPE GreenLake will help you deploy and centrally manage your distributed enterprise with your choice of application platforms, including HPE Ezmeral, VMware, Microsoft, Red Hat, SUSE, Nutanix, and Google.
Build your playlist
Are you planning to attend virtually and want to build your own playlist? Here's how!
Once you have registered for HPE Discover, log in to the virtual platform to view each of the keynotes, sessions, demos, and hands-on labs you wish to attend.
You can filter your selections based on content type, areas of interest, or keyword search. Then simply click on the "+" icon to add the item to your My Playlist. You can also download your Playlist into your preferred personal calendar.
We look forward to seeing you in a few weeks – in person or virtually – at HPE Discover 2022!
Hewlett Packard Enterprise
twitter.com/HPE_IoT
linkedin.com/company/hewlett-packard-enterprise
hpe.com/info/iiot

About the Author
Al_Madden
Al Madden is involved in all things Edge. With degrees in chemistry and marketing, he is committed to finding the best ways to put technology to work. Whether in environmental monitoring, power distribution, semiconductors, or IT, Al now focuses mostly on making tech consumable, understandable, and usable through marketing and content strategy.

Find out about the latest live broadcasts and on-demand webinars
Read more

Visit this forum and get the schedules for online Expert Days where you can talk to HPE product experts, R&D and support team members and get answers...
Read more
View all
© Copyright 2022 Hewlett Packard Enterprise Development LP