>

>

>

Transforming the Manufacturing Business Model to a...
Forums

Blogs

Information

English

Transforming the Manufacturing Business Model to an as-a-service solution
Companies are facing new challenges today such as the prolonged Covid-19 pandemic, and staying competitive in our rapidly changing business environment. To adapt to these changes, many organizations are working on digital transformation to drive innovation in their business models and processes, and to create new customer experiences, products and services. 
The need for digital transformation
Nearly all industries indicate that change is underway, but customer experience and product and service improvements are primary areas of focus. Streamlining business processes, which requires a company-wide and cross-departmental effort, is a low priority.
There are also many who say that most digital transformation attempts end at the level of demonstration experiments or POC (proof of concept); even if successful, the scale of change is often too small to have a significant business impact.
In this article, I will discuss business model transformation in the manufacturing industry, which is challenging - but has the potential to create large and positive business impacts. I will also explore what should be considered and promoted in the shift from a goods-to-services model. We'll look at the keys to a successful business model transformation in the manufacturing industry, including HPE's own efforts too.
Hewlett Packard Enterprise: The as-a-service company
The report entitled "How industrial companies can respond to disruptive forces", by McKinsey & Company, explores the following five market forces that drive an increase in industry revenues:
Connectivity-driven business models, such as pay-per-use and data monetization
Artificial intelligence (AI) and autonomous systems
The Internet of Things (IoT)
Electrification, driven by regulatory and technological changes and growing consumer demand
Cybersecurity, which is growing in importance as connectivity increases, and threats present more risk
In another recent article by McKinsey & Company, "Hardware's business-model shift: Finding a new path forward", HPE GreenLake, which delivers a pay-per-use model with no capital needed up front, and no overprovisioning of infrastructure, is highlighted as a leading example of a cloud-like hardware subscription model. Winning more than 1,000 customers in the first three years, and representing over $4 billion in contracts, HPE GreenLake solutions received a very respectable customer satisfaction rate of over 80% by 2019.
As-a-service business model in manufacturing
"As-a-service" can be referred to by many names like "subscription model," or "recurring model". But more and more manufacturers are embracing the approach, and working to transform their own businesses from goods to services, leveraging these types of connectivity-driven business models. The reason behind this is the change in customer needs from ownership to usage-based, and the slowdown in growth due to product commoditization and market saturation.
In this blog, I will focus on the as-a-service model, which charges based on the consumption time and usage volume of the product or device, rather than the selling of the product or device itself.
Value proposition for customers
The value that the as-a-service model provides to customers includes:
Lower initial costs and up-front investments
Pay per use model
Turning fixed costs into variable costs
While purchasing goods requires a large investment at one time, the initial cost of an as-a-service approach can be reduced through monthly payments. Even when it is difficult to predict future demand, it is possible to start small and increase usage as demand grows. In addition, the as-a-service model offers the flexibility of pay-as-you-go, rather than fixed payments for leases. Furthermore, from an accounting and cash flow standpoint, it is possible to off-balance fixed costs with variable costs.
Value to the company providing the service
The value for companies that offer the as-a-service model includes:
Adaptation to customer needs
Revenue stability and predictability, and
Long-term relationships with customers
Adapting to customer needs, from ownership to usage, is seen in the popularity of cloud computing. In addition, while it is difficult to forecast orders for product sales due to changes in economic conditions and sales that are likely to fluctuate, service-based services will increase revenue stability and predictability. At the same time, it is easier to strengthen relationships with customers through long-term transactions over several years, and to understand and respond to specific customer needs, as required.
Key success factor for business model transformation to as-a-service
There are many things to consider in the areas of business and technology in order to transform the business model from a product to a service.
On the business side, it requires company-wide effort and governance, such as understanding customer needs, comprehending the size of and opportunities in the market, planning strategies, building organizations and marketing, and making investment decisions, including M&A. It can also include restructuring internal processes, establishing evaluation metrics to measure progress, and frequent and informative communications for both internal and external stakeholders.
On the technology side, it is necessary to connect devices and users to the Internet by leveraging IoT and edge computing for connected products. It is key to create a system and infrastructure for data collection, aggregation, storage, and analysis in order to extract and measure the data from these devices, correctly and safely. Easy-to-use dashboards and portals for customers and administrators will give them the insight to understand and manage the data and services.
Business
Vision, strategy, and investment to drive the transformation
Mergers and acquisitions to acquire the necessary technology
Organizational and mindset change/change management
Metrics and evaluation indicators

Technology
IoT and Edge Computing for the connected product or connectivity-driven business model

Digitize business and operation to get data
Attaching sensors and other devices to products to send data on operation and usage
Metering
Technology to correctly measure usage
Data management, analysis, and forecasting
Infrastructure for data collection, aggregation, storage, and analysis
Technology to accurately analyze or forecast the collected data on operation and usage
Dashboards and portals
Centralized visualization and management of operation status and usage by customers and providers
Security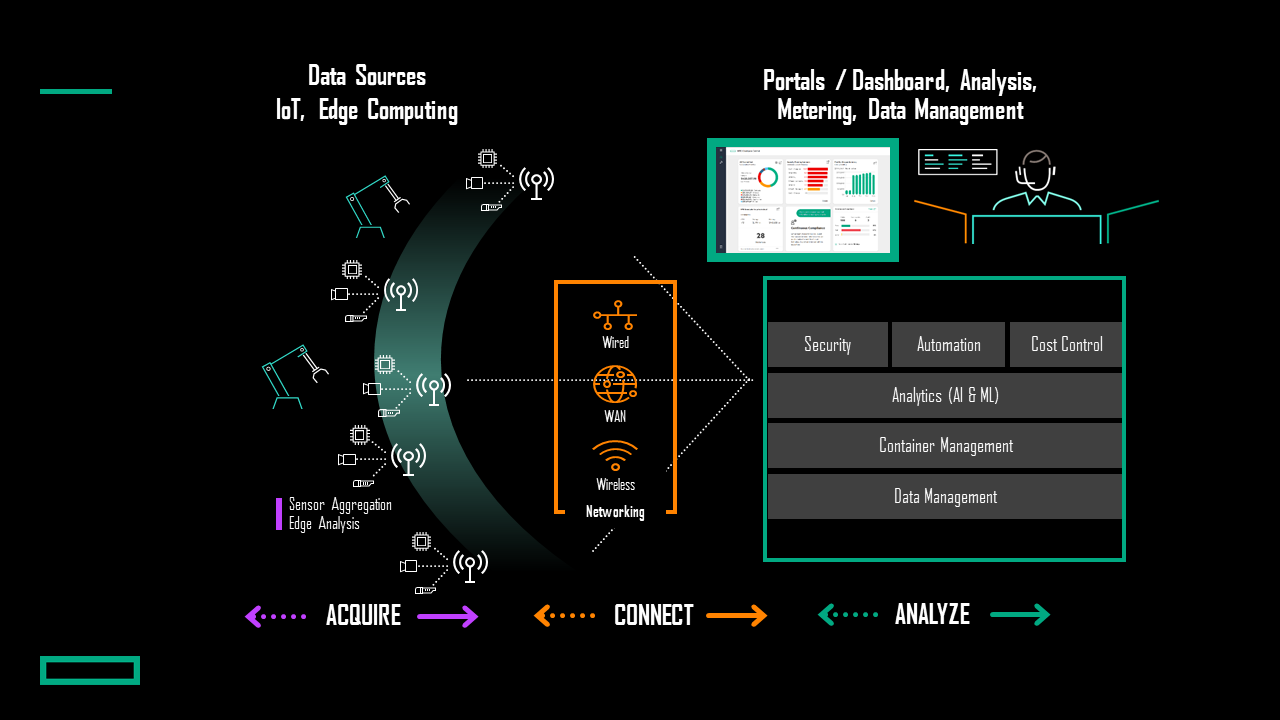 Business model transformation to becoming an as-a-service company: HPE as a case study
The driving force behind HPE's transformation is the passion to consistently meet the changing needs of our customers. As they continue to shift their IT environments to the cloud, there is a large and growing need for hybrid cloud environments, and expectations for on-premises as-a-service offerings are growing. The market is expected to expand to more than $22 billion by 2023, with an annual growth rate of 58% over the three years from 2020. (See page 38 of the Securities Analyst Meeting 2020 document for details.)
Against this backdrop, HPE is evolving its own digital transformation and business model with a vision and strategy to deliver everything we offer our customers as-a-service by 2022, and to provide cloud experiences everywhere from the edge to the cloud. HPE GreenLake is its flagship service.
I would like to introduce what HPE has been doing based on this vision and strategy of becoming the As-a-Service Company, based on the framework and points introduced in the previous section.
Internal and external announcements of the vision and strategy
In June of 2019 at our largest event, HPE Discover, we announced plans to offer our entire portfolio as subscription, pay-as-you-go, and consumption-based solutions over the next three years.

HPE also announced its new vision of "HPE is a global, edge-to-cloud Platform-as-a-Service company built to transform your business".
Mergers and acquisitions to acquire the necessary technologies
Metrics and evaluation indicators
Technology
Dashboards and portals
HPE Consumption Analytics portal provides detailed visibility into usage to manage costs and plan for capacity.
Deploy and manage resources such as virtual machines and containers
Manage IT infrastructure resources, including continuous monitoring to ensure compliance and governance
Metering dashboards and portals
HPE's breakthrough metering technology is available for both cloud and on-premises compute, allowing customers to monitor and manage hybrid system usage through one easy interface.
Covers container management, machine learning infrastructure (MLOps), virtual machines (VMs), storage, compute, data protection, and networking
For more information on HPE's pay-per-use model – with no capital needed up front, and no overprovisioning of infrastructure – please view the HPE GreenLake Cloud Experience video.
Summary and related information
The digital transformation with the broadest scope and degree of difficulty is the transformation of the business model, but the benefits and impact on business performance can be significant. This kind of transformation requires a shared vision and strategy from top management to employees, as well as a system of cooperation and promotion that brings everyone together.

If you have further interest in HPE GreenLake solutions, please take advantage of these on-demand webinars:
Run Your Most Demanding Workloads on HPE GreenLake
Today's most demanding workloads and their datasets remain outside the cloud. Enterprises seek to digitally transform these business critical production workloads and reap the full benefits of the cloud experience, including pay-as-you-go, scalable, self-service, and managed. In this webinar we'll discuss how to fundamentally change the way you run your most critical workloads as a service in your own environment.
A history of "Pay-Per-Use IT" at HPE
From our first pay-as-you-go offering to the introduction of HPE GreenLake, HPE is paving the way on delivering consumption-based services through innovation and partnership to meet the exact needs of our customers.
Want to know more about the future of technology? Sign up for weekly insights and resources.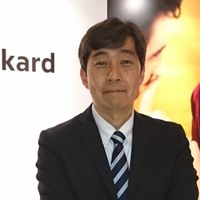 Meet HPE Blogger Kohei Kubo, EMEA & APJ Industry and Workload Marketing Manager. Kubo-san is responsible for driving Edge to Cloud solutions in the Industry and Workload Marketing team. He is based in Tokyo, Japan.
Connect with him on LinkedIn!
---

Find out about the latest live broadcasts and on-demand webinars
Read more

Visit this forum and get the schedules for online Expert Days where you can talk to HPE product experts, R&D and support team members and get answers...
Read more
View all
© Copyright 2022 Hewlett Packard Enterprise Development LP