>

>

>

Turning industrial data into insights and action -...
Forums

Blogs

Information

English

Turning industrial data into insights and action - ABB and HPE
In his keynote address on Tue 5th March at ABB Customer World on Tuesday, ABB CEO Dr Ulrigh Spiesshofer will explain how ABB is shaping its business for leadership in digital industries to support its customers in a time of unprecedented technological change and digitalization. He will be joined by Antonio Neri (President and Chief Executive Officer of Hewlett Packard Enterprise) to discuss how ABB and HPE are taking our partnership to the next level, providing even more insights into industrial data.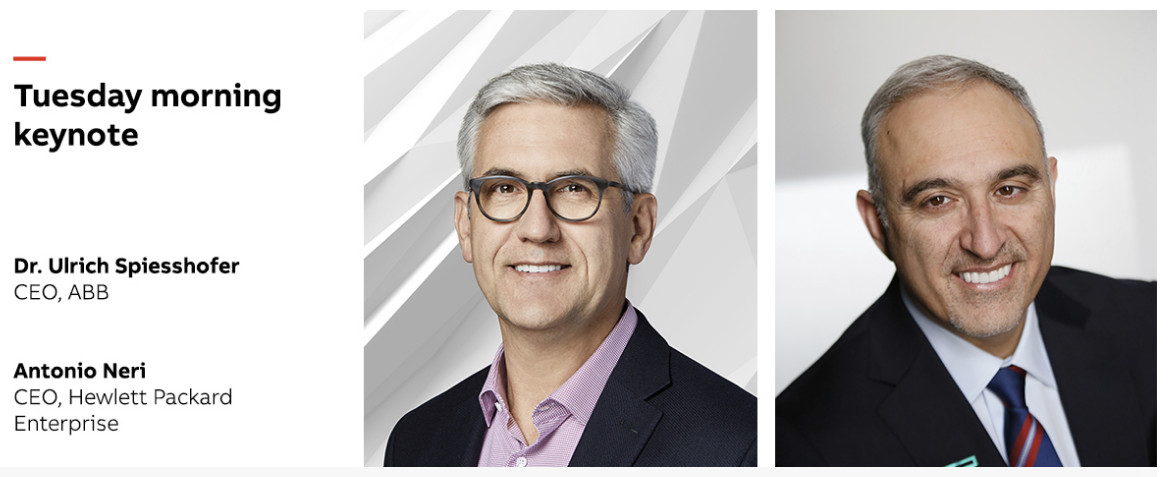 ACW Tuesday Morning Keynote
ABB and Hewlett Packard Enterprise (HPE) formed a global digital alliance late in 2017, and since then have been working together on a number of joint solutions, leveraging each other's strengths to deliver benefits from the digitization of industrial solutions. The convergence of ABB's deep domain expertise in operational technologies (OT) and HPE's leadership in information technologies (IT) allows us to capture data at the edge, analyse it to generate insights, then take action, increasing the efficiency and agility of our customer's core operations.
Hear more about Hewlett Packard Enterprise, the global partnership, and this use case from Hellmer Rahms, André Schärer and Bernd Heisterkamp in session 246020 - ABB and HPE: Enabling IIoT for true customer value Wednesday, Mar 6, 1:30 PM - 02:30 PM – Room: 320C
ABB AbilityTM Data Center Automation and HPE OpenView automates IT/OT systems based on energy efficiency and physical asset health
IoT isn't only useful in industrial applications; but can deliver significant efficiencies to IT and operational teams in the datacenter. Until now, getting a holistic view of the operation of the environmental and IT systems operating in the facility has meant multiple tools and swivel chair management; but with the integration of ABB Ability Data Center Automation for the OT infrastructure and HPE OneView covering the IT infrastructure, customers gain maximum visibility across physical assets, and the ability to automate their IT systems based on physical asset health.
A demonstration of this solution will be available in the Industry Zones / Data center area
ABB Ability EdgeInsight and HPE Edgeline turns OT information into actionable insights
Gathering data at the edge of the network, and acting on it requires industrially hardened IT equipment, and close software integration. ABB have developed ABB Ability EdgeInsight software, that helps turn operational technology (OT) information into actionable insights by offering highly customizable visuals, accessible from anywhere, anytime. The solution runs on HPE Edgeline Converged Edge Systems that combine operational technology, such as data acquisition, control systems and industrial networks, with enterprise-class IT in a single, rugged system suited for harsh edge environments.
Each compact HPE Edgeline system is outfitted with robust Intel Xeon compute, high-capacity fast storage, high-performance IT/OT wired and wireless connectivity and industry-leading remote systems management.
A demonstration of this solution will be available in the Industry Zones / Data center area
SEDC - An "Edge" data center brings cloud based digital services and enterprise-grade IT to the point of data collection and control
Disruptive technologies are changing the way companies, individuals and devices process data. New business models, and the need for improved latency, security and scalability are driving the shift of not just edge compute and gateways to the edge, but whole data centers. Rittal, HPE and ABB have collaborated to build an "edge" data center solution – for customers to deploy cloud-based digital services at the edge, by bringing enterprise-grade IT capacity closer to the point of data collection and machine control.
The SEDC is a smart, secure, scalable and economical solution that allows you to deploy IT equipment in harsh environments, certified with IP55 protection
Hear more about the SEDC in session 249320 - Demystifying the edge: Enabling computing for the new digital economy Monday, Mar 4, 4:00 PM - 05:00 PM – Room: 351C
Secure Edge Data Center
The journey towards autonomy through Artificial Intelligence
Businesses in the industrial space have undergone a paradigm shift to move from isolated operations to collaborative and ultimately more autonomous operations. By 2025 we will witness humans working with systems in a collaborative way, leveraging artificial intelligence (AI) seamlessly.
In the panel session - 249477 - The journey towards autonomy in industrial operations, ABB experts will provide perspectives on the journey to autonomous operations from the point of view of HR, Operational technology, and IT. Our Chief Technologist for Manufacturing & Automotive, Matthias Roese will share his experience of proven projects using self-healing, and will provide insights into other industry segments based on AI in practice.
AI will become more and more relevant to all industries and all parts of the value chain.
Tuesday, Mar 5, 4:30pm - 5:30pm, Theater 4 in TSC
Building a digital strategy and roadmap for oil & gas applications
Digitalization allows industrial companies to get a highly granular view of their assets that, when viewed in conjunction with data from more traditional business systems, can generate faster and better insights to drive competitive advantage. Using a scalable road map for oil and gas operators, this session will discuss how analytics and big data technologies provide insights into production, maintenance efficiency and safe operations, and enable efficient business processes.
In this Panel Discussion - 249469 - Designing a scalable road map for your digital strategy in oil and gas, Peter Moser, IoT and AI Strategist at Hewlett Packard Enterprise will join the discussion with insights from how HPE's customers have leveraged IoT, edge analytics, big data and AI.
Monday March 4th, 2:30 - 3:30pm, Room 340A
Supporting digital transformation
In our final Panel Discussion - 246311 - ABB and digital partners: Supporting the path of our customers' digital transformation, Peter Moser will join executives from ABB, Dassault Systèmes, Microsoft and IBM, discussing how to develop leading edge digital solutions.
Wednesday March 6th, 10:30am - 11:30am, Room: 320C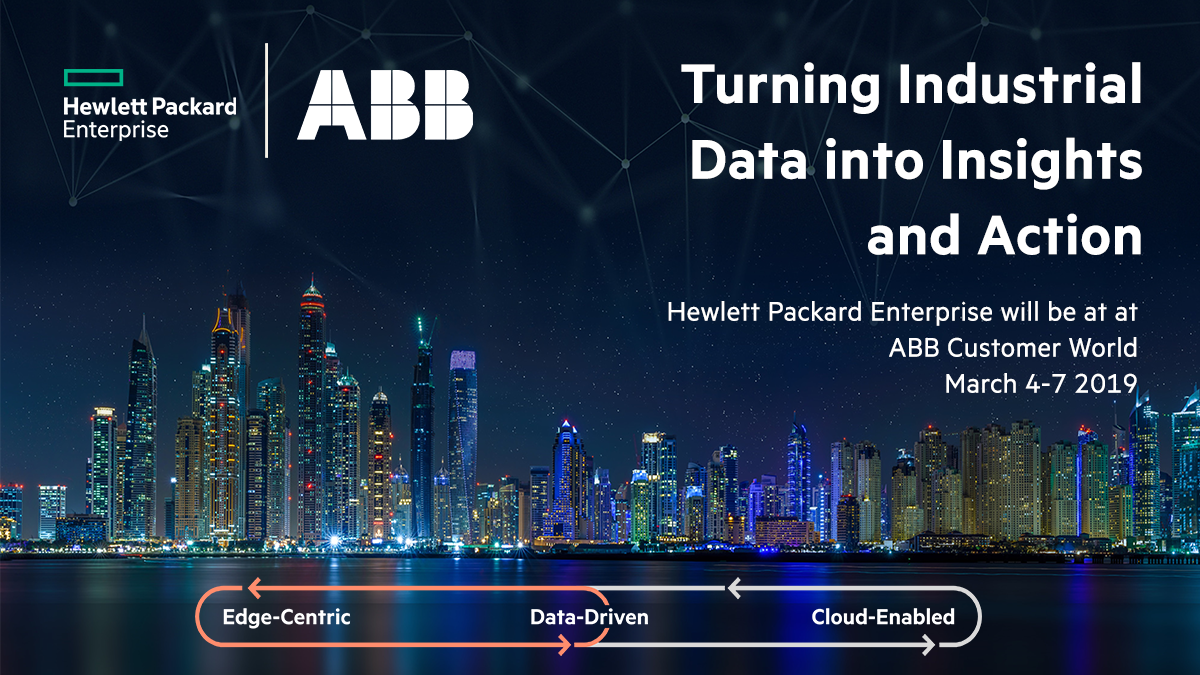 HPE will be at ABB Customer World, turning industrial data into insights and actions
HPE WW Telco Marketing / @AndyTelco

Find out about the latest live broadcasts and on-demand webinars
Read more

Visit this forum and get the schedules for online Expert Days where you can talk to HPE product experts, R&D and support team members and get answers...
Read more
View all
© Copyright 2021 Hewlett Packard Enterprise Development LP