>

>

>

Digital Workplace innovation is white hot. How to ...
The Cloud Experience Everywhere
Forums

Blogs

Information

English

Digital Workplace innovation is white hot. How to make it work for your business
SaaS tools have evolved into a mass of disparate systems that don't talk to each well. But innovations from Citrix and HPE Pointnext Services are taking the integrated digital workplace to the next level.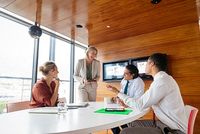 When I first started work in IT back in the early 1990s, if I wanted to take some leave, I would have to find a leave form. These were usually stored in an admin box file on the shelving around the IT office. Upon peering into the box, if I found I had drawn the short straw that was the last blank form, I'd also have to wander down to the photocopier in the main office and take some copies of it to restock the box file for my peers.
Once I'd completed the form, I'd put it in a memo envelope and send it to my boss who would check the already approved leave forms in the leave binder for the same period to ensure no-one else was on leave at the same time. He would then approve it, write it in his diary and send it to his PA who would take a copy and send it back to me with his signature, filing the original. We didn't have email then. We barely had a network. Only the corporate line-of-business applications would use the LAN. There was no Internet access apart from one dial-up machine in the IT office, no fileservers (apart from a single Novell Netware server used by the Sun Accounts application in Finance), and file-sharing was done by physically handing floppy disks around.
So why do I mention this? Well, it was a very long-winded process just to request a day's leave. However, at the time, it was the best process we had because of the technology at our disposal.
Tech to the rescue – and the rise of SaaS
We had similar procedures for claiming expenses, and due to the legal requirement to have physical receipts, even up until recently many people in the UK still had to fill out a form, staple their receipts to the corner and post it off to the finance department.
The innovations we've seen through technology, both inside and outside the office, have improved our lives. Initially, some of these processes were automated by in-house-developed tools, sometimes by non-developers in platforms like Access and Excel Macros. They became ingrained in our business, but they were hard – and expensive – to scale, replace and maintain.
As new solutions and services have been invented and released, we've all been adopting them to make our lives easier in our day-to-day work. The consumerization of IT has meant that tools to make a job easier have also been brought into the work environment by employees, rather than being driven in and implemented by IT.
Due to this consumerization, along with the perceived cost benefits of moving away from those in-house tools, there has been a move away from managing and maintaining legacy on-premises hosted instances. Companies are moving over to the dedicated Software-as-a-Service model, usually cloud-hosted, that provides specific and defined tools and workloads, usually via a web browser (or an app when on a mobile device). We first saw this march with Salesforce. How many IT departments realized they had a prolific Salesforce environment when some of the sales team complained that integrations weren't working? How many realized that there was a huge salesforce implementation paid for by a sales director's corporate credit card?
It wasn't only Salesforce, of course. Most of us have used elements of Office 365 or Google G-Suite for our productivity tools; Workday, ADP or SAP SuccessFactors for our human resources platform; SAP Ariba for sourcing; and SAP Concur, Workday or Oracle for expenses and finance. The list is almost infinite – and therein lies a problem.
SaaS re-assessed: a look at the downside
Whilst these new SaaS tools give us huge benefits, including the fact that they are designed to do a specific job rather than being generalist 'catch-all' tools, there is a downside. These platforms have grown fast, and sometimes are even cloud instances of legacy on-premises tools (think SAP Concur for example). So they tend to have quite a bit of bloated functionality. This is because, although we've moved the data to the cloud, we haven't rationalized what the applications actually do. The applications are trying to be all things to all people, but end up just appearing overly complex to the non-technical user. Plus, the new platforms with the cool functionality come along to solve a specific problem, and in most cases are consumed by the big players, changing how the end user interacts with the platform.
For a power user, this isn't a problem – these overly technical applications are designed by the same techies who tend to be the consumers of the 1% of the functionality. But for the non-techie users doing a simple task such as filing an expense report, booking some leave or filling out a timesheet, it means having to navigate confusing menus. It means task-switching between different, usually disconnected, web applications, just to achieve a simple task. For example, why can't Workday just add our approved leave to our Outlook calendar?
With such a wide proliferation of SaaS tools available, sometimes implemented solely to accomplish an individual task, there's just no way you can become an expert in them all. Yet you're expected to use many of them daily to do your job.
This can have a discouraging effect on employees; it disengages them, making them switch off. There are too many applications, too much complexity, too much searching for the right way to complete a task. Too much time spent hunting around and doing 'form filling' within the application. A simple approval of an expense request by a manger can take 4 to 5 minutes. You have to log in to the application (quicker if it's single sign-on – slower if you have separate passwords for each app). You have to remember the correct menu sequence to follow and hope it hasn't changed.
It all makes employees less productive; they're unable to do the work they're employed to do. We seem to have come full circle.
The integration revolution – and a big leap forward
Back in 2014, Sapho thought the same and successfully created a platform that ties together these various software-as-a-service applications we all use into a single portal. In 2018 Citrix clearly saw the value in this tool and bought Sapho, bringing the Employee Experience Portal into the Citrix Workspace environment and creating a brand new iteration of the Citrix Workspace platform, which launches in December 2019.
Citrix describes this evolution as Workspace 2.0. The Citrix workspace that Citrix users know and love – the single launch pane that links out to file shares, desktops and web apps – has now integrated the Sapho 'Activity' feed directly into the Workspace page. This adds a screen of cards down the middle, giving you a list of tasks, similar to the view you see if you swipe down to view your notifications on a mobile device.
The cards come from all the different SaaS applications you use as a business. For example, you might have SAP Concur for your expenses, Workday for your leave, and Salesforce for your sales opportunities, and maybe ServiceNow for your IT support desk.
The cards expose actions and notifications from these various tools, but the difference here is that unlike an email, you can perform actions directly in the Workspace view without having to switch back to the native application. This is a huge time saver.
If you're a manager and you have an expense report to approve, not only does it show you the card – you can drill down into the detail right within the Citrix Workspace window. You can see the content of the expense report and approve or reject it (with comments) without having to switch tasks.
Even simple workflows like this can save, according to Citrix, over an hour a week per person in most cases. If you've got a few thousand employees, this already adds up.
But it gets better. The solution is plugged into the Citrix Intelligent Graph underneath, so it learns. It also has an intelligent assistant. You can ask it "How much time off do I have?" and it will go to whichever system manages your time off, query the system and return the result to you. You can even then tell it "book my leave from the 3rd to 6th November" and it will go away and do that for you, too.
Your expert partner for the next-gen digital workplace
Where does HPE Pointnext Services fit into this? Well, out-of-the-box logic that delivers the notifications in the main comes from little connectors at the back end of Citrix Workspace called Micro-Apps. These are the things that go and talk to your various SaaS applications, and then surface the cards in the Workspace in the way you want employees to be able to interact with them. Many of the large SaaS tools are customizable. The way one corporate uses SAP Concur may well have subtle differences from the way another uses it, so one size doesn't fit all. Just throwing in the new Citrix Workspace connectors may well work, but it will give you limited returns.
After all, we get bombarded with notifications in email, and how many people take notice of those? Not many. That's mainly down to fatigue from the number of notifications. But it's also due to the fact you still have to take action by opening your intranet, finding the link to the app, logging in, getting into the part of the app where the action lies, doing the actual task, etc.
HPE Pointnext Services digital workplace analysts can sit with the teams who own your SaaS applications and your senior stakeholders to understand what the pain points are in the business, and which task flows would present the most valuable opportunities for you. We bring to the table our deep experience with the tools, as well as our understanding of the best and most efficient ways to implement the workflows. We can also develop connectors to both on-prem and complex off-prem applications. We're able not only to help you optimize for your new SaaS applications, but also to link into your legacy applications that are still on-prem.
Plus, when your SaaS applications change, HPE Pointnext Services will be at your side, updating the Micro-Apps and ensuring that your users have a seamless experience. A vendor changing a major application as part of their evergreen cycle may not be able to support your employees quite as much.
And fear not - you don't have to be a VDI user or even a Citrix customer to consider implementing this platform. If you're not already a Citrix Cloud user – or not a Citrix user at all – HPE Pointnext Services can help you provision and configure the Citrix Cloud tenant. We can even provide the licensing if you need it. Our Management of Change teams can help you train your end-users and show them how to get the best value out of the tool.
This doesn't mean that HPE will simply replicate the functionality of the entire tool in the Citrix Workspace feed – far from it. This is all about getting the most value from all of your tools in a single view, and enabling your employees to get on with their job of generating value for your business rather than filling in forms.
Alongside this, we have class-leading experience in deployment of Citrix's other offerings, such as Virtual Desktop. And we can also offer our own HPE Greenlake VDI Lighthouse, 'VDI as a Service' , which can deliver all the benefits of the cloud, integrations with Citrix Cloud, and the advantages of Citrix Workspace, with all of your workloads under your control in your own data center.
To learn more, join HPE Pointnext Services at HPE Discover More, coming up December 3-4 in Munich.
Featured articles
Mark Wayt, November 2019.

Find out about the latest live broadcasts and on-demand webinars
Read more

Visit this forum and get the schedules for online Expert Days where you can talk to HPE product experts, R&D and support team members and get answers...
Read more
View all
© Copyright 2021 Hewlett Packard Enterprise Development LP