>

>

>

Last-mile challenges with remote work
The Cloud Experience Everywhere
Forums

Blogs

Information

English

Last-mile challenges with remote work
How do you create a consistently functional remote work environment when faced with inconsistent home internet connections that your employees are using?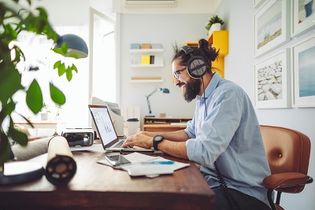 COVID-19 has been a challenge for the most prepared of organizations. Even those with extensive Business Continuity Plans have struggled as the widespread shutdowns have tested the limits of their planning. Quickly rolling out and extending solutions to allow employees to work remotely has been a saving grace for many companies. For most part these solutions work as advertised – they let employees do most, if not all, of what they were doing at work from their homes. However, there is one catch we often hear our customers talk about: inconsistent home Internet connections that lead to poor experiences while doing conferences or sharing material. This is not an easy problem to solve since, for most companies, the Internet connectivity of employees is beyond the realm of what they consider their "scope of influence".
Many companies simply decide to live with the sub-optimal remote work environment marked by variances in the quality of home internet connections of their employees. In this article, we challenge that view and provide a set of methodologies and best practices that can help you significantly improve the overall functionality of your remote work environment in the face of inconsistent last-mile connections.
Best Practice 1: Everyone's remote work needs are different: Understanding and classifying those needs of your employees is a key first step towards solving this challenge.
Conduct a well-rounded analysis of the remote work needs of your organization. This needs to be a multidimensional review of:
Computational requirements
Storage requirements (local, remote and backup)
Voice communication requirements
Video communication requirements
Security requirements
Special access requirements (e.g. cellular, air gapped systems, etc.)
Once you have collected this information, you will have a better idea of the type of remote work environment each person needs and, more importantly, the criticality and challenges associated with maintaining each type of environment. This information will help you compartmentalize the employees and determine how you would go about creating an appropriate level of experience for each employee type using the best practices below, which will focus on the connectivity aspect. Try to narrow it down to as few types as possible. Here are a few examples:
Average remote worker
BYOD remote worker
Power remote worker
High security remote worker
Executives
Best Practice 2: Internet is an essential utility for key employees
Based on the segmentation above, you will determine a set of key employees for whom a functional remote work solution based on their specific needs would be non-negotiable at all times. For these employees, consider a couple of things:
Ensure they have the ability to get an appropriate bandwidth and usage contract with their internet provider (see best practice 3). Many service providers have service level agreement (SLA) options for home users who need greater assurance of quality of service as well as enhanced technical support. Having such SLAs in place for the appropriate groupings of your employees can make a significant difference in your ability to control the overall experience for your employees, especially in situations where internet connectivity is choppy.
If they typically work from home or potentially need to work from home, be prepared to send them home with a user experience measurement and troubleshooting device. This can significantly decrease the troubleshooting time for your support staff, and it could allow the users to do a bit of troubleshooting on their own, avoiding support calls altogether.
Best Practice 3: Helping employees choose the right hardware can go a long way
Consider providing recommendations for home networking hardware that employees can choose from. Carefully selecting products that support key features (such as WPA3 encryption, attack detection and prevention and adaptive QoS for upstream traffic) can help improve your ability to manage the quality of the remote work environment and avoid issues caused by poor hardware choices that impact the connectivity of the employee.
Best Practice 4: Golden configurations can be worth their weight in gold
A set of guidelines for how the employees should set up their home networks can help improve connectivity, avoid potential issues, and increase security. These guidelines can be made specific for a small set of recommended hardware. At minimum, this will help to ensure proper levels of security and Quality of Service settings. For security, provide guidance on internet-side security configuration. For devices with built-in WiFi, recommend best practices such as tough passwords, use of WPA3 encryption, and segment or disable guest WiFi. For QoS, the best way is to pick home router devices that support adaptive QoS for outbound traffic. With this, the router can prioritize your business-critical voice and video traffic over the kids' video streaming, and adapt based on the fluctuating upstream bandwidth available. By simply recommending a few products and their configuration, you can decrease your risk and increase the quality of experience you are delivering.
VPN configurations can play a major role in the quality of the connection for home employees. Determine the right VPN options, such as split tunneling and load balancing, to optimize the user experience.
Best Practice 5: Build an extranet architecture that stands the test of time
Appropriate considerations for an extranet architecture help maximize quality of connection from homes, aimed at reducing as many issues as possible that are within your control.
Ensure you have geographic diversity for your VPN concentrators, to avoid any local outages. While you do not want all your eggs in one basket, you should be conscious of your remote workforce locations and provide close proximity (low latency), primary and backup, termination points. Try to keep them both within 30ms of your furthest users. Tertiary options can be a bit more relaxed, but only if you must. At least keep them in region.
Understand your application architecture and the split of public vs private. Some of your applications might not be suited for a public cloud-based approach for several reasons including security, compliance, latency, and legacy design. Provision VPN concentrators and pipes appropriately to handle the extranet connections and include provisions for situations where you have 100% of your workforce working from remote. This applies to your secondary and tertiary sites as well. For the split of applications in public cloud, current and future considerations, split out as much or all of that traffic at the host, leveraging local internet connections vs bringing it back through your data centers.
Consider an architecture that leverages public cloud resources for voice and video conferencing, like Zoom or Microsoft Teams. Many companies underestimate the resource strain that voice and video conferencing can put on VPN concentrators and internet pipes, especially when everyone is remote. If you must keep everything 'on-the-ground' in your data center, then follow a provision-monitor-adjust-repeat approach to ensure you can support the business in a time of need.
Best Practice 6: Leverage 5G options as they emerge
5G options are rapidly becoming a reality in many regions. In some cases they can be leveraged to completely bypass the home internet connection. In other cases they can be used as a backup. Here are some considerations around 5G for your remote work scenarios:
5G could quickly become the norm for rapid office deployments. Gone are the days of waiting weeks for a carrier to provision an internet access line. If you have power remote workers or offices, you can now send them a gateway device with 5G for their primary or secondary internet connection – with zero-touch provisioning. This can include built-in WiFi as well, which you can lock down to only corporate devices and then encrypt the dataflow.
However, access to high quality 5G may be a challenge for some time. While telecom providers are advertising their rollout of 5G and touting that they are moving fast, consider the reality behind those claims before you update your connectivity plan. Two points of consideration:
Device compatibility – this is becoming less of a concern, because when it comes to dongles and hotspots, they are readily available in most parts of the world. However, you should still analyze your options and carrier plans.
The bigger concern is carrier capabilities in the areas where you need connectivity. While you may have 5G towers near your workforce, not all 5G is created equal. First, if you see '5G Evolution technology', know that it is not 5G. Next, understand that 5G covers a broad frequency range and the higher frequencies, which give your local internet provider a run for their money, cannot travel as far, nor penetrate as well. This is why we will see more and more 5G cells popping up – micro, pico and even femtocell (in the house). Therefore, while your workforce may have 5G connectivity, you should confirm the speed at the exact place where the dongle or hotspot will live.
Migrating to the new normal of employees working from home
Having applied these best practices and the productivity capabilities they bring, it raises the question "Now we've created this capability, how does it affect our thinking for the 'new normal' of working?"
Global Workplace Analytics' current estimate (in 2020) is that about 60 million U.S. employees could work from home at least part of the time – which is 56% of the US workforce.
Applying last-mile best practices does not, in itself, improve preparedness for global, national, or even office-building-level disruption. Perhaps the best practice of all is to roll last-mile best practices into business continuity preparedness. The new normal includes all of the learnings gained as we move from "not ready" to being ready for possible future events. This is captured well in the article Nine Steps to the New Normal by Rohit Dixit, SVP and GM of HPE Advisory & Professional services – highly recommended.
Stay safe,
Saadat
Jeff Enters, HPE DIstinguished Technologist, Global Networking, co-authored this article.
Featured articles
Saadat Malik
VP, IoT and Intelligent Edge Services
Hewlett Packard Enterprise
linkedin.com/showcase/hpe-technology-services/

About the Author
SaadatMalik
As VP for IoT and Intelligent Edge Services for HPE Pointnext Services, Saadat Malik leads an organization focused on developing solutions and services for customers that are looking to transform their businesses by leveraging Networking, Digital Workplace and IoT capabilities.
Starting June 22

THE FUTURE IS EDGE TO CLOUD Prepare for the next wave of digital transformation. Join our global virtual event. June 22 – 24
Read more

Find out about the latest live broadcasts and on-demand webinars
Read more
View all
© Copyright 2021 Hewlett Packard Enterprise Development LP