>

>

>

Operational Resiliency in Crisis Management
The Cloud Experience Everywhere
Forums

Blogs

Information

English

Operational Resiliency in Crisis Management
These are testing times for even the most extensive continuity plans. Here are some practical best practices to guide your immediate actions and near-term responses.
Disruptions never come with an appointment … Business disturbances can affect organizations of any size in any area. Climate, control blackouts, political occasions, and pandemics such as COVID-19 provide a wide range of disruptions. Organizations build resiliency over a period through extensive continuity planning. However, a major catastrophic event can test the effectiveness of these plans. The COVID-19 pandemic went above and beyond a typical natural or human-made disaster, pushing the limits of technology capacity and workforce resiliency, challenging every business continuity strategy and disaster recovery plan, and forcing decision-making on the fly to keep business as "normal" as possible.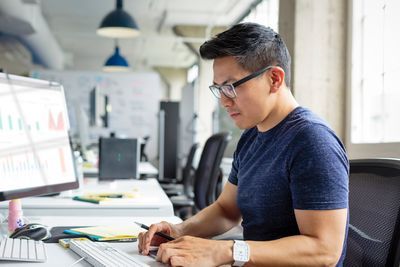 Considering the current global pandemic crisis, business conditions require consistent accessibility of IT systems, applications, and information with adaptability to work from anywhere. Almost all organizations have had business continuity plans in place for many decades; however, they are struggling to address the current situation with consistent workforce efficiency and flexibility. Business continuity measures have traditionally been more focused on operational recovery, with less emphasis on workforce interruptions. This indicates that organizational resiliency is weak in such pandemic situations.
HPE has defined a transition framework for immediate crisis management and the bridge to the new normal consisting of 9 discrete steps. This article focuses on practical best practices to improve organizational resilience during the immediate crisis phase and to prepare for the new normal.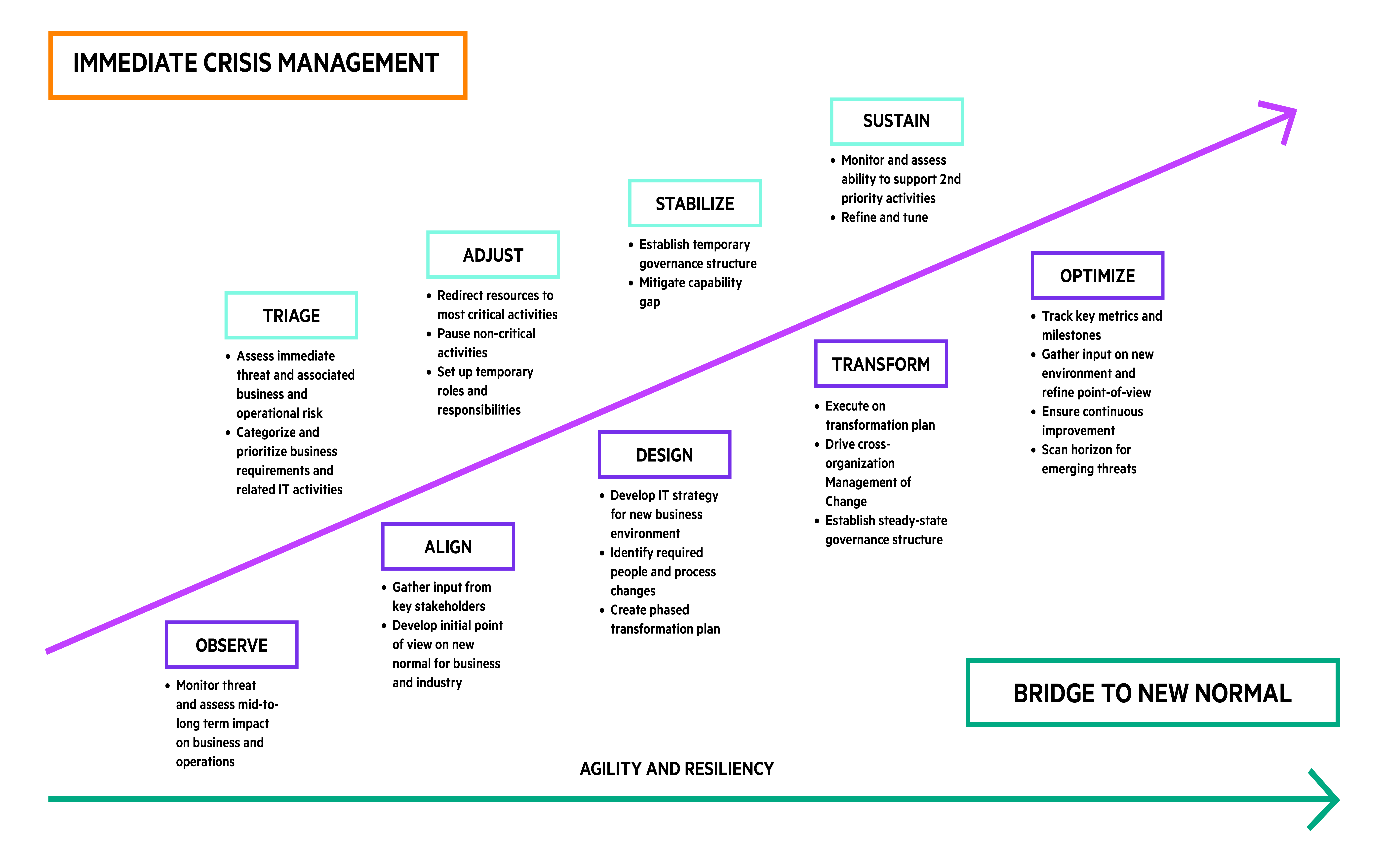 Immediate actions
Each organization needs to quickly define the degree to which they can conduct "business as usual" for both short-term and continued business operations. While redesigning organizational resiliency is a long-term initiative, organizations must define quick steps to achieve their initial best-effort business-as-usual as they transition to the new normal.
Enterprises are finding innovative ways to respond to the current crisis. Due to the unprecedented nature of the situation, organizations may execute multiple operating models to find the best route to a new normal. It is imperative to establish a governance program to stabilize the current situation, to evolve, and then transition effectively to the new normal.
Multiple priorities need to be managed, across two categories: People and Process, and Technology. Below are some immediate practical recommendations to improve operational resiliency and facilitate business continuity.
People and Process
During a crisis, the organization needs to safeguard its most valuable asset – the workforce – and ensure continuity of its process by following these steps:
Activate business continuity plans and applicable strategies.
Engage the Crisis Management Team (CMT) to assess and take actions to contain the impact of the situation.
Determine the overall business impact and any other customer contractual obligations.
Establish a program governance structure to track metrics and set cadence/milestones for the immediate crisis management through the transition to the new normal, including:
- Representation across the organisation
- Change management and process for identifying and tracking lessons learnt
- Focus on changing business processes from task-oriented to result-based output
- Management of Change (MoC) process, including how to deal with remote worker trust and cultural impacts
- Communication channel with the workforce and the key stakeholders.
Assemble cross-functional teams to assess the impacts on the health and safety of the workforce, as well as the effects of travel restrictions; the implications for vendors and customers; and the legal and statutory impacts, etc.
Mobilize the workforce without compromising safety as a top priority and a key success factor.
Establish a process to address common and recurring issues at an organizational level in a structured and proactive way, rather than resolving individual user queries.
Technology
After ensuring the safety of its people and continuity of the process, the organisation should focus on the availability of its technology/IT infrastructure as below:
Assess the impact for remote access, VPN, server, network capacity, and utilization thresholds.
- Identify types of remote workers and ensure appropriate access control
- Ensure VPN capacity can accommodate the increase in traffic due to the workforce accessing internal resources remotely.
Provide remote working tips to all employees, such as how to secure your home Wi-Fi, how to reset passwords securely in a remote environment, and the need to avoid public Wi-Fi and back up critical data frequently.
Continuously monitor utilization and uptime of applications, servers, and network resources.
Develop tactical plans for servicing/replacing existing hardware for the remote workforce to avoid further complications:
- Maintain adequate inventory of spare laptops and accessories to replace those with issues
- Explore options to provide remote and/or onsite IT support based on the best possible situation
Apply workarounds for all site dependencies based on the nature of the business; e.g. the vendor payment process has a dependency on scanners.
- Dependencies on scanners: set process for accepting e-invoices from vendors temporarily to process payments.
- Sync with customers and vendors on an ongoing basis.
Adopt options around remote working, VDI, and Intelligent Collaboration that are not dependent on the limitations of any platforms but still give the ability to secure and control data. Leverage cloud solutions like MS365 as much as possible to guarantee end-user productivity for the best user experience.
Near-term actions to adapt to the new normal
People and Process
Now the organization needs to focus on how its people will continue to thrive and processes continue to function in the new normal:
Adopt the employee hiring program in the context of the new normal:
- Virtual onboarding of new employees
- Adopt Bring Your Own Device (BYOD) practices for new hires and contract workers.
The business now needs to reprioritize the activities which were put on hold, tasks which were removed from the priority list, and deliverables which teams would otherwise work on.
Strengthen business continuity plans and strategic decision-making processes for potential further scenario-based impacts such as:
- A shrinking workforce due to the pandemic
- Unavailability of power at the user end
- Unavailability of network connectivity at the user end
- Disruption of IT infrastructure services and applications.
To address the above challenges, the organization may want to fine-tune its potential strategies:
- Identify work transfer scenarios, with alternate teams performing similar activities with similar skills
- Cross-train alternate or extended teams with potential flexible bandwidth
- Identify backups for the critical workforce and maintain a roster
- Under a shortage of resources, critical activities should be prioritized and be privileged to limited resources
- Implement feasible and efficient manual workaround for processes
- Review power backup setup for the workforce to ensure uninterrupted connectivity
- Offer wellness programs addressing the physical and mental health of the workforce, as well as assisted fitness programs; virtual social events, such as parties for anniversaries; face-to-face connect sessions; and "coffee corner" meetings to help the workforce stay engaged and motivated
- Provide tips on ergonomics practices.
When the organization decides to restart site operations, a playbook should be developed which should address:
- Split operations between home and office for the workforce
- Plans for staggered deployment of workforce
- Continued monitoring of work-from-home and office infrastructure
- Development of standards around health and safety, social distancing and reporting of any workforce health issues
- Deep cleaning and sanitization of office premises.
Technology
Existing and emerging technology solutions should be leveraged to thrive in the new normal by thinking on the following lines:
Continue to invest in remote connectivity capabilities and encourage the workforce to adapt to virtual collaboration platforms. Providing remote connectivity capability to the workforce will enable them to work efficiently and sustain working remotely for a longer duration.
Maintain an inventory of workforce availability across multiple sources of Internet connectivity (Wi-Fi, Internet data cards, mobile hot-spots, etc.) and perform power backups to ensure continuity of operations.
Maintain a crisis event vendor listing/approval procedure.
Vendor business continuity plans should be evaluated. Ensure that new vendors have enough business continuity coverage. Annually assess the resiliency of existing vendors. Also, having multiple vendors eliminates single points of failure from a single vendor.
Based on experiences and learnings up to this point, the organization may seek to embrace:
- Use of automation for repeatable and rule-based tasks
- Collaboration platforms to connect the workforce more effectively
- Solutions to address any gaps, including emerging technology solutions like cloud, mobility, and secured networking solutions
Resume onsite IT support for quick and efficient resolution of end-user IT issues.
Concluding remarks
We considered the current global pandemic and explored people/process and technology activities to improve resiliency and adaptability to work from anywhere. With these ideas, you can mitigate the impacts of disruptions now and in the future. However, the crisis is a wake-up call that we must think beyond the data centre to consider how emergencies impact our people. In addition, the continued movement of data and processing to the edge through IoT means that businesses are equally dependent on "things." We also cannot forget malware, which is essentially a technology pandemic virus that can equally cripple business operations.
As organizations evolve through and beyond the new normal, they can grasp an opportunity to establish a resiliency mindset while strengthening and modernizing risk management, business continuity planning, and architecture/technology decisions. We are in the age of game-changing digital disruptions; however, we must be equally imaginative and prepared for a wide range of risks.
Learn more about how HPE can help you accelerate your recovery and transformation.
This article includes contributions from Chand Basha, Global Lead, Business Continuity Practice, and Risk Advisory Services; and Yogesh Hinduja, Workload Practice Lead in Asia Pacific for Hewlett Packard Enterprise.

Lois Boliek
Hewlett Packard Enterprise
twitter.com/HPE_Pointnext
linkedin.com/showcase/hpe-technology-services/
hpe.com/pointnext

Find out about the latest live broadcasts and on-demand webinars
Read more

Visit this forum and get the schedules for online Expert Days where you can talk to HPE product experts, R&D and support team members and get answers...
Read more
View all
© Copyright 2021 Hewlett Packard Enterprise Development LP