>

>

>

Google Cloud's Anthos; one year on
Forums

Blogs

Information

English

Google Cloud's Anthos; one year on
It's just over a year since Google Cloud announced Anthos at Google Next 2019. At launch, Google promised that Anthos would allow enterprises to build, deploy and manage applications in a secure, consistent manner across GCP, AWS, Azure and their on-premises data centres. With the recent launch of Anthos on AWS, and Anthos on Azure in preview, they are without a doubt delivering on that promise of enabling the ability to run applications in a multi-cloud world. To celebrate the first birthday of Anthos, I wanted to look back on its first year and the developments and benefits we've seen since then.
What is Anthos?
For those that don't know, Anthos is a 100% software-based solution that embraces open APIs to provide a consistent development and operations experience. It allows organisations to modernize existing applications running on virtual machines, along with deploying cloud-native applications in containers. Already in its first year, Anthos has delivered big results for customers – according to research by Forrester , it offers up to a 4.8x return on investment! A key foundation that has enabled these results is the ability to manage key services such as infrastructure management, container management and orchestration, service management and policy enforcement via a centralised management console hosted onGoogle Cloud.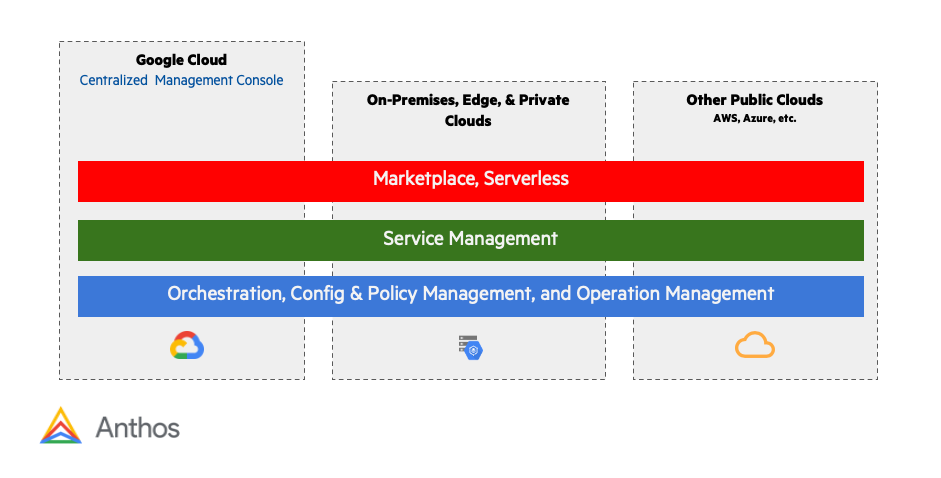 Unified Management with Anthos
Anthos offers a managed Kubernetes environment that bundles upstream Kubernetes releases and provides the management capabilities for creating, scaling and upgrading Kubernetes clusters. This provides the primary computing environment both on-premises and in the public clouds. In addition to Kubernetes clusters, three other components form the core of Anthos:
Anthos Config Management. This is used to define, automate and enforce policies across environments in order to meet the unique security and compliance requirements of your organisation.
Anthos Services Mesh.

This service makes it easy to connect, manage, and secure VMs and containers. Anthos Service Mesh offers out-of-the-box telemetry that allows you to easily create a network of deployed services and offers

Anthos security. This allows you to secure your hybrid / multi-cloud deployments by leveraging policy-driven controls that are automatically and declaratively enforced, providing the ability to leverage zero-trust security and implement a defence-in-depth security strategy.
Customers across a number of industries are using Anthos to provide a consistent platform for all of their application deployment needs. By leveraging Anthos, they are able to decouple their applications from the underlying infrastructure, providing them the flexibility and agility to run services across different clouds, at the edge and on-premises. This flexibility, when tied to the managed Kubernetes capability Anthos provides, allows organisations to benefit from a fast and secure software delivery and development pipeline spanning all of their environments. Leveraging modern CI/CD methods allow developers to work smarter, along with new functionality to be released quickly and more safely than traditional methods.
Cloud experience anywhere
Many organisations look to leverage public cloud services for the cloud experience – the ability to have elasticity, pay for what they use and to self-serve. Those organisations that want to have the same cloud experience for Anthos on-premises can achieve just that with HPE GreenLake (which is now generally available ); in this model, HPE provisions and integrates hardware, software and services to create an on-premises Anthos solution that is consumed as a cloud like service and includes all you need to be productive on day one. As well as offering a cloud like experience, HPE also offers a number of validated designs for Anthos that allows the right architecture to be selected based on the unique requirements of your organisation; HPE SimpliVity‐based systems for Edge and DR back to the data centre implementation, HPE Nimble Storage dHCI for on‐premises uses with data persistence to Google Cloud, or choose HPE Synergy for on‐premises data centres and large scaling requirements.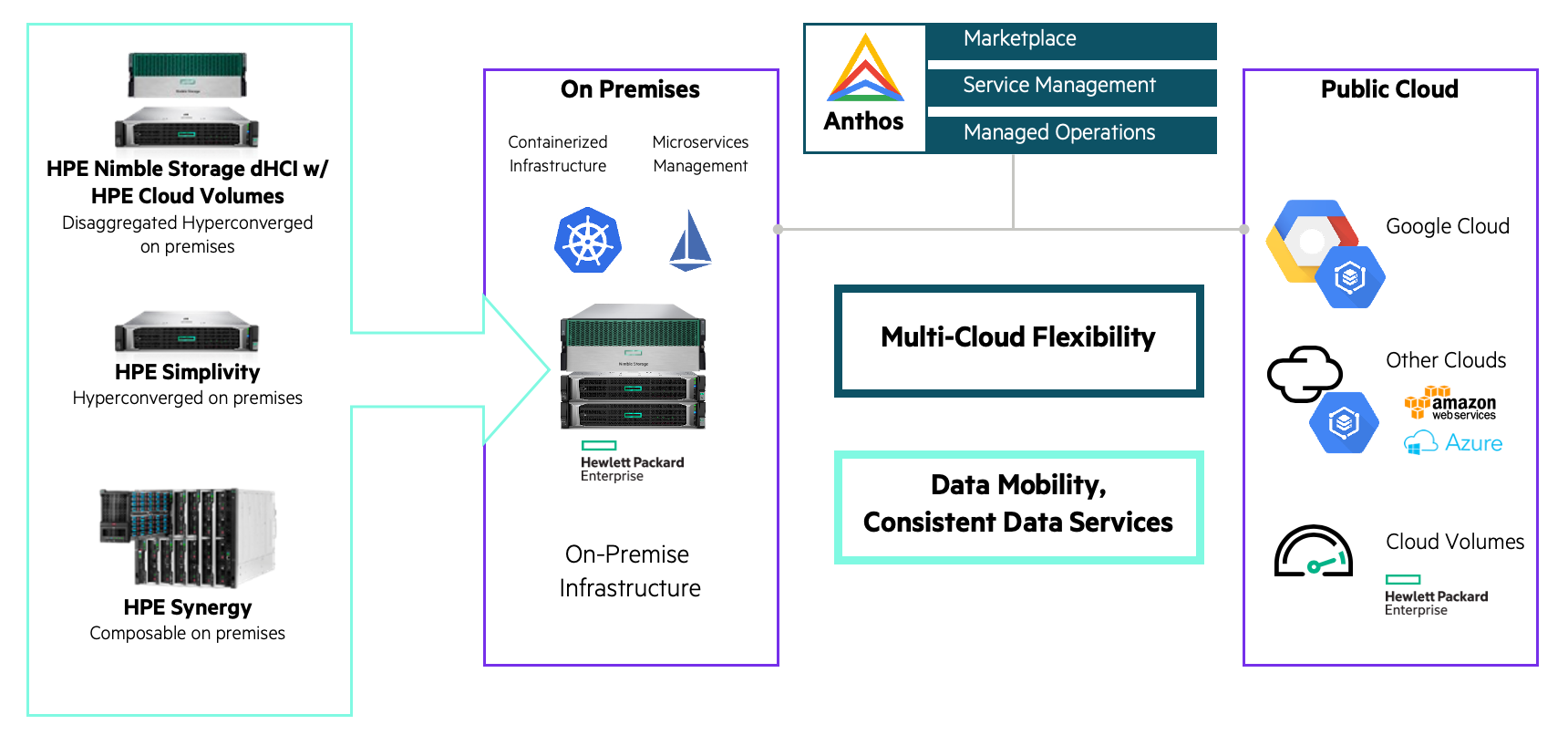 HPE enabling Anthos on premises
HPE recently ran a webinar that provided an overview of how Anthos together with HPE can help modernise your applications both on-premises and in the cloud. The webinar is worth checking out to find out more details on what Anthos is and how in partnership with HPE it can deliver true hybrid cloud for containers.
A look to the future
As we look to the future, Anthos will continue to offer new ways for organisations to modernize their applications and realise agility and efficiency gains. Google Cloud recently announced that for those organisations that want to run Anthos without needing to be dependent on a hypervisor they would be able to take advantage of Anthos on bare metal . Removing the need to leverage a hypervisor could allow organisations to reduce the cost and complexity associated with running containers, as well as gain better performance by reducing the latency introduced by the hypervisor layer.
Running on bare metal also opens up further use cases for Anthos, in particular at the edge. For those that don't know – the edge typically refers to a location that isn't a data centre or a Cloud. So this could be a retail store, an oil rig, manufacturing plant or a telco site. By running services at the edge, organisations can bring their applications closer to the end users, and deliver highly performant compute to drive new and exciting outcomes for their customers and users.

Chris Ibbitson
Hewlett Packard Enterprise

Find out about the latest live broadcasts and on-demand webinars
Read more

Visit this forum and get the schedules for online Expert Days where you can talk to HPE product experts, R&D and support team members and get answers...
Read more
View all
© Copyright 2022 Hewlett Packard Enterprise Development LP