>

>

>

HPE Edgeline Converged Edge Systems bring VMware v...
Forums

Blogs

Information

English

HPE Edgeline Converged Edge Systems bring VMware vSAN software defined storage to the edge
By Bharath Ramesh
VMware and HPE announced the certification of the HPE Edgeline Converged Edge Systems for vSAN ReadyNode, a software-defined storage technology typically found in hyperconverged IT environments such as datacenters, remote offices, and branch locations. With this certification, the HPE Edgeline EL4000 system now enables unmodified enterprise-class software such as VMware vSAN to be deployed at the edge, near the source of arguably the biggest of "big data," and applied to solve problems in non-IT contexts such as industrial operational technology (OT) analytics. In this post, I'll describe the value proposition of HPE Edgeline and how existing IT technologies can be frictionlessly ported to deliver new capabilities and transformative insights at the edge.


The Industrial Edge faces a flood of data
The edge can be categorized as anywhere that's not the data center or cloud, and consequently encompasses a variety of environments - a manufacturing floor, oil rig, truck or a power plant. It is one of the biggest sources of "big data," since much of this data is simply parameters measured from the physical world (e.g. pressure, temperature, light, vibration etc.) Customers desperately need an efficient method to acquire, store, analyze, and act on this data in order to be successful.
Consider an oil company operating a drilling rig at a well in the Permian Basin in West Texas. At that facility there are a number of devices monitoring all kinds of critical parameters, be it drill performance, downhole pressure, or pump flow rate. Much of this equipment consists of proprietary, stand-alone systems from specialist vendors that were never designed to interoperate with each other, but which generate prodigious amounts of data that still needs to be acquired, analyzed, and actioned upon in a quick, secure, and reliable manner.
Challenge #1: Disparate data needs to be collected from multiple sources.
There is a latent desire among many customers to collect all operational data into a single "data lake," so interesting correlations between different systems on a drilling rig, or even between rigs can be obtained. For example, insight around how pumping oil out of one reservoir impacts the performance of an adjacent reservoir may improve efficiency of extraction at a site. But to accomplish this, the "last foot" problem of physically and logically connecting the data collection and analysis platform to the myriad specialized equipment on a rig must first be solved. This data must also be shared across the consumers in a secure, reliable and performant fashion, so it doesn't simply get trapped in a bigger silo.
Challenge #2: Data collected at the edge should be analyzed at the edge
Companies quickly discover that it is not quick, cheap, feasible, secure, or reliable to transport the Gigabytes or Terabytes of operational data from the edge to a datacenter or cloud. Consequently, there is a strong motivation to analyze as much of this data locally, close to the source, and only send back summary information when needed. But they do not want to reinvent new ways to solve the OT data storage and analysis problem when great techniques to do so already exist in the enterprise IT world.
Challenge #3: The platform needs to be secure, reliable and easily manageable
Much of the OT infrastructure today is based on embedded systems, industrial PCs, and gateways – not enterprise-class systems hardened to IT levels of security, reliability, and compliance. This architecture sufficed when OT systems were limited in data analytics scope and could be simply air-gapped or physically locked away to protect them from IT threats. But today's COO wants information to be permeable across the IT and OT domains, and would like to see real-time operations insights displayed alongside business insights. IT is therefore being asked to take an active role in setting up, securing, and monitoring OT systems, but with no benefit of onsite assistance from an operator who excels at using the equipment and fixing it, but has no skills to manage a complex IT solution.


Enterprise IT technologies can solve OT problems at the edge
HPE Edgeline Converged Edge Systems is a new class of high-performance, high-density, Converged OT systems that're ruggedized to be deployed in harsh edge environments. In addition to bringing full datacenter-grade enterprise IT compute, storage, networking, and systems management capabilities to the edge, Edgeline can also directly interoperate with operational technologies (OT) (what we call the "Convergence of IT and OT") typically found at the edge e.g. Programmable Logic Controllers (PLCs) or SCADA systems. This physical integration of data acquisition, control systems, and industrial networking into an Enterprise IT platform, enables the Edgeline to "talk" with industrial equipment on the oil rig or manufacturing floor over MODBUS or PROFINET, as easily as it can send Augmented Reality (AR) overlays to a tablet over WiFi.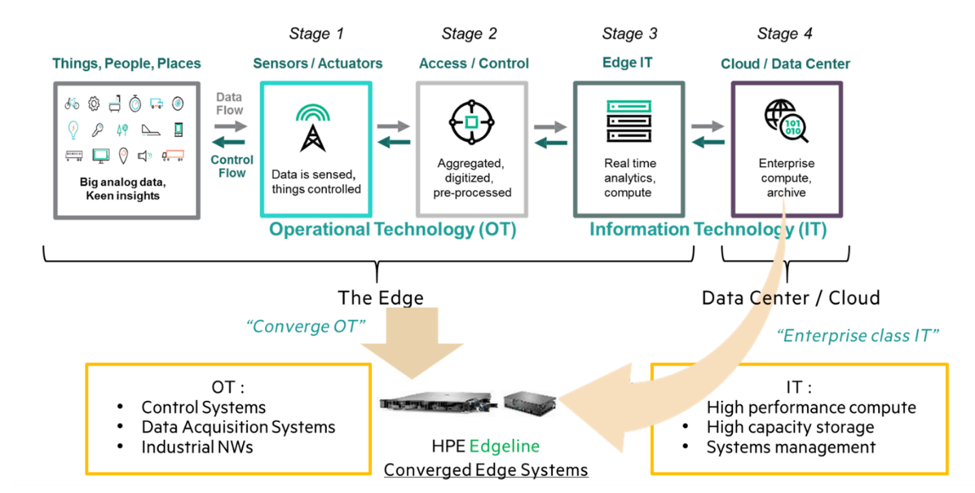 A fantastic consequence of the Enterprise IT heritage of HPE Edgeline is the ability to simply transplant datacenter or cloud IT technologies to the edge without the need for any modification or downsizing – no "lite" or "IoT" flavors needed, simply install and use! A great example of this is the VMware vSAN ReadyNode running on HPE Edgeline EL4000, where up to 48 TB of high-performance solid-state storage can be delivered to applications using four independent ProLiant m510 compute blades in a slim 1U ruggedized form-factor.
Oil & Gas customers using HPE Edgeline have transformed from the old siloed systems to running ESXi instances on top of vSAN, where the segregated applications can all operate on OT data ingested into the shared data lake, easily move data amongst themselves when needed, provide rapid insights using advanced techniques like Artificial Intelligence (AI)/Deep-Learning (DL), and even drive control actions to the OT systems directly. In addition, engineering for high availability and quick setup/orchestration of new systems now becomes a straightforward activity because the methods are well documented in the IT world.
All of this capability is packaged in a battle-hardened system that can be managed by IT using the same tools and skills that they use to manage datacenter systems. It incorporates the same high-levels of security and reliability found in the thousands of HPE servers deployed worldwide, providing comfort to IT managers and CIOs who are constantly reminded of the risk involved in digitization for OT/IoT.
Beyond oil and gas, there are many other verticals that can leverage the power of VMware vSAN on HPE Edgeline, including manufacturing, utilities, and even data-driven product development. The fundamental value of a secure, performance and highly-availabile data pool deployed at the edge is an attractive and cost-effective alternative to the patchwork of hard-to-manage industrial systems and standalone storage devices that many businesses are forced to cope with at the edge today.
Are you attending HPE Discover 2018 in Madrid? If so, make sure to stop by the Edgeline Galleria, as well attending our Converged Edge System, Edge Compute and IoT sessions and panels. If you are not attending, you can still watch executives from HPE, partners and customers at online live sessions and replays.


Learn more
About the Author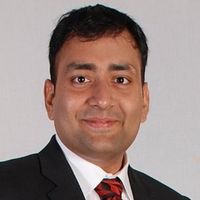 Bharath leads WW Product Management & Marketing for the Converged Servers, Edge and IoT Systems Group at Hewlett Packard Enterprise (HPE). He's currently driving adoption of HPE's pioneering Converged Edge System products and solutions specifically designed to tackle the challenge of collecting, rapidly analyzing and actioning on the enormous quantities of data being generated at the various "Edges" such as Industrial IoT, Telco, Media and Enterprise. Over his 14-year career in HP/HPE, Bharath has worked on over 20 products in roles ranging from hardware engineering to program management. Prior to joining HP/HPE he designed avionics systems for spacecraft, and is a keen proponent of IT+OT convergence, especially at the edge.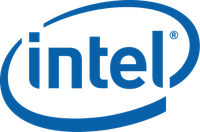 HPE Edgeline Converged Edge Systems is powered by Intel® Xeon®.
Empowering the Digital Enterprise to be more efficient and innovative through data-driven insights from the Internet of Things (IoT)

Find out about the latest live broadcasts and on-demand webinars
Read more

Visit this forum and get the schedules for online Expert Days where you can talk to HPE product experts, R&D and support team members and get answers...
Read more
View all
© Copyright 2022 Hewlett Packard Enterprise Development LP