>

>

>

HPE at Mobile World Congress 2018: Accelerating yo...
Forums

Blogs

Information

English

HPE at Mobile World Congress 2018: Accelerating your success at the Intelligent Edge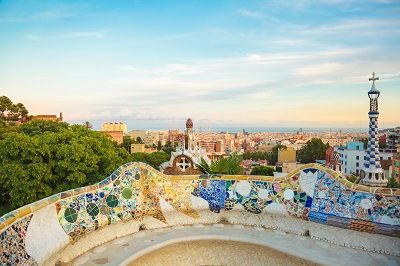 For decades, Mobile World Congress (MWC) has been the leading event within the telecommunications industry. In our digital transformation era where the lines between telecom and IT are blurring, MWC is evolving into a critical event for the technology industry at large. Digital transformation, fueled by the explosion of apps and data, is creating a world where everything computes and communications service providers (CSPs) must adapt to compete in this faster, more intelligent world. MWC 2018 will bring together 108,000 attendees and showcase 2300 technology demos, enabling high-level executives, thought leaders, and technical experts to drive innovation forward and accelerate what is next for mobile. Join Hewlett Packard Enterprise (HPE) at MWC 2018 in booth 3E11 from February 26 to March 1 in Barcelona to learn how you can capitalize on the opportunities created by digital transformation and how partnering with HPE can help propel your business further, faster.
To future-proof networks for 5G, while also providing the engaging, personal, seamless experiences that subscribers have come to expect, CSPs need the right mix of innovations in the data center, the cloud, and the intelligent edge. This combination of innovations will enable CSPs to optimize their current connectivity-based offers to improve service and reduce cost while creating value from new, innovative operating models, the Internet of Things (IoT), and streaming media services. Learn how HPE can accelerate your network from core to edge to cloud at MWC 2018!
Hybrid IT:
Learn how to make Hybrid IT simple, so your data and applications are always optimized and agile without compromising performance, security or control. With your right mix of Hybrid IT in place, powered by software-defined infrastructure and delivered as a service, your enterprise will be ready to accelerate innovation and thrive in our digital world.
| | |
| --- | --- |
| HPE OneSphere HPE's multi-cloud management platform | Meet HPE OneSphere, HPE's multi-cloud management platform, enabling you to deploy, operate and optimize clouds and applications, and deliver a seamless experience across your hybrid IT estate. Join us for a demo to learn how developers create workspaces and use the tools, clouds, and platforms they want to use; how business leaders get the insights to make better decisions, and how IT can be an internal service broker, rapidly deploying multi-cloud resources on-demand. |
| HPE ProLiant for Microsoft Azure Stack | HPE ProLiant for Microsoft Azure Stack enables you to deliver Azure consistent services from your data center, offering workload portability and a common developer experience for deploying applications in Azure public and on-premises. This solution is ideal for businesses that want to deliver Azure cloud services for workloads with data sovereignty, security, compliance, performance or cost requirements that cannot be met by Azure public cloud, and for service providers that want to offer Azure consistent services. |
| Virtualized OSS agility in action for hybrid services | Showing HPE vTeMIP Virtual Management Function (VMF) agility in action to monitor traditional (RAN) and hybrid network services. |
| The Spaceborne Supercomputer | The "Spaceborne Computer," is currently flying on board the international space station (ISS) conducting a one year experiment by NASA and HPE to prove that high-performance computing hardware, with no hardware customization or modification, can survive and operate in outer space conditions for a full year – the length of time, not coincidentally, it'll likely take for a crewed spacecraft to make the trip to Mars. |
Intelligent Edge:
Explore how to power the intelligent edge in a mobile-first world, to transform your customer experiences, workplaces and operations to drive more engagement, efficiency, and profitability. As you generate more and more data at the edge, we'll show you how to create value and context by putting IoT into action across your enterprise. And, whether your project is about mobile or IoT, learn how to protect your high-value assets against today's external and internal threats.
| | |
| --- | --- |
| Analytics driven protection with Aruba 360 Secure Fabric | As the newest member of the Aruba family of security solutions, Niara has been generating a great deal of interest. See numerous Niara features, including machine learning analytics, forensics workflows, various customer use cases and integrations with other Aruba products, including ClearPass Policy Manager and Aruba Wireless. |
| Aruba – Location Based Services | See how we deliver screaming fast 11ac Wave 2 powered by ClientMatch technology—making sure all devices have the fastest connection at all times. See how Aruba Controller Clustering ensures seamless AP and user session failover to drastically enhance the user experience. Discover how with ArubaOS 8 with the Mobility Master, the entire network can be upgraded to the latest OS with zero downtime. |
| Aruba Networks - The 'Telemex' model | An SMB solution leveraging the Aruba Central platform enabling a service provider to deliver a Wi-Fi service to their customers which is self-installable and self-configurable. In addition to the Managed network service it includes presence and loyalty analytics for the end-customer and a personalized captive portal with verified self-registration. The platform is integrated with the SP portal and any backend systems through powerful APIs thereby providing end-to-end management and control. |
| Video at the Intelligent Edge - Unlocking Insights from Edge to Core | Sending every bit of video data from the thousands of cameras at the edge back to the core for processing is often too slow and expensive. The solution: collect and process video data at the edge and only send relevant data to the core. Come see how the HPE Universal IoT Platform working together with HPE's Edgeline Converged Edge Systems remedies these issues and helps transform both industries and future cities to be more efficient, agile and resolve any security concerns. |
| HPE Universal IoT Platform - Enabling Future Cities with the Intelligent Edge | IoT may conjure images of consumer products, but the possibilities for IoT go much further. Consider smart cities and agriculture. Join us to learn how the HPE Universal IoT Platform enables a network of environmental data acquisition points for data driven decision making and predictions on air quality. As well, see in action how the HPE Universal IoT Platform reports on key data points for precision farming such as UV light, humidity, air temperature, water level, soil PH, and soil salinity. |
Services:
Meet the experts who can make it all happen. In every corner of the world, HPE Pointnext and our global ecosystem of partners are here and ready to accelerate your transformation. Leverage our deep expertise and our leading portfolio of software solutions for subscriber data management, telecom analytics, OSS, BSS, network and digital video services and IoT. Exploit our rich ecosystem of partners for new services.
| | |
| --- | --- |
| HPE GreenLake Solutions and NFV Services | Overcome challenges and seize opportunities on your digital transformation journey with HPE Pointnext. Hear about our services for NFV that include design, implementation and support for any size NFV-based infrastructure. Learn about HPE GreenLake, our innovative suite of consumption-based solutions available for your infrastructure and top workloads – such as big data, backup, open database, SAP HANA, and Edge computing - which deliver IT outcomes in a pay-per-use model on premises. |
| Intelligent Venues | European Le Mans racing is fast, furious and uses cars that are at the very edge of technological innovation. It's no longer enough to hear the roar of the engine and breathe in the smell of fuel. Events have become interactive, engaging and technology-driven, allowing fans to not only order food from their seat or navigate the venue, but be engaged before the race starts and continue that experience after they leave. Let experts from HPE Pointnext show you how. |
| Digital Identity Management - DSPs as trusted keepers and personalization enablers | Digital Service Providers (DSP) as trusted keepers of Identities, and enablers of personalization across the internet echo systems. Showing Micro-services of Digital Identities management across devices, services, applications and use cases with Entitlement, Authentication and Authorization solutions. |
| Enhance customer engagement with omnichannel & chatbots | Over 74% of customers use three or more channels to complete a single transaction with a CSP, and 1.8 billion chatbot users are expected by 2021. Through omnichannel and personalization, ARPU can be increased by over 18%. HPE SIS-based Omnichannel Orchestrator and HPE Multi-media Service Environment (MSE) provide a low impact conversational overlay on the CSPs existing architecture with a new customer engagement model that delivers a personalized, contextual, chatbot-enabled, self-service customer experience. |
| Automated orchestration of SD-WAN and digital services | Showing automated, vendor agnostic E2E orchestration of SD-WAN and digital services in action, based on HPE Service Director, HPE NFV Director and Nokia Nuage, including Zero-Touch migration of customer network configurations. |
| HPE Media Workflow Master 3.2 | HPE Media Workflow Manager (MWM) is a modernized integrated digital asset management platform built on an open architecture that uses the latest IT technologies, orchestrates multiple functions from disparate systems into a single collaborative solution. The solution enables customers to be more competitive by reducing the time to market with rich media content on demand and live. The solution gives customers the flexibility to remain current with new technology and new media formats. |
| HPE Virtual Headend Manager - Quickly create, manage & monitor OTT & linear channels | HPE Virtual Headend Manager (VHM) solution instantiates a virtualized, open architecture headend platform that manages core software media functions such as encoding, transcoding, multiplexing, packaging and video probes. This solution enables customers to deliver over the top (OTT) content, live multicast and video on demand (VOD) content. The virtualized platform provides the flexibility to choose multiple vendors' software and a comprehensive headend environment that can increase revenue while realizing operational savings. |
| Accelerate with Cloud28+ | Cloud28+ is an open community and digital platform for customers, service providers, solution providers, ISVs, system integrators, and government entities dedicated to accelerating enterprise cloud adoption. Learn how the HPE Cloud28+ platform is helping to accelerate competitive advantage by bringing together leading cloud services and partners. Explore how you can save time, create value, and realize cost savings through the Cloud28+ ecosystem powered by HPE. |
5G:
Leverage HPE's 5G-ready, NFV-based telco cloud and our innovations as the world's leader in computing to modernize your infrastructure and deliver the flexibility you need to compete in the market. Conceive and quickly deliver services to retain and attract customers. Capture the profit potential of digital video and mobile data services, and exploit the potential of IoT everywhere. Actuate successful services based on actionable customer intelligence, with the automation to deliver services when and where customers want them.
| | |
| --- | --- |
| HPE's Open Platform for NFV | HPE's Open Platform demonstration that realizes lower TCO for operators by leveraging industry standards-based, Open management solution to operate NFV stack on heterogeneous compute hardware environment (through workload placement optimization and avoiding vendor lock-in). |
| 5G and HPE Edge Computing - Real-Time Control & Applications at the Intelligent Edge | HPE Edgeline Converged Edge Systems are enabling networks to deliver new and better user experiences by moving high-performance systems out to the edge. HPE and 5G Lab Germany have partnered to develop next-generation networks and bring new capabilities to reality. Come see this demonstration showcasing simultaneous real-time control and content streaming, with HPE Edgeline systems driving software-defined radios to wirelessly enable control in a self-balancing robot, while streaming high-quality video, right at the edge of the network. |
| SDM toward 5G Shared Data Environment evolution - virtual multi-access model | Showing the evolution of traditional SDM (Subscriber Data Management) toward a Shared Data Environment (SDE) as a unified Data Lake with consistent, in context, view of users' behavior, experience, and expectations. Demonstrating co-existence of 4G/5G data within the core network, simple data migration strategies, and facilitation with cloud-native architecture. |
HPE and Intel 5G Super Panel and Reception at MWC 2018
The hottest VIP networking event is coming to Barcelona for Mobile World Congress 2018 for an evening of debate, discussion and networking while our TelecomTV 'super panelists' tackle the topic of how CSPs can better position themselves along a monetization path for 5G today and into the future. Request an invitation HERE.
Featured articles:
Join the Mobile World Congress conversation with #MWC18
For information, updates, insights, and more about how HPE will be accelerating your success at the Intelligent Edge at Mobile World Congress 2018, follow these social accounts:
Learn more: www4.hpe.com/mwc


Find out about the latest live broadcasts and on-demand webinars
Read more

Visit this forum and get the schedules for online Expert Days where you can talk to HPE product experts, R&D and support team members and get answers...
Read more
View all
© Copyright 2021 Hewlett Packard Enterprise Development LP