>

>

>

Two technology trends collide at MWC 2018: 5G and ...
Forums

Blogs

Information

English

Two technology trends collide at MWC 2018: 5G and Edge Computing

By Gerald Kleyn
Sr. Director, Product Management and Systems R&D, IoT and Converged Edge Systems BU, HPE
5G is about to sweep across the world. Release 15 of the advanced telecommunications standard was approved in December, and ratification is expected later this year, with additional improvements expected in later releases. Forward-thinking companies are now setting up test beds and field trials, with an eye on deploying 5G at the network edge in the not-too-distant future, so customers and partners can realize the benefits of the high-bandwidth, low-latency standard as new 5G-compliant devices and services are launched.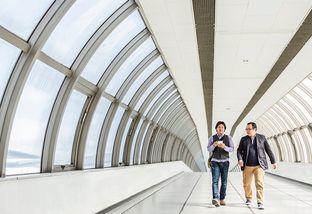 To get an early look at what 5G capabilities enable at the edge, HPE and 5G Lab Germany have a special demo planned for Mobile World Congress. The demo will show off 5G running on an HPE Edgeline EL4000 Converged Edge System. Edgeline systems are compact devices designed for a 1U chassis that uniquely combine IT and OT technologies to provide exceptional value in space, power, performance, connectivity, security, manageability and control. They can handle very high performance at the edge of the network, whether it's deploying assets to premium subscribers as part of a telco's edge computing architecture, providing AI-powered video analytics for public safety agencies to monitor live outdoor events, or pulling in sensor, inventory, and logistics data to coordinate production at a sprawling petrochemical facility. The Edgeline enables companies to collect, manage, and analyze data at the edge, instead of having to send it back to a central data center or up to the cloud.
If you think about the breadth and depth of digital services available today, you really need versatile edge platforms such as the Edgeline. For consumer-facing offerings, end users won't accept high latency for services such as streaming video. From an operations technology perspective, a piece of machinery on an assembly line may need to access critical sensor data immediately, or risk causing a failure that takes down the entire line.
5G benefits include speed, slicing, and latency
The new 5G standard includes three crucial benefits when it comes to edge compute:
Improved bandwidth: The 5G specification calls for 10 Gbps uplink speeds, a huge improvement over current mobile standards.
Network slicing: 5G can "slice" bandwidth into discrete partitions which can have differing speeds, capacity, and qualities of service. One slice might prioritize packets for a mission-critical application and grant 60% of the available bandwidth, while non-time-sensitive traffic might get a smaller, slower slice.
Lower latency. Today, latency throughout a typical network is on the order of 16 ms or greater. With 5G, the target is 1 ms on the radio interface. In some fields, such as telecommunications, service providers expect to get sub-millisecond latency between nearby nodes.
Ultra-low latency has huge implications for control, whether it's an industrial control system for an assembly line, or a smart city project focused on next-generation transportation. Consider a fleet of self-driving cars that can communicate with each other over a 5G network. When several of the cars come to an intersection, instead of having to stop first, they can pre-negotiate which vehicle has the right-of-way and adjust their speed to let the designated car go through first. That won't work if the negotiation takes several seconds, but with sub-millisecond latency, such control is possible.
At Mobile World Congress, HPE and 5G Lab Germany have prepared a demo to show off the capabilities of a 5G-enabled Edgeline. Control and video applications are hosted on the Edgeline, which also drives a software-defined radio provided by partner 5G Labs via National Instruments LabView™ and PXI standards embedded within the Edgeline Converged Edge System. The setup wirelessly controls a self-balancing robot while simultaneously streaming high-quality video content.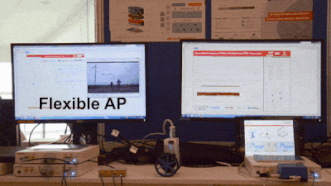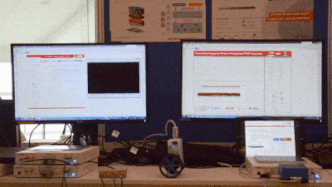 For the remote-controlled robot to stay balanced while obeying the commands of the human operator, low latency is a must. To show the streaming video simultaneously across the same network, the network slicing has to provide a good quality of service to avoid video lag while ensuring that the robot control mechanisms remain deterministic.
There is an additional value proposition for the 5G-enabled Edgeline. In the past, a company would acquire a single platform that handled a fixed set of frequencies. But with the Edgeline system's unique integration of PXI, it's possible to reprogram the RF network and signal processing on the fly using National Instrument's LabView™ on Edgeline to reconfigure National Instruments USRP software defined radio device. This has important implications:
Testing. If a company has invested in a test bed for the emerging 5G standard, as the standard evolves it can easily modify the test bed to follow the standard.
Production. Because the Edgeline is a modern, open data center platform, a company can virtualize the services that make up the final solution and augment those services over time.
Of course, 5G has its limits, and will augment rather than replace established wired and wireless networks. For instance, inside an office building, WiFi will to continue to dominate. A manufacturing facility may still depend on wired Ethernet connections connecting systems on the plant floor. The Edgeline is platform-agnostic, and can support all of these network standards, not to mention other IT and OT interfaces. 5G plays a role in augmenting existing networks, especially for outdoor use and high-density areas.
The 5G Edgeline demo will be running at HPE's booth at Mobile World Congress in Hall 3, Booth 3E11. Come on down and see a cool demonstration of 5G in action on the edge!
Featured article:

Gerald Kleyn is a founding member of HPE's IoT and Converged Edge Systems BU and leads the development of systems explicitly built to combine the best of OT and IT technologies to create exceptional outcomes at the edge of the IIoT.
Empowering the Digital Enterprise to be more efficient and innovative through data-driven insights from the Internet of Things (IoT)

Find out about the latest live broadcasts and on-demand webinars
Read more

Visit this forum and get the schedules for online Expert Days where you can talk to HPE product experts, R&D and support team members and get answers...
Read more
View all
© Copyright 2022 Hewlett Packard Enterprise Development LP