>

>

>

When Extreme Speed Meets Smart Venues: Building a ...
The Cloud Experience Everywhere
Forums

Blogs

Information

English

When Extreme Speed Meets Smart Venues: Building a Better Fan Experience
By Jeff Enters, Global Chief Technologist for HPE Pointnext Networking
Featuring Max Hanratty: Racing Driver & President of Mobile Engagement Solutions
When he's not racing Le Mans Prototype cars in International Motor Sports Association competitions, Max Hanratty spends his time developing and bringing to market a mobile app that aims to transform the fan experience at race tracks. Max is partnering with HPE to bring the product to fruition, and I've been part of that project. I caught up with him recently to chat about his vision and HPE's contribution.
Jeff Enters: Max, how did you get interested in HPE Intelligent Spaces – Venues technologies?
Max Hanratty: I saw some disconnects between race fans' needs and what the venues offer. A lot of the large outdoor areas in motor sports venues are not very easy to navigate, or find the various points of interest, or just see what's going on. There's just so much information from different sources. So I came up with an idea to create a mobile app that's very location-aware to fill in the gaps and create a better experience, not just for the current generation of race fans, but to bring in the next as well. As you know, you were able to connect me with Aruba and some of their solutions and to help get this moving. It's been, what, about two and half years we've been working on this?
Jeff: Yes, and it's been great to work with you! Can you explain what the app does?
Max: First and foremost, the big thing is way-finding navigation. These tracks are very large venues; they span at least a mile by a mile, versus a stadium, say, which might be a couple hundred yards. But also, they're not very accessible. There are a lot of restricted areas. You have to work around the racetrack itself, of course, so fans may need to go find a tunnel or a bridge. The simplest things, such as trying to find a restroom or a concession stand or your favorite turn, can be very time-consuming. You could end up walking a mile or more if you go the wrong way. The app eliminates a lot of wasted time and wasted opportunities.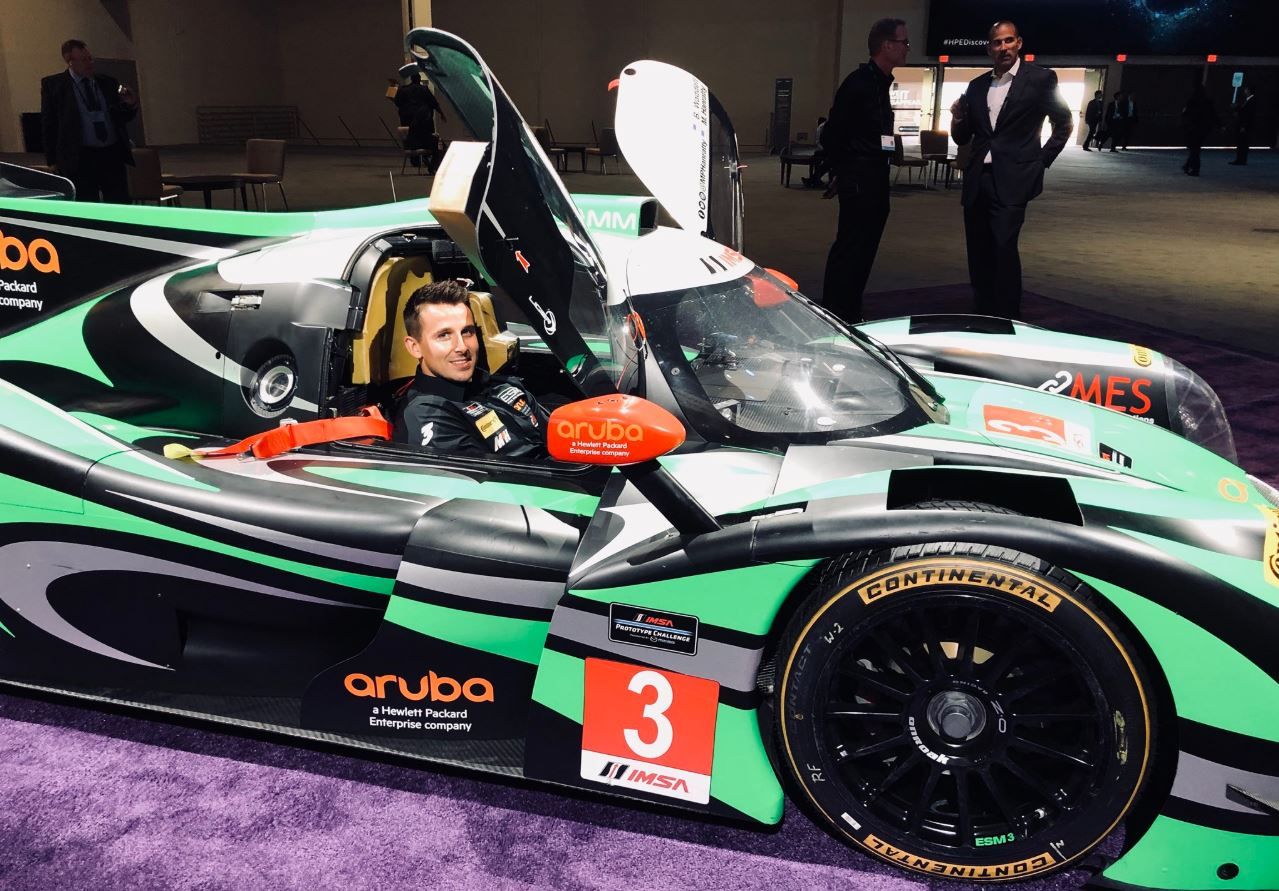 Max Hanratty at HPE Discover Las Vegas 2018
Jeff: I remember when I took my son to one of your races, you were having a signing at one point, he wanted to go but we couldn't find it. We asked the volunteers, they weren't exactly sure. Mobile app would have gotten us right there.
Max: Right. With these large areas, you need to do cellular, and GPS, and wi-fi, and beacons, because people are constantly transitioning from outdoors to indoors and back. One minute they're inside the paddocks, the next they're in the shops, then they're back at the track.
It's a mobile ecosystem. It starts as a blank parking lot and turns into a miniature city, essentially, for a weekend. There are always different trailers in different spots, different fan zones, and different hospitalities. Something really unique about the Aruba Meridian platform is that we can we can quickly update the app and the map for the event. If something changes at the last minute, it's easy at the click of a button to move a point of the interest and immediately update the fans' app.
Jeff: What about promotions and ads – helping people key into what's available at the track?
Max: That's actually one of the biggest advantages of the app. Right now, the marketing at racetracks is extremely old-school. It's signage on walls, it's radio announcements. What we're trying to do is create a very interactive marketing platform for the fans, using Aruba's beacon technology. So if you walk by a concession, the app might let you know you can get a dollar off on brats. Or it's starting to rain, so you get a message "rain jackets, 50% off at the Paddock Shop." We can also connect people to the race sponsors and their products and websites. It's like a one-stop marketing hub to tie in with the overall event experience. You can really start to engage with the fan at a whole new level.
Another powerful thing about the app is the back-end analytics. There's a few different ways we can show solid returns to marketing partners. For example, right now if fans are looking at a billboard, the advertisers don't know how many people are seeing it. With the app, we can see what devices are clicking on what. We can understand dwell times and really dive deep into what's effective and what's working well.
Jeff: What about streaming capabilities?
Max: Yes, we're working on event streaming – for example, exclusive coverage that only people at the venue can see. There's a lot we can do with that. At the race, you can only really see one turn at a time, so watching a TV broadcast is in some ways more convenient. It's important to merge that experience of watching at home and being at the track to keep the interest of the fan base.
Jeff: How would you sum up the relationship with HPE Pointnext and Aruba?
Max: I don't think any of what we're doing right now would be possible without HPE Pointnext and Aruba Meridian, and the HPE platform with the app maker and app management system. I'm not very experienced technically. I can't code. But I was able to use the platform and bring my vision to life. With HPE Pointnext I was able to very inexpensively and very quickly develop a proof of concept, which has allowed us to get pretty far in the sales cycle with some potential sponsors and really show our vision.
We've built the app, we've tested it out on a couple of tracks, and we know what it can do. We've gotten a lot of positive feedback on it. Without HPE Pointnext and the team you guys have behind you at Aruba, I don't think it would be possible to be where we are right now. I'd still be spinning my wheels, so to speak!
For more, check out this video interview with Jeff and Max at HPE Discover Las Vegas:
Learn more in Madrid
Attending HPE Discover Madrid? There will be plenty of opportunities to meet with experts and learn more about enhancing the fan experience and smart venues, starting with these sessions:
Breakout: "Driving guest experiences to the next level: Innovative, technology-rich and customer-centric" –B7014, Wednesday 11/28 12:30-13:30. Guest experiences are everything and companies look for ways to create intelligent venues with new technologies to drive customer engagement, loyalty and advocacy while also creating competitive differentiation. Join us to hear how HPE Pointnext, Aruba and partners can help you deliver that unique guest experience with intelligent venue solutions. Mr. Luca Pronzati, Chief Business Innovation Officer, MSC Cruises, will also describe how "MSC for Me," an industry-first innovation program, has transformed their guest cruising experience.
Theater Session: "Build technologically advanced public spaces and create great visitor experiences with Intelligent Venues" –T6871, Tuesday 11/27 11-11:30. Retailers, stadiums, museums and theaters want to increase their touch points with their visitors through elevated digital engagement. Learn how HPE Pointnext can help you create intelligent venues to engage securely and safely with your customers, increase revenue per visit and boost customer satisfaction. We can help you develop the right strategy with low barrier to entry with a pay-as-you-go solution that is secured, monitored, operated and managed by HPE Pointnext.
_________________________________________________________________________________________________
Related Articles:
Featured Articles:
About Jeff: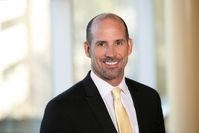 Jeff Enters works in HPE Pointnext's Global Networking CoE organization as the Chief Technologist and has over 15 years of consulting experience in voice and data networking across all verticals, with a focus on venues, healthcare, education, government, and telecom. He has global responsibility for the network consulting services strategy, identifying best practices and developing multi-vendor solution architectures. In this role, he consults with Fortune 100 customers to deliver near and long-term value back to the business by developing strategies, integration roadmaps and designs that take a stepwise approach to integrating a broad spectrum of leading edge technologies like mobile engagement, wireless, IoT orchestration, security, cloud networking, network virtualization, SDN and IPv6.
Jeff is the PM and Lead Architect for all HPE solutions deployed in this multi-vendor environment spread over four US data centers, which host multiple industry events throughout the year, including HPE Discover.
About Max: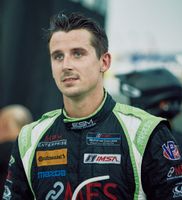 From an early age, Max's parents acknowledging his fierce competitive spirit, surprised Max with a 3-day Skip Barber Racing School at Road America in Elkhart Lake, WI in August of 2012, which formed the genesis and his addiction to the sport of racing. Since then, Max has climbed his way up the junior open wheel ranks and has most recently made the transition to sportscar endurance racing. He has competed all over the United States, Canada, and Europe in multiple different racing series. His most memorable accomplishment to date was when he finished 6th overall and 2nd in class in the historic 12 Hours of Sebring.
Surrounded by tech at a young age through his father's IT Internet Security business, Max has always been passionate about business and technology. Through his experiences in motorsports, Max founded his own digital marketing technology company. He lives to race all over the world at the highest levels while developing his technology company.

THE FUTURE IS EDGE TO CLOUD Prepare for the next wave of digital transformation. Join our global virtual event. June 22 – 24
Read more

Find out about the latest live broadcasts and on-demand webinars
Read more
View all
© Copyright 2021 Hewlett Packard Enterprise Development LP