>

>

>

ESXi host memory health warning - iLo 5 v2.30
Operating System - VMware
Forums

Blogs

Information

English

PatrickLong
Valued Contributor
Mark as New

Bookmark

Subscribe

Mute

Email to a Friend
‎09-11-2020 05:54 AM - edited ‎09-11-2020 05:57 AM
‎09-11-2020 05:54 AM - edited ‎09-11-2020 05:57 AM
There appears to be an issue with new Gen10 iLo5 firmware 2.30 and ESXi 6.7 memory health warnings. After upgrading my Synergy SY480 and SY660 blades to the latest 2.30 release of iLo5 firmware, within a short while (not immediately) all of these hosts are showing a red bang error for Host Memory Status. If I Reset to Green, the error clears for a short while, but then eventually returns.. On important item I've noticed is that when the host is in the Error state under iLo5 2.30 , under Monitor > Hardware Health I see new sensors for memory with names like "Memory Device 1 Mem_Stat_C01S02" in Alert status with Reading of either 128 or 192 as shown: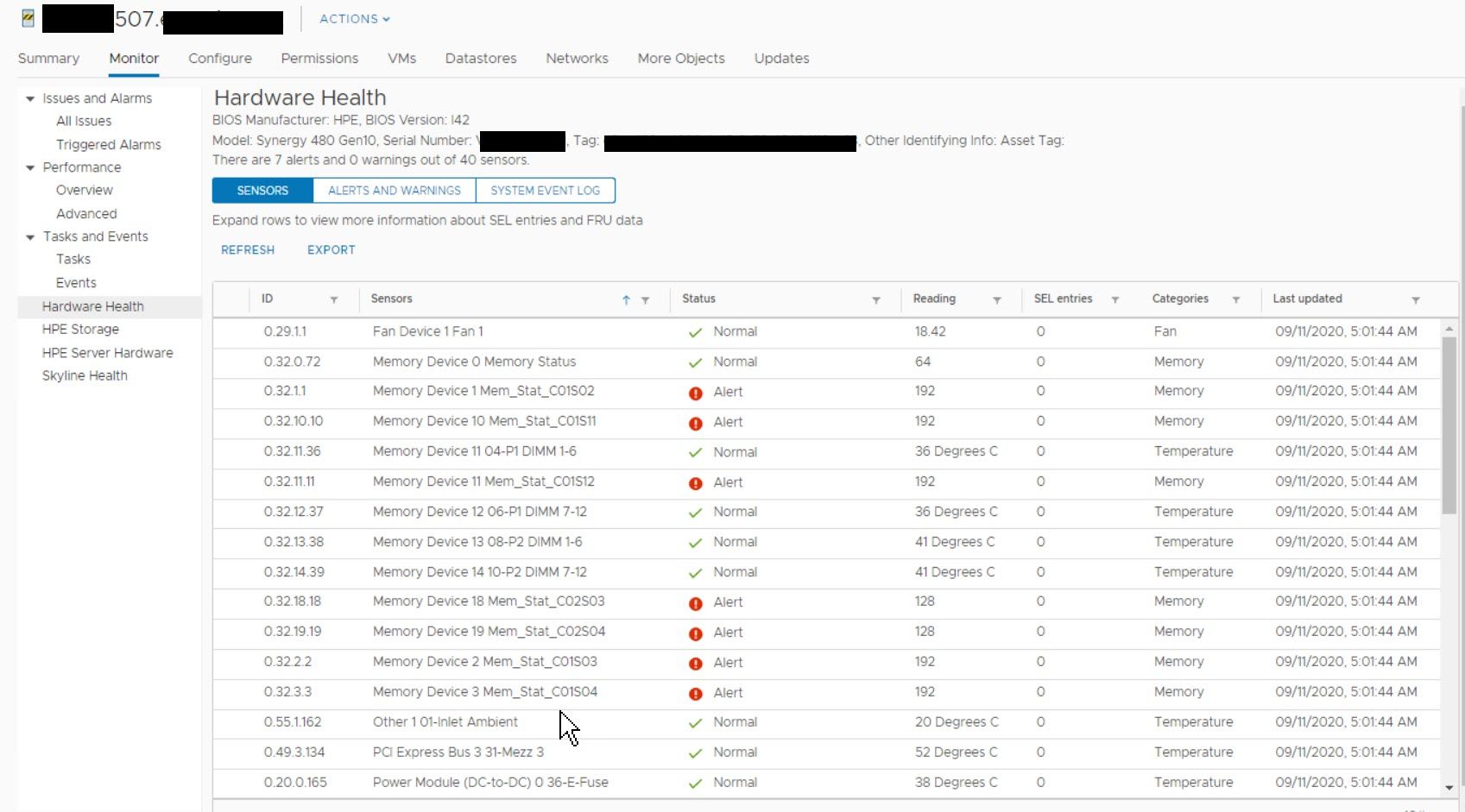 However, when I back-rev the iLo to previous version 2.18 and reboot the host, the errors are gone as are the newer memory sensor readings: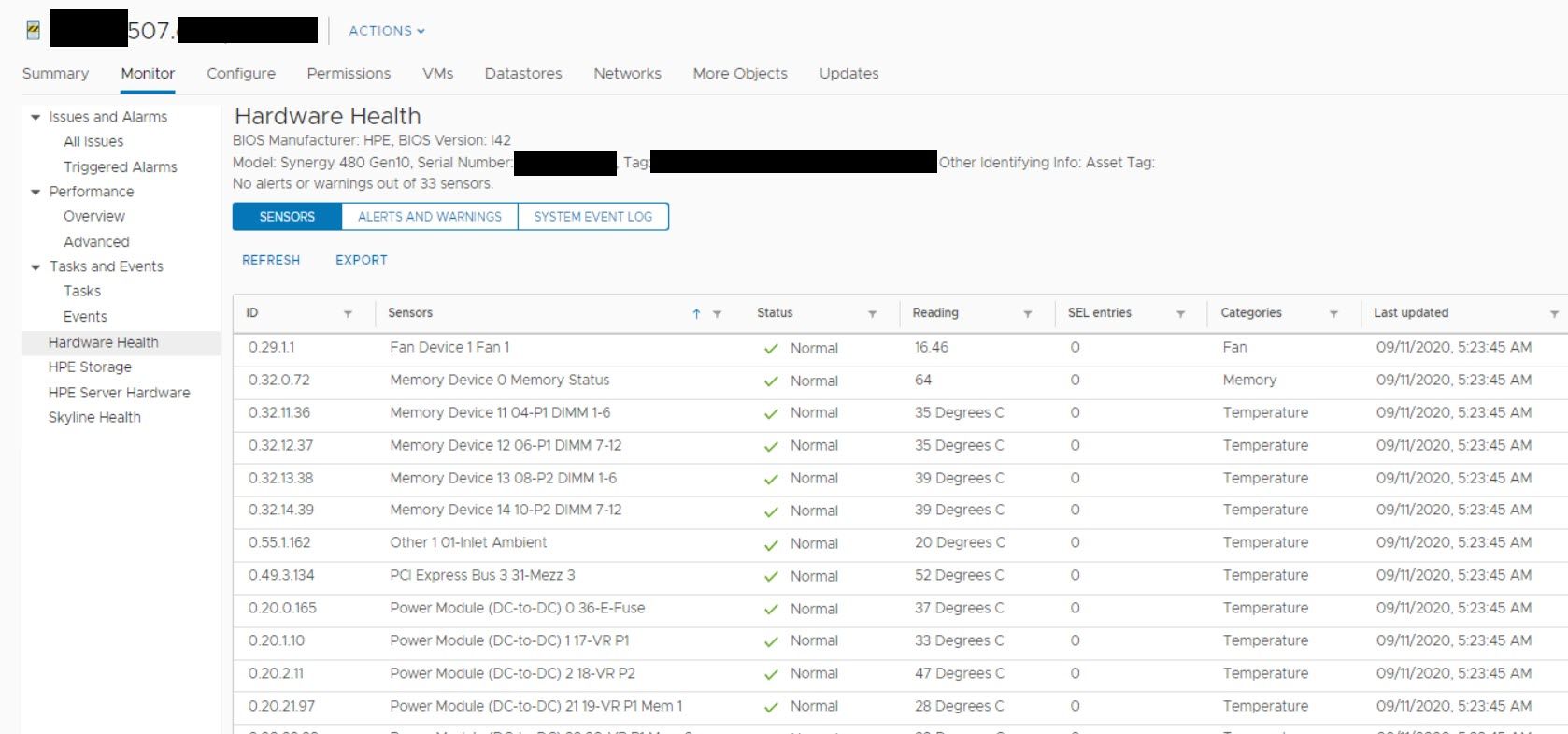 So it appears that iLo5 2.30 introduced NEW sensor readings for memory that ESXi is not handling properly - and I am using the very latest build release VMware ESXi 6.7.0 build-16713306 release date 8-20-2020 and all latest firmware/drivers/HPE utils esxi6.7uX-mgmt-bundle-3.5.0-12 and esxi6.7-util-bundle-3.5.5-3, as well as latest BIOS I42 v2.36 7/16/2020, Innovation Engine 0.2.2.0, and Server Platform Services 4.1.4.381.1. As well as latest OneView Composer 5.40.00-0423953\. This seems very similar to this old sensor-reading chestnut from 2018/19: with ESXi and iLo5 v1.30 https://support.hpe.com/hpesc/public/docDisplay?docId=emr_na-a00053955en_us
Anyone else experiencing the same issue? I don't have any non-Synergy Gen10 hosts to test this on to see if the issue is consistent across all Gen10 / iLo5 systems and ESXi but my guess would be that it is. And yes, I'm well aware that the latest Synergy Custom SPP 2020.07.01 (or " Service Pack for ProLiant, SY-2020.07.1" as it's apparently being called now - but don't try running it on a ProLiant server, it won't work) includes iLo5 v2.18, NOT 2.30 - however the 2.30 fixlist specifically includes a fix for Synergy:
"Synergy compute modules do not power up after One-button secure erase completes."
which makes it a bit of a hard sell to say "Don't install 2.30 on Synergy".
© Copyright 2021 Hewlett Packard Enterprise Development LP