>

>

>

Apollo 4200 Gen10 Server: An all-rounder to handle...
Forums

Blogs

Information

English

Apollo 4200 Gen10 Server: An all-rounder to handle your storage-intensive workloads
The new HPE Apollo 4200 Gen10 Server builds on years of proven leadership with an architecture designed for big data and analytics, software-defined storage, backup and archive, and other data storage-intensive workloads.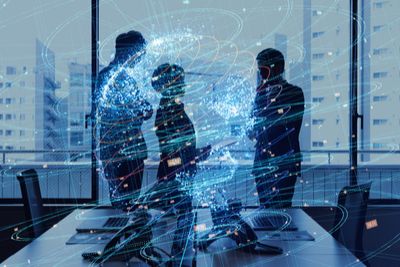 Digital transformation is creating new opportunities for innovation in every market segment. It drives new product innovation and services at an unprecedented pace. With this transformation, each organization drives for enhanced customer experience, improved products and services, and optimized business process to stay relevant.
That's why your organization is no doubt looking to mine these growing collections of unstructured big data to unlock the insights. These insights are what enable you to streamline operations and reduce costs, as well as target products and services more efficiently and effectively for customers who need them—not to mention building next-generation products and services to keep you ahead of the competition.
But here's the thing: The difficulty in dealing with these big data loads is that it exceeds the capabilities of conventional storage. To alleviate this challenge and to help you compete better when handling data storage-intensive workloads, we just introduced the HPE Apollo 4200 Gen10 Server.
HPE Apollo 4200 Gen10 Server: what I mean by calling it an "all rounder"
I played a lot of cricket during my school and college days, and these days I play a lot of tennis. We used to use a term called an "all-rounder" to describe a player who could contribute to the team in all disciplines of the game, including batting, bowling and fielding. These are the players who generally ended up the MVPs of the team. Players like Jacques Kallis, and Andrew Flintoff were my favorite all-rounders growing up. In tennis, Roger Federer, Djokovic and Nadal are considered "all-rounders." They could win tournaments regardless of the surface, with records that speak for themselves having won on grass, hard courts, indoor and even on clay courts.
HPE Apollo 4200 Gen10 is an all-rounder in a similar vein. The secret sauce comes in how the features of the Apollo 4200 Gen10 cater to varied workloads.
Before I did deeper into the details, check out the this infographic on how the Apollo 4200 Gen10 Server is fueling the digital transformation that is creating new opportunities for innovation.
And watch this walkthrough video from HPE Discover where Calvin Zito gets a first look at the Apollo 4200 with WW Product Manager Chuck Fang.
Understanding key features of HPE Apollo 4200 Gen10
Ultra-dense and rack scale

Maximum data storage density in a unique, easy-to-service 2U standard rack-depth chassis. Unlike platforms from other vendors, up to 28 LFF or 54 SFF hot-plug drives drives can be easily serviced from the front/rear of the rack without having to slide out the entire system.
Speed time to production while lowering cost of operations with a uniquely serviceable ultra-dense form factor and optimized rack-scale networking.
Workload-optimized with accelerated performance
Balanced system architecture delivers 62% higher bandwidth from a three Intel® UltraPath Interconnect (UPI) design.
The latest generation Intel® Xeon® Scalable processors have up to 24 cores each and DDR4 2666 MT/s HPE SmartMemory.
Up to six NVMe-connected SFF SSDs mean low latency and high bandwidth metadata access or data caching.
HPE Smart Array Gen10 Controllers offer up to 65% better random and up to 25% better sequential performance.
Add more storage and network controllers to keep pace as demand grows, without having to make the trade-offs of other servers, taking advantage of new processor instructions and software libraries.
Data secure by design
HPE iLO 5 and HPE Silicon Root of Trust technology provide firmware protection, malware detection, and firmware recovery
A silicon-anchored chain of trust through to data encryption means means you can better protect your organization from malicious acts and more easily address regulatory obligations.
Ready for your applications, to be consumed your way without any hassles
HPE has validated a wide range of big data and analytics, software-defined storage, backup and archive, and other data storage-intensive applications.
Flexible deployment options with consumption-based IT via HPE GreenLake Flex Capacity for economic agility with on-premises security and performance.
Backed by services from HPE Pointnext, including support automation in the event hardware components fail.
Purpose built to handle data storage intensive workloads like an "all-rounder"
The key workloads supported include:
Big data analytics
HPE Apollo 4200 offers a density-optimized x86 server, providing an optimal storage node for the HPE Elastic Platform for Analytics (EPA; asymmetric) as well as traditional (symmetric) clusters. The HPE Apollo 4200 density offers a reduced footprint in the data center, saving space while also decreasing power consumption.
The asymmetric design with HPE EPA allows independent scaling of the HPE Apollo 4200 as a storage node, optimizing infrastructure utilization and improving TCO. This new system architecture delivers higher inter-processor bandwidth and better memory performance, which is critical for streaming platforms such as Spark and Flink that heavily utilize system memory.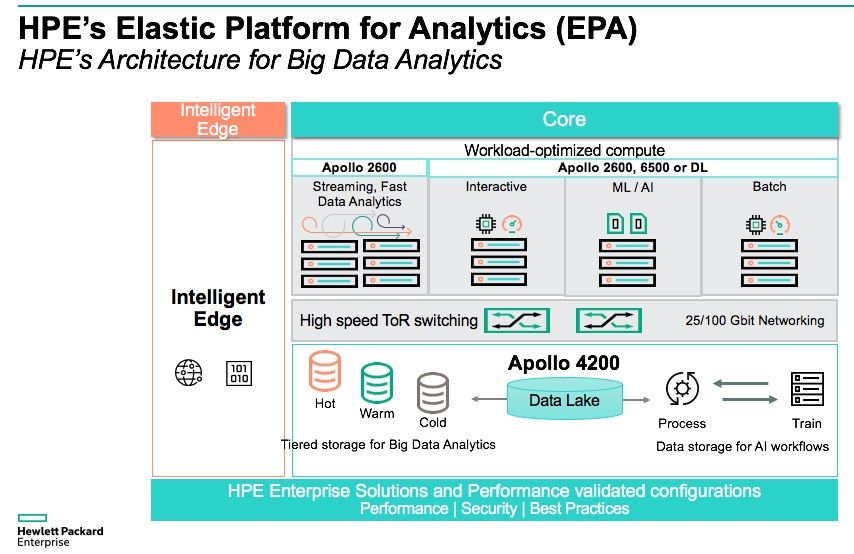 Scale-out software-defined storage
In general, software-defined storage offers businesses a means to lower the cost of scale-out storage through the economics of x86 servers. High-capacity servers such as HPE Apollo 4200 Gen10 expands the opportunities for businesses to deploy software-defined storage by offering both high-performance NVMe flash and cost-saving HDD bulk capacity in the same chassis. With a choice of both SFF and LFF disks, the HPE Apollo 4200 is an ideal platform for a wide range of ISV and open-source software-defined storage solutions such as Scality RING for scale-out object storage and Ceph for open-source adopters, including the Ceph distros from Red Hat® and SUSE.
Even when you choose a different software product, HPE Apollo 4200 can still be an ideal platform for many independent software-defined storage products. And with the newly enhanced Gen10 NVMe options, this platform is suited for solutions, which are optimized for flash storage.
Backup and archive
Data backup solutions were once sold largely as proprietary appliances. Now, many enterprise backup solutions are delivered as software to be deployed on x86 servers. The data protection solutions with Veeam Availability Suite and Veritas Backup Exec utilize HPE Apollo 4200 Gen10 as an all-in-one target combining both compute and high-density storage in a single chassis. By writing backup data to local storage in the HPE Apollo server, instead of to a separate storage system, time for backups and restores are significantly reduced.
With Commvault HyperScale solutions, you can build a unified, modern data protection and management platform that delivers cloud-like services on-premises. You can Incrementally grow as needed without disruption eliminating forklift upgrades with seamless, non-disruptive upgrades and expansion.
Active archive broadly refers to the long-term storage of data that that needs to be kept fairly warm to cool. You can store this data close at hand on expensive high-performance storage but generally, for this use case you need to store data that it runs into petabytes. Or, you can store this data on tape, but then it is not readily accessible. For many customers, object storage can be the ideal solution for active archive needs. HPE supports this on both HPE Apollo 4200 and HPE Apollo 4510. By using the HPE Apollo 4000 servers, you can build object storage starting as small as a 3-node cluster and 200 TB of data, and scaling up to tens of petabytes of storage. HPE Apollo 4200 Gen10 is ideal for Scality RING deployments between 200TB and 2PB, and the larger HPE Apollo 4510 Gen10 may be introduced for situations needing multi-PB storage in one cluster.
Data storage-intensive workloads
Users can scale up their application environments, such as Microsoft Exchange, on HPE Apollo 4200 Gen10 Server. The new server provides high-density storage for large Exchange environments and HPE Apollo 4200 has been the platform of choice for some of our largest Global 500 customers, with thousands of users and large mailboxes. (Keep you eye out for upcoming ATSB blogs that talk in more detail about HPE Apollo 4200 Gen10 Servers at work in different application environments, including Exchange.)
In short, the HPE Apollo 4200 Gen10 Server provides a bridge from traditional to scale-out architectures, so you can achieve a combination of computing power required for data storage-intensive workloads with the space and cost savings of density-optimized infrastructure—without disruption.
The Apollo 4200 Gen10 Servers was just part of the big storage announcements we made at HPE Discover in Madrid. Calvin has a blog that hits all the announcement highlights: The world's most intelligent storage with new AI, cloud data mobility and all-flash enhancements
Personally, I'm looking forward to 2019 as we continue to innovate and elevate the standards of managing your data.
---
Meet Around the Storage Block blogger Ashwin Shetty, WW Product Marketing Manager, HPE Storage. On Twitter: @ashwinkshetty

Find out about the latest live broadcasts and on-demand webinars
Read more

Visit this forum and get the schedules for online Expert Days where you can talk to HPE product experts, R&D and support team members and get answers...
Read more
View all
© Copyright 2022 Hewlett Packard Enterprise Development LP