>

>

>

Huge news! Welcome to the age of Unified DataOps
Forums

Blogs

Information

English

Huge news! Welcome to the age of Unified DataOps
I've been involved in just about every announcement HPE Storage has done over the last 30 years. What I'm going to introduce you to now is probably the most ground-breaking, forward-thinking announcement I've seen. Let's jump into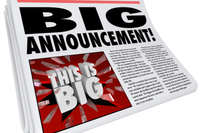 this journey of the age of Unified DataOps. This blog post is taken from my DataOps Chalk Talk that is embedded in this blog post or click here to watch the Chalk Talk now. Be sure to look at the additional links I'll add over the coming days to help you better understand this announcement and the industry reaction.
What is the data and infrastructure landscape?
Every organization today is looking to accelerate what's next. And data, cloud, and AI are the three forces that are at the heart transformation. But it's only at the intersection of these that can empower innovation and shape what's next.
This changes everything for storage, yet storage hasn't changed that much in 20 years. You still deal with complexity, the need for domain experts, and nonstop firefighting – leaving no time for innovation.
The new imperative for IT needs to shift from managing storage to unleashing data. With data as the most valuable resource, IT needs to unlock their data by streamlining access to the data innovators, developers, and analysts who create value from data, protect their data by safeguarding it against threats and disruptions, and mobilize their data by accelerating their data and freeing it across every cloud.
Unified DataOps to the rescue
NOTE: Our Unleash the Power of Data webcast has come and gone but you can still catch it whenever you want - the video is on YouTube .
This requires a new vision – to break down the silos and complexity to accelerate data-driven transformation. This is a vision we call Unified DataOps. Unified DataOps re-imagines the data experience for organizations at the intersection of data, cloud, and AI. Let's explore it.
Unified DataOps takes a holistic, data-centric approach to managing data and infrastructure across the data lifecycle. Policies including how data is stored, accessed, protected, and mobilized and should be data centric policies and automated.
Unified DataOps should be cloud-native – abstracting the management of data and infrastructure from physical infrastructure through a cloud-native control plane. This eliminates the complexity of keeping on-premises software maintained.
Unified DataOps should be AI-driven – True autonomous operations requires AI-driven insights and intelligence to watch over your data and your infrastructure to make your operations invisible.
Unified DataOps is a game changer across your organization: for line of business, IT management, data innovators, and data managers – to deliver a better data experience and drive more value. It will eliminate the silos and complexity across organizations.
This is a bold vision and Unified DataOps delivers a new data experience that impacts everyone from IT to database managers, data innovators, to developers. Unified DataOps:
Simplifies data infrastructure
Empowers data innovators
Integrates data management
Protects data everywhere and
Eliminates application disruptions
Delivering Unified DataOps with the Intelligent Data Platform
Recognizing the need for Unified DataOps, HPE has architected the answer with the Intelligent Data Platform. The platform connects applications to infrastructure, innovators to data, and automation to policies. The architecture relies on AI-driven global intelligence and starts with Cloud-Native data infrastructure optimized for every app and cloud. Next are Cloud Infrastructure Services to deliver cloud operations. And at the top, unified, cloud data services to manage the lifecycle of data - all delivered as a service experience.
This is a good place to share my Unified DataOps with the Intelligent Data Platform Chalk Talk.
Here's how we deliver Unified DataOps
Now I want to briefly show you the innovations that make up the Intelligent Data Platform starting with how we are delivering cloud infrastructure services and cloud data services.
Introducing Data Services Cloud Console
I want to introduce you to Data Services Cloud Console – the cloud console for unified DataOps as-a-service. When I talked about Unified DataOps should be cloud native that was the architecture of Data Services Cloud Console. It brings the cloud experience to where ever data lives and transforms complex data operations into a simplified experience across clouds. Here's the blog post from my Simon Watkins diving deeper into Data Services Cloud Console but if you want to see a short overview, check out my Introducing Data Services Cloud Console Chalk Talk.
Introducing HPE Alletra - data infrastructure for Unified DataOps
Next is HPE Alletra – this is a bold paradigm shift for data infrastructure. It's a portfolio of cloud-native data infrastructure powered by Data Services Cloud Console. It enables IT to shift from owning and maintaining data infrastructure to simply accessing and utilizing it on-demand. HPE Alletra spans workload-optimized systems to deliver architectural flexibility without the complexity of traditional storage management. Here's the blog post diving deeper into HPE Alletra from my colleague Matt Morrissey. You can get a head start by watching my Introducing HPE Alletra - data infrastructure for DataOps Chalk Talk.
Not new but HPE InfoSight is key to Unified DataOps
And key is HPE InfoSight – AI-Driven intelligence. It's a cloud-based AIOps platform that applies advanced machine learning to transform how infrastructure is managed and supported. Check out the Chalk Talk I have looking at HPE InfoSight in more details.
Summing it up
The summary statement for this vision is HPE is delivering Unified DevOps as-a-Service. Check out the Chalk talks I mentioned about HPE Alletra and Data Services Cloud Console and come back to ATSB as you can bet we'll be talking a lot about Unified DataOps.
And this is an extremely bold and comprehensive vision. HPE is focused on your data, your agility, your innovation – unleashed at last!
Getting more information on Unified DataOps
There's going to be a lot here that I'll add to over the coming days so you have everything I'm aware of to help you get up to speed on Unified DataOps.
hpe.com pages
What #HPEInfluencers are saying
We held a briefing a couple of days before the announcement for bloggers who participate in our VIP Influencer program. Here are the video and blogs that I've seen for the VIPs.
What others are saying
Blog articles on hpe.com
Join us for an in-depth look at Unified DataOps, the exciting new vision for data management and infrastructure from HPE that accelerates digital transformation — edge to cloud.
UNLEASH THE POWER OF YOUR DATA — WITH UNIFIED DATAOPS FROM HPE
Wednesday, May 26, 2021
9am PT | 10am MT | 11am CT | Noon ET
Duration: 30 Minutes
About Calvin Zito (formerly HPEStorageGuy, formerly The Storage Godfather - but still Calvin)

I'm Calvin Zito and November 2020 marked 37 years with HP/HPE. I've worked in HPE Storage since 1990 but worked with storage my whole career. I was recently recognized as a 11 time VMware vExpert. As an early adopter of social media and active participant in communities, I've blogged for over 13 years. I'm also an avid Boise State fan. You can find me on Twitter as @CalvinZito. If you don't follow me on Twitter, please do it now! You can also contact me via email.
Calvin Zito
Hewlett Packard Enterprise
twitter.com/HPE_Storage
linkedin.com/showcase/hpestorage/
hpe.com/storage

About the Author
CalvinZito
I have worked at HPE since 1983, all of it around storage but 100% focused on storage since 1990. I'm expanding into other areas of focus at HPE like HPE GreenLake, compute, containers, AI, and more. I blog, create videos, and podcasts to help you better understand HPE Storage. Find my podcast at https://www.hpe.com/dmn/ATITB

Find out about the latest live broadcasts and on-demand webinars
Read more

Visit this forum and get the schedules for online Expert Days where you can talk to HPE product experts, R&D and support team members and get answers...
Read more
View all
© Copyright 2022 Hewlett Packard Enterprise Development LP