>

>

>

HCI Optimized for Edge, Part 1: Edge and remote of...
Forums

Blogs

Information

English

HCI Optimized for Edge, Part 1: Edge and remote office challenges
This is the first article in a series of technical blogs written to help IT administrators understand how artificial intelligence and hyperconverged infrastructure can simplify management and control costs at the edge. In Part 1, HPE SimpliVity addresses the challenges of specific edge environments.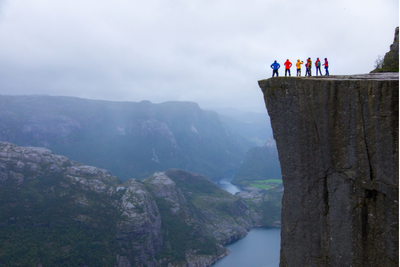 The concept of edge computing differs from organization to organization. You might hear it referred to as Remote Office Branch Office (ROBO), or micro datacenters, or even distributed device computing. This is because every business is unique, with their own unique challenges, infrastructure architectures, and language. Essentially the concept can be defined as a requirement for infrastructure at the edge of an enterprise, or in remote locations where data is being generated and/or accessed. This, of course, is instead of hosting such services in the public and private cloud because of the specific requirements or limitations of doing so.
Finding a resilient, simple, high performance IT infrastructure for edge locations can be a challenge. In this blog series, I walk you through the challenges of ROBO sites, the benefits of HPE SimpliVity in a distributed environment, and how artificial intelligence (AI) and hyperconverged infrastructure (HCI) can simplify management and help control costs at the edge. From the pains of managing and maintaining multiple locations, to how to achieve the best availability to ensure business continuity, I will explain the many ways HPE SimpliVity is optimized for the edge.
Edge/ROBO and the challenge
In today's data driven world it is not acceptable, and sometimes not even possible, to send data to the public or private cloud for processing. Such a model creates latency, can require large amounts of bandwidth, and can easily be disrupted by failures. Edge infrastructure allows companies to accelerate access to generated data, enabling real-time data processing without latency. This real-time response is critical to many applications, services and end user experiences, and demonstrates a measurable impact to the business. It also eliminates the option of storing sensitive data in the cloud in situations where security and strict data regulations are a concern.
Businesses are beginning to recognize the requirement for edge infrastructure with the continuous growth of IoT, connected devices, and low latency applications that require high availability. By 2025, Gartner predicts 75% of data will be generated outside of the public and private cloud. This data will need to be stored somewhere and will require compute for the purpose of processing. This does not mean public and private cloud is going away – on the contrary, on-premise edge computing is a growing requirement that complements cloud solutions and meets demands they cannot.
Consider these examples:
Energy – Oil rigs, midstream refiners, and other energy producers generate huge amounts of data every day through sensor monitoring, terminal locations and analytics. Such data is critical to their operations for the purposes of safety, identifying potentially failing equipment, drilling statistics, and ultimately, business continuity. Although some of this data may be sent to the public or private cloud, bandwidth limitations and the sheer volume of the data collected make the transfer of all data unachievable. Latency is simply unacceptable. Any delay could impact safety measures which, in extreme cases, could cost lives. The bulk of this data must be processed on the oil rig with some data sent to a centralized location for post-process analysis. An oil rig requires a certain amount of critical infrastructure on location to support the overall operation.

Retail – Retailers rely heavily on instore infrastructure for business continuity, and to deliver a range of services customers have come to expect during their shopping experience. Store applications such as stock control, video advertising, pricing updates, free Wi-Fi and online collection orders all require onsite systems to run and store data. There are as-a-service options in the cloud, but any disruption to store connectivity would result in a location being unable to operate, very possibly resulting in unhappy customers who would take their business elsewhere. Along with the right infrastructure, it's also worth considering additional technologies that retailers can take advantage of, such as Omni beaconing to direct advertising straight to customer phones, and smart cameras using machine learning to prevent theft in stores.

Distributed enterprise and edge offices – Businesses often have a number of locations or satellite offices running a small number of applications/services such as Active Directory, Domain Name Services, File & Print, and bespoke software. With the current COVID-19 pandemic there has been a significant increase in people working from home, resulting in businesses looking to services such as Microsoft Remote Desktop and VDI so employees can connect to office locations and access the services and data required to perform their jobs.

Manufacturing – Plants and manufacturing sites require always-on applications to run critical applications, reporting systems and more. Many times these sites are highly distributed and face challenges with infrastructure management and data protection and recovery, with few to no local IT resources. They may have tens or hundreds of remote "spoke" edge sites with a few central "hub" locations. Supporting "hub and spoke" topologies that span multiple factory sites requires easy management for critical VM workloads, worldwide support, built-in backup/restore capabilities, and disaster recovery.
Although the examples above are fundamentally different, they share some common challenges around infrastructure.
Management – Typically, little to no onsite IT skills or resource(s) to manage the infrastructure and applications.
Availability – Applications & services are critical to business continuity and must remain online and be recoverable in the event of a disaster.
Space – Sites are space constrained and do not have designated areas for IT equipment.
Scalability – Infrastructure must scale seamlessly and without interruption to roll out new applications and services, or grow the existing environment.
Security – Data at these locations may be sensitive so systems need to be secure.
Cost – Any solution must be cost sensitive but still meet the above needs.


So what's the answer? Edge Optimized HCI
Edge sites clearly demand a reliable set-and-forget system that provides enterprise class features in the smallest physical footprint. Such an infrastructure should provide compute, storage, backup, DR and networking in a space-saving compact design for edge deployments.
That's where HPE SimpliVity, an industry leading HCI solution, comes in. HPE SimpliVity enterprise class features include virtual machine (VM) high availability, built-in data protection for local and remote backups, inline dedupe & compression, and centralized management with true AI integration. For businesses that scale from a single to multiple locations, HPE SimpliVity allows IT admins to remotely manage sites from a centralized location.
HPE SimpliVity provides high availability storage across multiple hyperconverged nodes. VMs hosted on the platform are automatically protected by the HPE SimpliVity Data Virtualization Platform. This platform ensures that there are multiple copies of the VM's data, so in the event of a hardware failure, all VMs can continue to run and operate.
A single 1U HPE SimpliVity box can provide customers with a platform to run VMs and/or containers, including local backup and DR. Scaling to 2-nodes provides a 5x9s high availability cluster through its RAID+RAIN architecture. HPE SimpliVity offers a perfect small footprint where edge site high availability is a strict requirement. Built-in local and remote backup features provide protection from ransomware, making the compact platform a total solution for edge site redundancy and disaster recovery. Managed through VMware vCenter, admins can manage edge sites from a centralized location and upgrade the entire HCI stack remotely – and without downtime.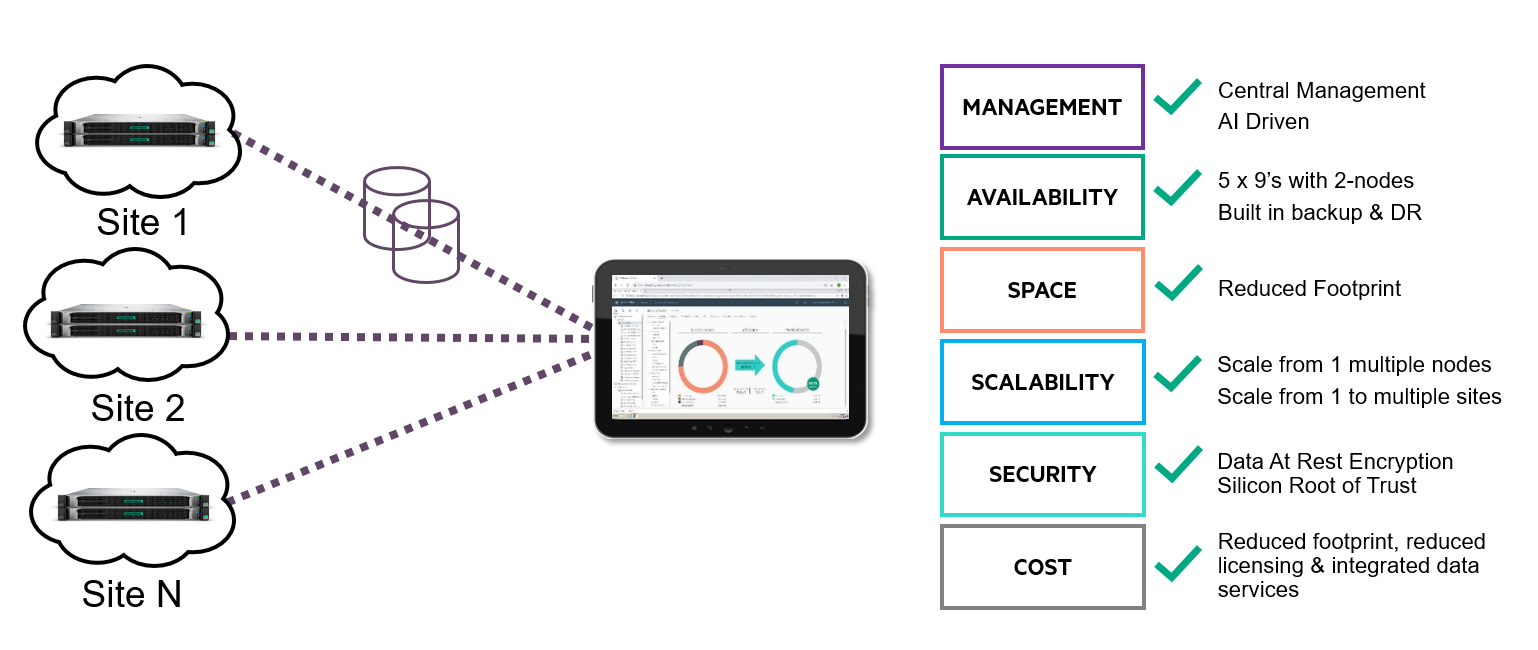 Real world customer successes with HPE SimpliVity at the edge
HPE SimpliVity has been deployed in edge sites around the world, providing simple management and data protection for businesses across many industries and sectors.
In Part 2 of this blog series I will explore how HPE SimpliVity can standardize the management and orchestration across multiple locations.
HCI Optimized for Edge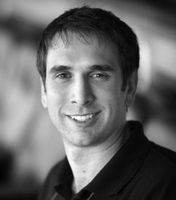 Meet Around the Storage Block blogger Luke Pruen, HPE Hyperconverged Lead in the UK and Ireland. Luke supports presales teams and partners, focusing on solution architecture and implementation, and driving the development of new features based on observations from field engineers and customers. Follow Luke on LinkedIn.
Storage Experts
Hewlett Packard Enterprise
twitter.com/HPE_Storage
linkedin.com/showcase/hpestorage/
hpe.com/simplivity

Find out about the latest live broadcasts and on-demand webinars
Read more

Visit this forum and get the schedules for online Expert Days where you can talk to HPE product experts, R&D and support team members and get answers...
Read more
View all
© Copyright 2022 Hewlett Packard Enterprise Development LP