>

>

>

HCI Optimized for Edge, part 2: Multisite manageme...
Forums

Blogs

Information

English

HCI Optimized for Edge, part 2: Multisite management and orchestration
This technical blog series explains how AI and hyperconverged infrastructure simplify management and control costs at the edge. Part 2 looks back at early days of hyperconverged infrastructure, and how far multisite management and orchestration have evolved.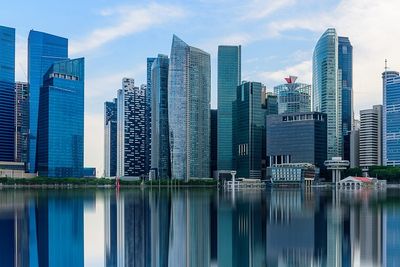 When I stop to think how far hyperconverged infrastructure (HCI) has come from its earliest days as an offshoot of software-defined storage (SDS), it's truly mind-boggling.
Take multisite management, for example.
About 10 years ago I worked with two large retailers in the US. One of these retailers had over 2,600 locations, the other, 1,200. They shared a common goal of wanting to reduce their footprint at their store locations while providing the best performance and availability possible. With so many sites, a huge issue was management and orchestration. This was a time when HCI was not yet an industry term, they were running VMware Infrastructure 3 (vSphere hadn't been coined yet), and LeftHand Networks had just been acquired by HPE.*
I worked closely with both retailers to address the performance, availability, and management challenges they faced. We designed a software-defined storage (SDS) solution that achieved high availability (HA) in a small footprint and good performance in locations that were centrally managed through vCenter server. Another key challenge was around upgrading the sites. How could we efficiently upgrade each location in an automated fashion? Scripting! We created customer scripts to patch the individual components in the stack, including the ESXi hypervisor, the hardware's firmware, and the SDS solution. To make this patching process as easy as possible, both customers standardized on a single hardware platform to prevent variation in stores. This made management, upgrading, and troubleshooting at any site simple and straightforward.
Sounds great, and it was pretty amazing for the time, but I think about how readily HPE SimpliVity hyperconverged infrastructure addresses these challenges today – ultimately delivering a much superior solution – and making those SDS solutions seem like ancient history.
HPE SimpliVity management is policy driven
HPE SimpliVity management integrates directly into VMware vCenter providing a single pane of glass for administrators to manage the entire environment across 10s or 1,000s of locations. All SimpliVity actions are performed at the vCenter level and can populate across the federation of multiple remote sites through policies. This means there is no need to touch individual sites, an extremely time-consuming task at scale. Simply make changes and apply them globally. If there is a requirement to tune individual sites more granularly, this can also be done.
Centrally manage multiple locations through a single pane of glass.
Simple monitoring, straight out of the box
Monitoring multiple locations is made easy as all alerts populate up to vCenter so there is no need to monitor multiple end points (i.e., every site individually). HPE SimpliVity facilitates the monitoring of the entire stack – from hardware components, backups, performance events, etc. – providing a single port of call for all admins. Alerts and events for such components appear in VMware vCenter and require no extra configuration, it all happens straight out of the box. If there is a requirement to extend this monitoring to third party tools, vCenter can be used as a single collection point which simplifies the end-to-end collection and only requires minimum configuration.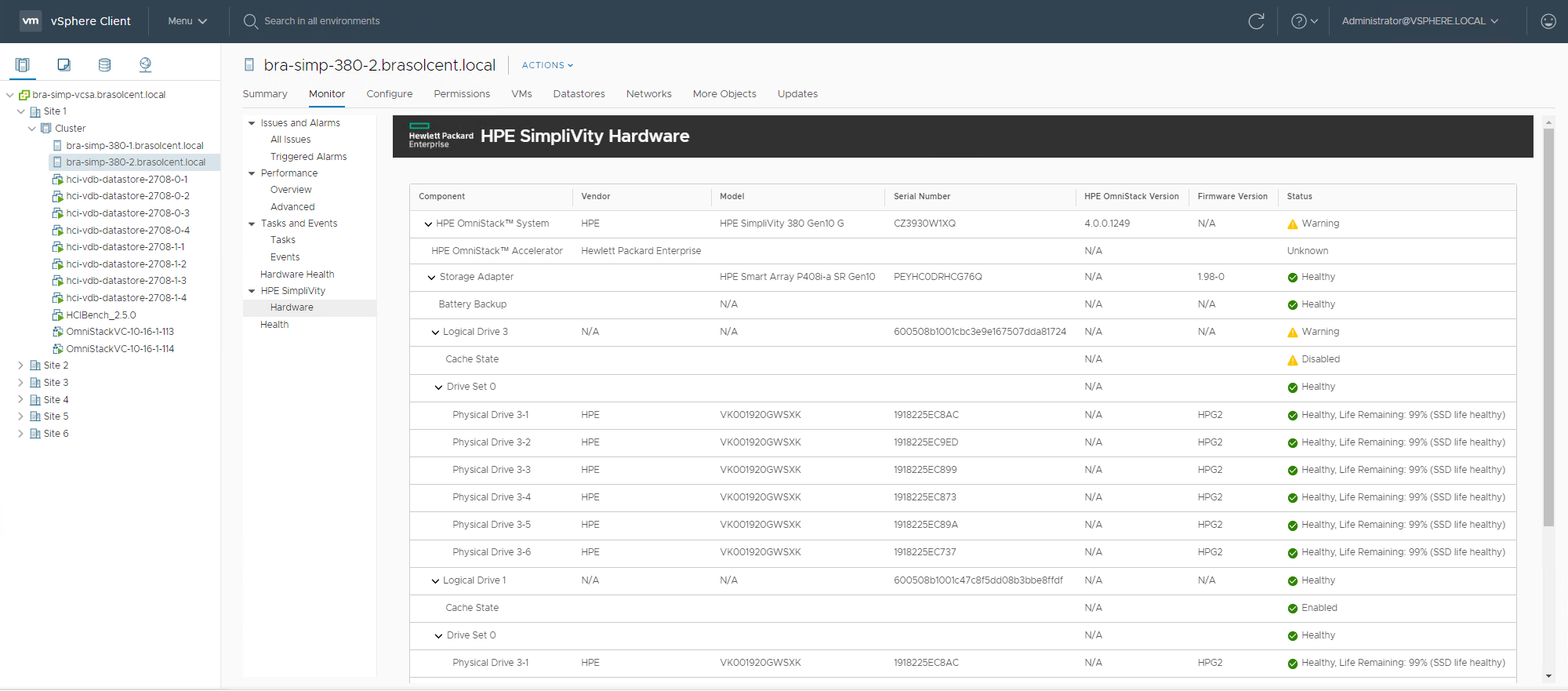 HPE SimpliVity node hardware view
HPE InfoSight artificial intelligence operations
The above management and monitoring features are extended by HPE SimpliVity's integration with HPE InfoSight, the industry-leading artificial intelligence (AI) platform that provides predictive analytics and machine learning. HPE InfoSight is software-as-a-service (SaaS) which customers get for free with a valid support contract and requires no on-premises deployment. This truly revolutionary platform provides significant benefit to customers time and time again. Yes, it can show you pretty charts and graphs, similar to other solutions that claim to have AI, but the true benefit of HPE InfoSight is what it does around these key areas:
Observing – HPE InfoSight collects data from thousands of data points and sensors.
Learning – Applies advanced pattern recognition to data that has been collected on a variety of global devices.
Predicting – Foresees future problems based on already observed patterns and early observation of emerging issues.
Recommending – Recommends solutions capable of improving performance and preventing future issues.
Acting – Drives greater efficiency through automated solutions.
This kind of intelligence provides unprecedented value across edge sites just by reducing support overhead alone. Being able to anticipate issues before they happen adds an additional layer of business continuity beyond HPE SimpliVity's HA and backup/disaster recovery capabilities.
Pre-qualified and automated lifecycle management
Vendors will inevitably release updates with patch fixes and software enhancements that should be applied in a relatively timely manner. I say 'relatively' because as infrastructure and the number of sites grow, it is all too common to end up in an ever-rolling patching cycle – Once you have finished patching one element, it is time to start again. Infrastructure is made up of many components that require updates. Hardware, firmware and software patches require preliminary reviews of compatibility matrixes to make sure the planned updates all work together. Heaven help you if you need to update components from multiple vendors! You might just as well roll the dice and hope for the best as updates are rolled out across the estate.
A key part of a true HCI solution, not a build-your-own SDS solution, is that the vendor provides prequalified updates for the entire stack. HPE provides HCI upgrade packages which have been through extensive internal testing to make sure they all work together. These packages include the VMware ESXi hypervisor, all hardware firmware, and any updates/enhancements for the HPE SimpliVity software. There is no requirement to compare these versions against one another, and you can apply them to your entire environment with the assurance that HPE has tested them all together.
HPE SimpliVity Upgrade Manager automatically orchestrates the entire process, making it incredibly simple to apply upgrades across multiple locations. Upgrade Manager in combination with VMware Distributed Resource Scheduler (DRS), migrates VMs running on nodes that are being upgraded to other nodes in the cluster using VMware VMotion. Upgrade Manager will then continue to update the components selected by the admin (VMware ESXI hypervisor, hardware firmware and/or HPE SimpliVity software) and take the node through the required reboots. Once complete, the VMs are automatically moved back and Upgrade Manager moves to the next node in the list at that site.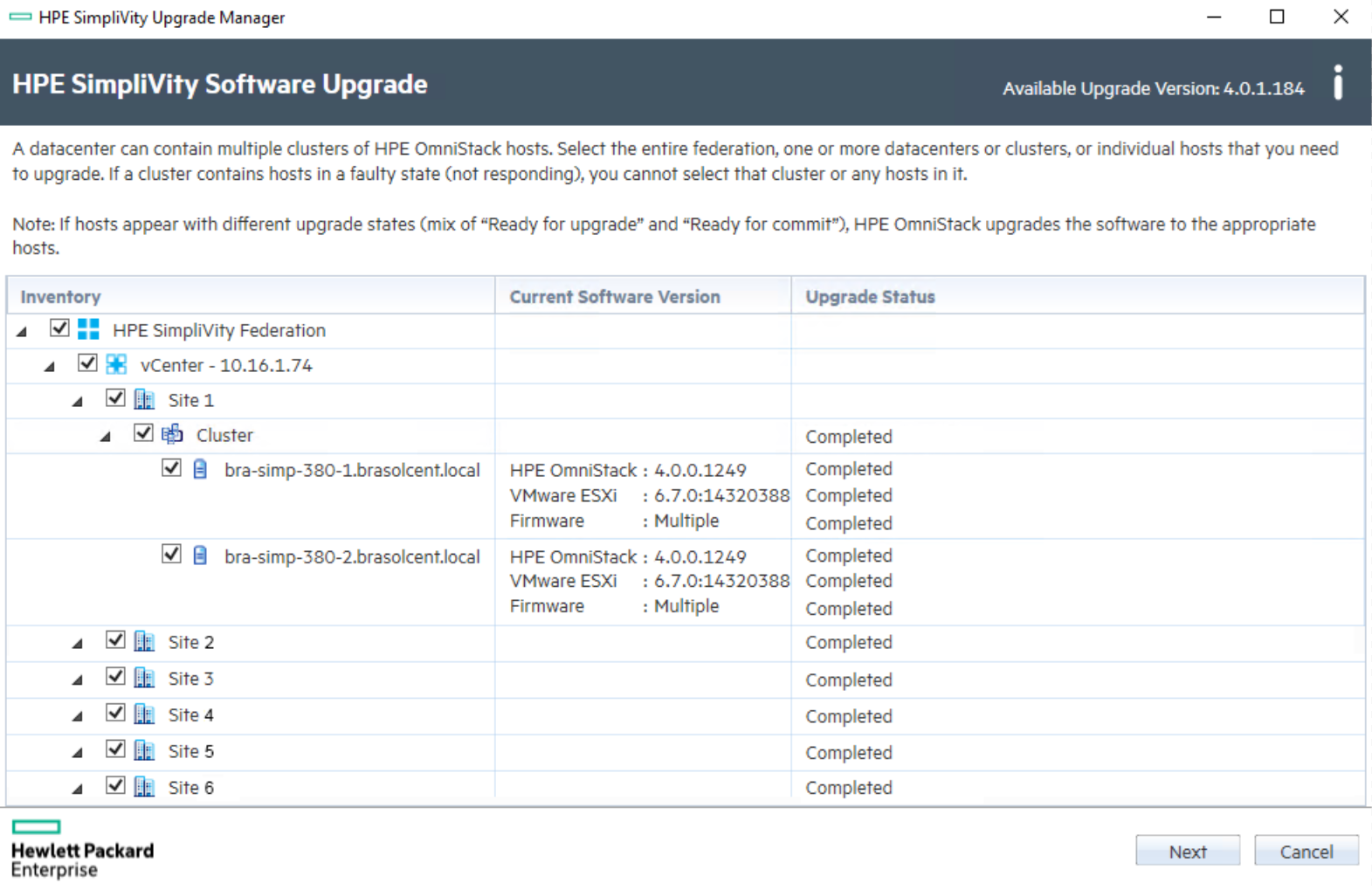 HPE SimpliVity Upgrade Manager
This can be expanded across sites as shown above, where admins can select multiple remote locations and kick off the upgrade task with a click of a button.
Significant enhancements in HCI add up to significant savings
We have come a long way since I worked with those retail customers to address their performance, SDS, and upgrade challenges. Single pane management and monitoring have undergone significant enhancements providing policy driven changes across multiple locations and a single touch base for environment changes and monitoring. We now have HPE InfoSight to intelligently monitor our environments with AI, including predicting issues before they happen, making recommendations, predictable resource planning, deep VM and backup analytics. Lifecycle management is easier than ever, no need to cross reference updates to make sure they work together or create, update and troubleshoot custom scripts. HPE SimpliVity takes care of all that for you with simple update packages and by fully orchestrating the update process.
When we look at administrative time alone, the above approach provides significant savings on the solution's total cost of ownership, but let's not forget the approach to standardization. We no longer need to take the approach of ensuring every platform is identical across locations, as the tasks we were looking to simplify by doing this are intelligently handled through HPE SimpliVity's management and upgrade orchestration. Edge customers can also consider t-shirt sizing (small, medium, large) for remote locations to save money on hardware. Imagine if the decision to install the same hardware in every location added a premium $1,000 per site to the retailers mentioned, rather than tuning hardware per location to address management concerns. For a retailer with 2,600 locations, today HPE SimpliVity would save $2.6M on hardware alone. I would say this is worth some consideration.
Of course, you won't find that kind of cost savings with every modern HCI solution. You need an all-in-one solution with built-in data protection, resiliency, and disaster recovery, and simple, global management across distributed sites. You need an automated platform that simplifies deployment and upgrades, and that has the intelligence to predict and prevent problems. You can see where I'm headed with this – you need HPE SimpliVity.
In part 3 of the series I will discuss how HPE SimpliVity can provide extremely resilient business continuity for edge sites straight out of the box.
HCI Optimized for Edge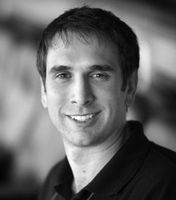 Around the Storage Block blogger Luke Pruen is HPE Hyperconverged Lead in the UK and Ireland. Luke supports presales teams and partners, focusing on solution architecture and implementation, and driving the development of new features based on observations from field engineers and customers. Follow Luke on LinkedIn.
*Press release: HP Acquires LeftHand Networks to Extend Leadership in Storage and Virtualization Solutions
Storage Experts
Hewlett Packard Enterprise
twitter.com/HPE_Storage
linkedin.com/showcase/hpestorage/
hpe.com/simplivity

Find out about the latest live broadcasts and on-demand webinars
Read more

Visit this forum and get the schedules for online Expert Days where you can talk to HPE product experts, R&D and support team members and get answers...
Read more
View all
© Copyright 2022 Hewlett Packard Enterprise Development LP